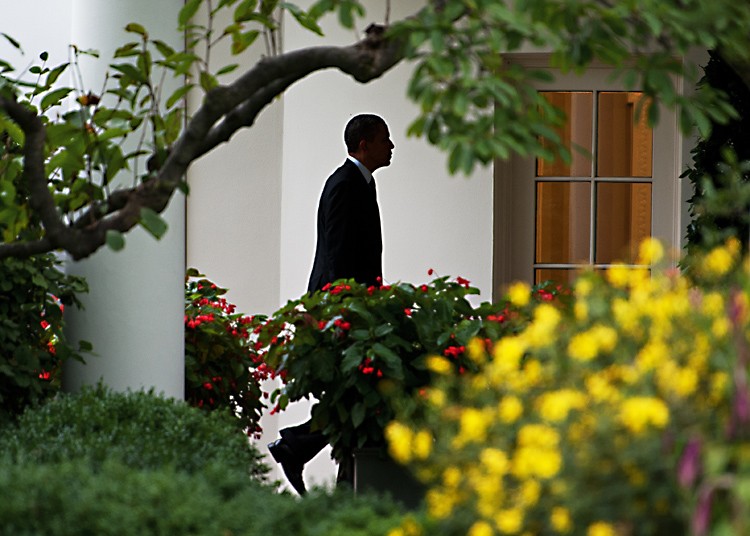 WASHINGTON—President Obama once again used his weekly address to the nation on Saturday to push his $447 billion jobs plan, also known as the American Jobs Act. Using the personal stories of four women who are struggling in the current economy, the president pressed Congress to act immediately on the bill.
"This jobs bill contains the kinds of proposals that Democrats and Republicans have supported in the past. And now I want it back," said the president. "It is time for Congress to get its act together and pass this jobs bill so I can sign it into law."
Congress has still to act on the bill, three weeks after Obama first pitched the idea to the legislature.
Some elements of the bill include cuts to payroll taxes for both employers and employees; funding to protect the jobs of public sector workers at the state and local levels, including police, firefighters, and teachers; spending on new infrastructure projects; the creation of a national infrastructure bank; and the creation of a "wounded warrior" tax credit for firms that hire disabled veterans.
Compared to their past attitudes toward other pieces of Democratic-sponsored legislation, Republican congressional leaders are lukewarm toward certain parts of the bill. However, some Republican lawmakers have derided the bill as a "second stimulus," in reference to the American Recovery and Reinvestment Act of 2009.
Given the lack of Republican support for the American Jobs Act as a whole, it is unlikely that the bill will pass Congress in its current form, if at all.
A number of Democrats have also balked at President Obama's jobs proposal, for various reasons. Some Democrats are opposed to the elimination of subsidies for the oil industry, some are against further tax cuts, while others are against further spending and are wary of the bill's connection to the 2009 stimulus.
Senate Majority Whip Dick Durbin admitted earlier in the week that he did not have the filibuster-proof 60 votes needed to pass the bill in the Senate, but added, "We can work on it," according to a Sept. 29 interview with Chicago's WLS radio.
Also on Saturday, Rep. Morgan Griffith (R-Va.) gave the GOP's weekly address, which, like the president's speech, also focused on the economy and jobs. However, in his address, Griffith targeted what he called "excessive regulations."
"For years, excessive regulations have been a source of frustration for business trying to stay afloat. Now, with our economy struggling, and red tape still piling up, these nuisances have become full-blown government barriers to job creation," said Griffith.
Griffith specifically cited EPA regulations related to cement plants and commercial boilers, which he claimed have cost thousands of jobs.
House Republican leaders are currently preparing to bring to the House floor several bills that will target EPA rules and environmental regulations, including H.R. 2681, the Cement Sector Regulatory Relief Act, and H.R. 2250, the EPA Regulatory Relief Act, which is sponsored by Rep. Griffith.