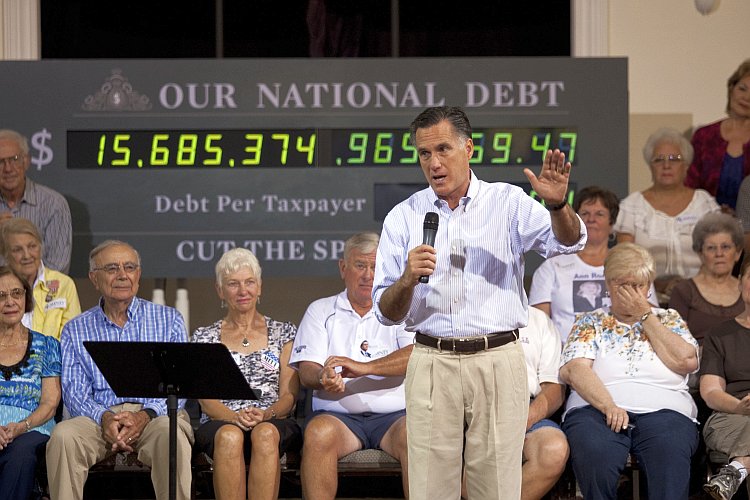 Barack Obama and Mitt Romney are tied on who would be best to run the economy, according to a recent national poll. The positive shift in attitude should boost Obama's re-election campaign but it remains a tough year ahead for both candidates, and presumptive Republican presidential nominee, Mitt Romney, appears to be biding his time.
Obama and Romney each gained a 47 percent approval rating on the economy in a Washington Post/ABC poll conducted May 17. The economy far outweighed other issues as the most concerning to voters, the poll noted.
Obama led in the telephone survey of 1,004 voters as the favored candidate should the election be held immediately, gaining 49 percent support to Romney's 47 percent.
The positive approval rating on the economy contrasts to an earlier Washington Post/ABC poll, taken March this year, which showed a 38 percent approval rating on the economy for Obama, and 59 percent disapproval.
The recent poll comes as the housing sector shows signs of improvement. The National Association of Realtors reported a rise in existing home sales and house prices during April.
According to NAR chief economist Lawrence Yun, the positive results reflect an important shift from a buyer's market toward a seller's market.
"It is no longer just the investors who are taking advantage of high affordability conditions. A return of normal home buying for occupancy is helping home sales across all price points, and now the recovery appears to be extending to home prices," he said in a statement.
While the news will be welcomed by the Obama campaign, the recent polls do not reflect an easy campaign for either candidate.
Asked to compare their current financial situation to their financial status when Obama took office, 30 percent said they were worse off, and only 16 percent said they were better off. Fifty-three percent said their status was about the same.
"On this question, Obama's numbers continue to resemble those of George H.W. Bush, who lost his bid for re-election in 1992 amid a flagging economy," Jon Cohen and political analyst Dan Balz noted in the Post's coverage of the poll.
Romney also has some work to do. The Post/ABC poll found that 91 percent of Obama's supporters said they were enthusiastic about his candidacy, while around a quarter of Romney supporters said they were not that enthusiastic about their candidate.
Obama's Campaign on Bain Capital
Obama's campaign attack on Mitt Romney's previous role as a Bain Capital executive, was also featured in the poll. Respondents were questioned about "Romney's work buying and restructuring companies." Those for and against Romney's role in Bain registered in equal numbers, while just over half those polled said his role at Bain had no impact on their attitude toward him as a candidate.
Romney's role at Bain Capital has been a target for the Obama campaign, as it had been during the Republican primaries, but the poll indicates that the recent ad has not had an impact.
The advertisement depicted former workers at a steel factory that Bain Capital, under Romney's management, had taken over. The steel company, GS Industries, eventually filed for bankruptcy and, although Romney was no longer actively managing the company at the time, the workers describe him as a "vampire" and someone who was out of touch with the American people.
Gov. Rick Perry had also raised Bain's handling of GS Industries during the GOP primaries, accusing Romney of being a "vulture" capitalist.
Obama's attack on Romney over his role at Bain has engendered criticism within Democrat ranks, providing fuel for the Romney campaign. Newark Mayor Cory Booker, a Democrat, was quoted defending private equity firms and confessing that negative ads made him "uncomfortable," after an interview on Meet the Press last weekend. Although he endeavored to clarify his comments later, saying his comments were taken out of context and declaring his total support for Obama, the criticism stuck.
On Monday, Democrat Ed Rendell, the former governor of Pennsylvania, weighed in on the issue, telling BuzzFeed the negative ads were "disappointing."
"I think Bain is fair game because Romney has made it fair game. But I think how you examine it, the tone, what you say is important as well," he said.
Barack Obama has stuck by the Bain attack ad, telling reporters at a press conference at NATO that "this is what the campaign's going to be about."
"[Romney's] main calling card for why he thinks he should be president is his business experience," Obama said. "And when you're president, as opposed to the head of a private equity … firm, then your job is not simply to maximize profits. Your job is to figure out how everybody in the country has a fair shot."
Romney meanwhile has been lying low, focusing this week on raising funds in Wall Street, AP reported, and perhaps biding his time.
He issued a statement in response to Obama's comments, saying that the election was about "23 million Americans who are still struggling to find work and the millions who have lost their homes and have fallen into poverty."
The Epoch Times publishes in 35 countries and in 19 languages. Subscribe to our e-newsletter.