Obama Kicks Off First Presidential Visit to Israel (Video)
March 20, 2013 2:28 pm Last Updated: August 15, 2013 11:29 pm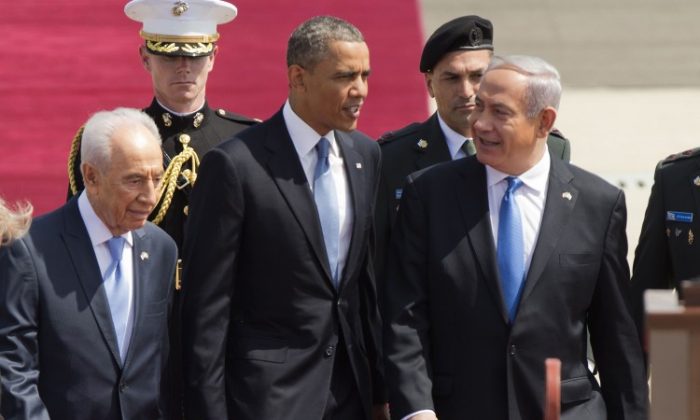 Obama started his first trip to Israel as president with a reminder: he's been there before. Telling a crowd gathered at the Tel Aviv airport in Hebrew that "it's good to be back in the country again," Obama kicked off his four-day trip to Israel, the West Bank, and Jordan with a hand firmly outstretched to Israel.
Noting that the United States is Israel's "proudest ally" and "greatest friend" in his speech, Obama set the tone for his trip. 
Some of his tightly-scheduled agenda include stops in Jerusalem, Ramallah and the West Bank, and Jordan. Every leg of his trip is full of meetings and statements to the press with leaders, including Israel's Prime Minister Benjamin Netanyahu and President Shimon Peres (he is meeting both multiple times), President of the Palestinian Authority Abu Mazen and Prime Minister Fayyad, and Jordan's King Abdullah II ibn Al-Hussein.
The visit is the first foreign trip of Obama's second term, and his first to Israel as president. He was previously there as a congressman.
Obama is the fifth U.S. President to visit Israel, which is about to celebrate its 65th anniversary of the establishment as a state.
Though the stops on the trip are mostly in Israel, including a major speech to thousands at the Jerusalem Convention Center on Thursday, his administration has also made a point of emphasizing his itinerary's stops in the West Bank and Jordan.
In his first public comments after touching down in Israel, Obama stated that the "United States of America stands with the State of Israel because it is in our fundamental national security interest."
A meeting later in the day with President Peres in Jerusalem brought the issue of a peace agreement to the table, with Peres stating that "the goal is a two states for the two people solution."
Obama finished his first day in Jerusalem with a formal press conference with Netanyahu.
Obama is expected to continue raising specific issues throughout his trip, including the U.S.-Israel relationship, regional security and stability particularly in relation to Syria and Iran, and ongoing efforts for a successful peace process.
His only semi-leisurely time in his packed schedule will be in Jordan, when he visits the famed archaeological site of Petra.
Other stops include the Israel Museum and the Yad Vashem Holocaust Museum in Jerusalem, a youth center in Ramallah, the Church of the Nativity in Bethlehem, and a major speech at the Jerusalem Convention Center (to a crowd with a large portion of students).
The Epoch Times publishes in 35 countries and in 21 languages. Subscribe to our e-newsletter.