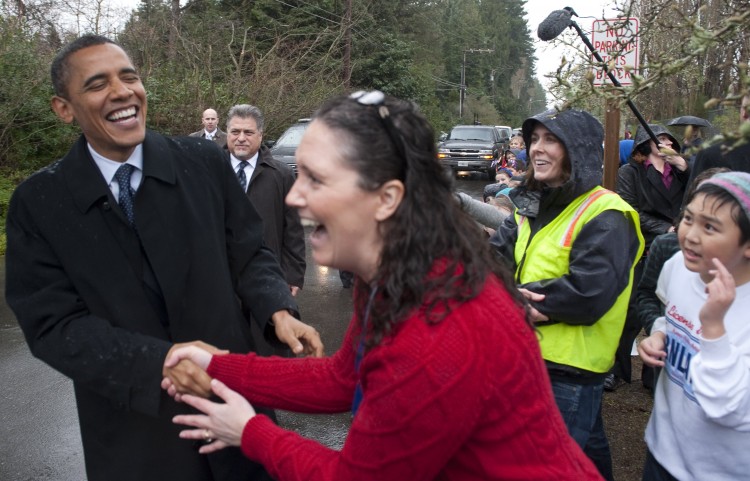 WASHINGTON—Last week is likely to have been a welcome one for President Barack Obama as he faces an election year. The payroll tax cut extension finally passed both Houses, economic indicators for the United States were positive, his approval ratings were up, and campaign funds rolled in. But as the new week opens on Presidents Day, rising oil prices may create some head winds.
Presidents Day, originally celebrated on George Washington's birthday of Feb. 22, is celebrated on the third Monday of February in all but 10 states.
The day will open in a week when oil prices are starting to loom on the national agenda. Traditionally higher in summer, prices are creeping up, rising 14 cents in the last month, to an average $3.56 according to AAA's Daily Fuel Gauge Report. Some are predicting it could go over $4 a gallon this year.
Uncertainty about Iran, which has repeatedly threatened to close the Strait of Hormuz to block oil supplies, political tensions in the Middle East surrounding the Arab Spring, and rising demand as the economy picks up, are all considered contributors to the rise in price.
Republicans have indicated they will focus on fuel prices and delays on U. S. energy projects such as the Keystone Pipeline, as central issues in the coming election year.
"As gasoline prices continue to rise to almost double what they were when President Obama took office and Iran continues to strain foreign oil supply, Americans are demanding action," said Natural Resources Committee Chairman Representative Doc Hastings (R-Wash.) in announcing a new energy bill proposed by Republicans Feb. 16.
Positives for Obama
As part of an official trip, Obama headed to the West Coast last week with an economy that is picking up and approval ratings to match.
His approval rate has been on a steady rise over the quarter, reaching the critical 50 percent mark according to a recent New York Times/ CBS News poll.
In California, Obama attended a number of fundraising events, one of which cost $35,000 a head and included Hollywood stars. Others were low-key gatherings of party supporters. The three-day sweep was expected to raise more than $8 million for his re-election campaign.
After weeks of negotiations, bipartisan coalitions in the House and the Senate finally agreed to a $143 billion dollar economic package to extend the payroll tax cuts.
The package will provide a yearlong extension of the payroll tax holiday, extend unemployment benefits for another 10 months and implement the Doc Fix, which prevents a 27 percent cut in reimbursements to doctors who treat Medicare patients.
Speaking at an official event at the Boeing plant in Everett, Wash., Obama acknowledged the bill's passage, saying, "I'm going to sign this bill right away when I get back home." He added, "I want to thank members of Congress for listening to the voices of the American people."
According to the Congressional Budget Office, the bill will increase federal deficits by $89.3 billion over the next 10 years.
In the House, 293 to 132 voted in support of the bill. Many of those were freshman Republicans who had opposed its passage last year on the grounds that it would increase spending.
The popular sentiment in the country, as indicated by polling data, showed strong support for the payroll tax cut and the extension of unemployment insurance, and convinced Republican lawmakers to reverse their opposition to the measures in an election year, even though it is not paid for.
Congress had also gained an 82 percent job disapproval rating, according to an average of four recent national polls, RealClearPolitics reported.
House Speaker John Boehner (R-Ohio) said he supported the payroll bill but described it as an "economic relief bill—not a growth bill" and blamed Obama for creating a need for the bill.
House Republicans have indicated they will continue to focus on Obama's handling of the economy as an election issue, linking higher fuel prices and delays in energy projects like the Keystone pipeline, as evidence of economic mismanagement.
Boehner reportedly called in House Republicans in the lead-up to the Presidents Day holiday weekend, urging them to take on board any reports of anger at higher fuel prices, according to The Associated Press.
Boehner's office used that strategy to effect in April last year, stating in a press release, "Running on empty: Obama administration does nothing to address skyrocketing gas prices."
The administration has acknowledged that rising fuel prices may be an issue. Obama linked cuts in the payroll tax, which can provide $40 in the average paycheck, to buffer rising fuel prices.
"I know there are some folks in this town who think $40 isn't a lot of money. But to a student or a senior who's trying to stretch the budget a little bit further? To a parent who's filling up the tank and looking at rising gas prices? To them, $40 can make all the difference in the world," Obama said in a public address Feb. 11.
Tom Kloza, oil analyst with OPIS (Oil Price Information Service), says prices could rise as high as $4.25 midyear but if they do it will be temporary and may drop equally as fast.
"I'd be surprised if the U.S. doesn't see a return to sub-$3 a gallon gasoline in the second half of the year," he wrote on his blog.