Obama CNN Joke at White House Dinner
April 29, 2013 2:09 pm Last Updated: July 18, 2015 5:20 pm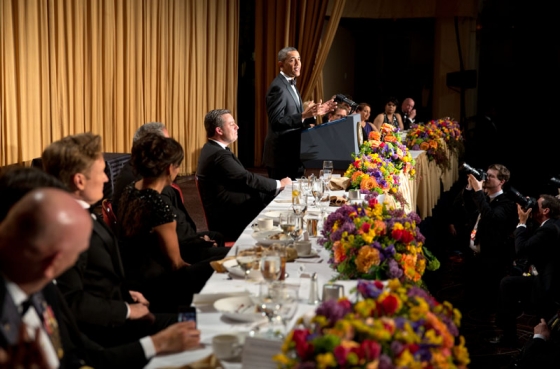 Obama CNN joke: CNN was one of many things that President Barack Obama poked fun at during the annual White House Correspondents' Dinner.
"I know CNN has taken some knocks lately but the fact is, I admire their commitment to covering all sides of the story, just in case one of them happens to be accurate," said Obama. CNN was one lambasted over inaccurate reporting during the aftermath of the Boston Marathon explosions.
CNN, which covered what Obama said at the dinner, briefly noted the joke in its report. 
He made other jokes about the media, including one about his former political adviser David Alexrod, who is now working for MSNBC. "MSNBC used to work for David Alexrod," Obama joked.
Obama joked about a lot of other things, including that he was starting to take fashion tips from his wife. A picture was shown of Obama with bangs similar to Michelle's.