A former Border Patrol chief in the Obama administration, who was fired by the Trump administration in 2017, told national television on March 21 that there is "absolutely a national emergency" at the U.S.-Mexico border.
Mark Morgan, who served as Obama's Border Patrol chief for most of 2016, told Fox Business's "Mornings with Maria" that there was an undeniable state of crisis at the border.
"It's absolutely a national emergency," Morgan said during the interview. "What we are talking about right now is part of the continued catch and release. It's a little bit different than before."
He explained that previously anyone caught by border patrol agents would be turned over to ICE, who then releases them according to immigration policies. But now this does not happen because of overcrowding at border patrol and ICE detention facilities.
Border crisis is absolutely a national emergency: Former Obama administration Border Patrol Chief https://t.co/5sE2wOxuj7

— Mornings with Maria (@MorningsMaria) March 21, 2019
"Now, border patrol agents are having to release illegal aliens into the interior of the United States. They're overwhelmed," Morgan said, adding that after the illegal aliens are released "you never hear from them again."
This week, border patrol released 250 migrants and are expected to release hundreds more because of an influx of Central American families causing overcrowding in immigration facilities, reported Los Angeles Times.
Homeland Security Secretary Kirstjen Nielsen warned lawmakers earlier this month that "illegal immigration is simply spiraling out of control and threatening public safety and national security."
"In February, we saw a 30 percent jump over the previous month, with agents apprehending or encountering nearly 75,000 aliens," Nielsen told the House Committee on Homeland Security. "This is an 80 percent increase over the same time last year. And I can report today that CBP is forecasting the problem will get even worse this spring as the weather warms up."
Morgan, who was also a former FBI agent, thinks loopholes in asylum laws and the incentives of being in the United States are generally to blame for the level of crisis.
"The intelligence will show you they're not fleeing violence and persecution like a lot of the talking points," he said. "Actually violence in Guatemala, [and] all Central American countries, are way down—homicide rates overall."
He continued, "They're coming for two reasons economic equality [and] family reunification. And they know because of our asylum laws, they step one foot in American soil, they're allowed in never to be heard from again."
The former border patrol chief said in order to handle the crisis, asylum laws should be amended to require anyone who wishes to seek asylum in the United States to make their applications in Mexico or their country of origin.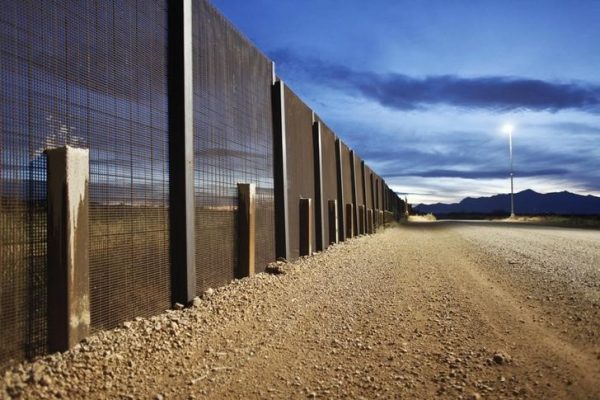 National Emergency
President Donald Trump declared a national emergency in relation to the crisis on the southwest border on Feb. 15, citing the influx of illegal aliens, drugs, and guns into the United States.
The president had previously promised to use his legal national emergency powers if Congress failed to appropriate $5.7 billion for border wall construction as requested by the Department of Homeland Security.
His declaration had enabled the transfer of $3.6 billion from the military construction budget toward wall construction. The president also ordered the shifting of an additional $3.1 billion, which did not require declaring a national emergency.
Hans A. von Spakovsky, a senior legal fellow from the Heritage Foundation, wrote on Feb. 25, that Trump "acted only after Congress refused to fulfill its duty to protect the country and provide the resources necessary to secure the border."
"Anyone who believes this isn't a genuine crisis is ignoring reality. It approaches what many consider an unchecked invasion: thousands of illegal aliens, dangerous criminals, drug smugglers and sex traffickers crossing the border every day," Spakovsky wrote in his article.
Anyone who believes this isn't a genuine crisis is ignoring reality. It approaches what many consider an unchecked…
On March 14, the Senate voted 59-41 on a resolution to terminate Trump's emergency declaration, where 12 Republicans joined all of the Democrats to pass the measure. The same resolution was already passed in the House on Feb. 26.
In response to the resolution, Trump issued the first veto of his presidency on March 15, to override the congressional resolution. He made the announcement in the oval office surrounded by law enforcement officials and mothers of people killed by illegal aliens.
"Today I am vetoing this resolution. Congress has the freedom to pass this resolution and I have the duty to veto it," Trump said, calling the congressional resolution "reckless" and "dangerous."
"People hate the word invasion, but that's what it is," the president said, adding that there is "nowhere left to hold all of the people that we're capturing."
Mark Morgan, a former Border Patrol chief in the @BarackObama administration who was removed by President @realDonaldTrump, joined the experts supporting a #BorderWall.

Morgan said that border walls "absolutely work." "The president is right."https://t.co/MMun7BPv1A

— NTDNews (@news_ntd) January 8, 2019
Moreover, Morgan previously told Fox News' "Tucker Carlson Tonight," that he supports a border wall.
"If you look in the past, you don't have to go too far back in history, that bipartisan legislation that was passed, the Secure Fence Act in 2006 and 2012, bipartisan legislation passed where they built the wall or fence or physical barrier, whatever you want to call it, it's a wall. It works," Morgan said on Jan. 7.
The Epoch Times Reporter Ivan Pentchoukov contributed to this report.