Obama Asks Congress to Postpone Syria Vote
September 10, 2013 11:29 pm Last Updated: September 10, 2013 11:29 pm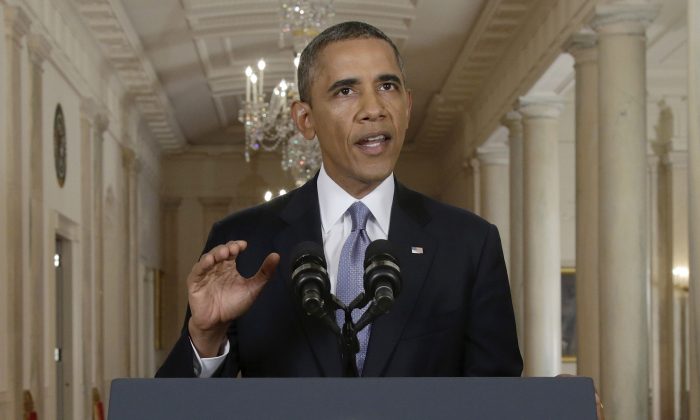 President Barack Obama spoke briefly in somber tones of his conviction to punish Bashar al-Assad for gassing civilians outside Damascus. He is still prepared to order U.S. forces to strike, even without congressional approval, he said. 
Sudden developments on Monday gave hope for a nonmilitary solution to the crisis. Russia, which sponsors Syria, is now willing to persuade the regime to give up its chemical weapons. 
"It's too early to tell whether this offer will succeed," said Obama. Assad's promise to give up the weapons must be verified, but it gives hope of avoiding the use of force.
Obama said he had asked the leaders of Congress "to postpone a vote to authorize the use of force while we pursue this diplomatic path. I'm sending Secretary of State John Kerry to meet his Russian counterpart on Thursday, and I will continue my own discussions with President Putin."
Many in Congress and many American citizens do not support a strike against Syria.
Obama, who voted against authorizing the invasion of Iraq when he was a senator, explained his reasoning.
He said he had long resisted calls for military action in Syria "because we cannot resolve somebody else's civil war by force."
The situation changed when Assad used chemical weapons, according to the president. "On that terrible night the world saw the terrible nature of chemical weapons." Assad broke a prohibition that has stood since the Geneva Protocol of 1925. In Obama's opinion, ignoring it would weaken the prohibition that has mostly held firm since World War 1 and then, the Holocaust.
He outlined the evidence that rockets were fired from a government-controlled area into a rebel-held area, and described the suffering of the victims, documented in many videos. He asked Americans to watch the videos.
Obama believes he has the legal authority to strike Syria without congressional approval, he said. But because we are the oldest constitutional democracy in the world, he chose to ask Congress to authorize a strike, he said. It would be a last resort if diplomacy does not work, but it would also be simply a punishment, according to the president.
Obama said Republicans should view a strike as an act of justice, and Democrats should consider the human rights and the suffering of Syrian civilians. 
Some Republicans criticize the strikes he has proposed as "pinpricks" that will not do enough to get rid of Assad, said Obama. But "The U.S. military doesn't do pinpricks." 
"My fellow Americans, for nearly seven decades, the United States has been the anchor of global security. This has meant doing more than forging international agreements; it has meant enforcing them," he said.
Given the uncertainty of diplomatic maneuvering, no vote is expected for several days.
"If something can be done diplomatically, I'm totally satisfied with that. I'm not a blood and thunder guy. I'm not for shock and awe," said Senate Majority Leader Harry Reid in a reference to the massive display of firepower that opened the war in Iraq nearly a decade ago.
Still, there was ample skepticism in Congress about the United Nations, Russia's true intentions, and Syria's willingness to be bound by international agreements.
"There is an overwhelming view it would be preferable if international law and the family of nations could strip Syria of the chemical weapons," said Sen. Chuck Schumer (D-N.Y.). "And there's a large view we should let that process play out for a little while."
Speaker of the House of Representatives John Boehner said, "Clearly, diplomacy is always a better outcome than military action. But I will say that I'm somewhat skeptical of those that are involved in the diplomatic discussions today."
While the president spoke, protesters gathered outside the White House. Some called for no war, others called for harsher military action against Assad.
Associated Press contributed to this report