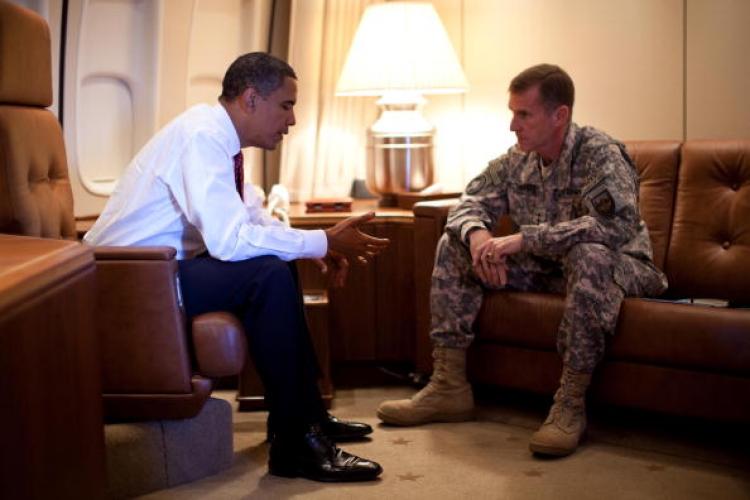 President Barack Obama, his administration, and military officials held meetings this week to discuss strategy alternatives for the future conflict and ongoing U.S. presence in Afghanistan.
Recent closed-door meetings were held to discuss a possible escalation of troops in Afghanistan, including a proposal for increased ground troop deployments made by a theater commander.
General Stanley McChrystal, commander of U.S. and NATO forces in Afghanistan, called for an increase in combat troop deployment in Afghanistan—with an option of calling for as many as 40,000 additional troops.
Among those present at the closed-door meetings earlier this week were Secretary of State Hillary Clinton, Secretary of Defense Robert Gates, and General David Petraeus, head of U.S. Central Command.
While weighing the decision on whether troop increases are coming and what those amounts will be, the president seems to have rejected alternative ideas calling for a downsizing of present troop strength in Afghanistan.
Vice President Joe Biden had spearheaded efforts to narrow the mission in Afghanistan by developing a smaller force, aimed at running anti-terrorism operations near the Afghanistan-Pakistan border.
On Tuesday, President Obama hosted congressmen and congresswomen from both parties to exchange views and discuss Geneneral McChrystal's report, including troop deployment options.
Republicans were generally supportive of following the military's recommendations for additional troops, urging President Obama to act swiftly.
'Deliberate Speed'
Sen. John McCain (R-Az) called for expeditious approval of the military's deployment strategies. "What I hope is that in weighing the options, the president will give great credence to leaders who have already succeeded in Iraq and use that model to succeed," said Sen. McCain in a Larry King interview.
"We need to act and we need to act with all deliberate speed."
Many anti-war Democratic sympathizers would like to see a draw-down to the conflict in Afghanistan, not an escalation or troop increase.
Senate Majority Whip Dick Durbin echoed this understanding. "I think there are going to be divided opinions within the House, within the Senate, and between the parties," he was quoted by Politico. "This is not a cut-and-dried, black-and-white issue."
The recent strategy meetings fall on the eight-year anniversary of attacks on Taliban positions in Afghanistan; a conflict now entering its ninth year.