Oath Keepers founder Elmer Stewart Rhodes III has fired the Texas-based defense attorneys in his Jan. 6 seditious-conspiracy case, alleging they missed key court deadlines and failed to file necessary motions and subpoenas.
Edward Tarpley Jr. of Alexandria, Louisiana, Rhodes' new attorney, filed an emergency motion in U.S. District Court in Washington to delay the Sept. 26 trial by at least 90 days.
Tarpley said he wants to slow down what he called a "fast track" that violates Rhodes' constitutional rights to due process and a fair trial.
The attorney switch was part of a flurry of developments in the high-profile prosecution of the Oath Keepers.
Judge Amit Mehta ruled on Sept. 6 that he won't allow defendants to use an entrapment by estoppel defense. The ruling could be a major blow to all defense cases.
Mehta has not yet ruled on Rhodes' motion to change attorneys and delay the trial.
"Rhodes faces a multi-count, multi-co-defendant trial in the most complex case of all Jan. 6 cases, in which prosecutors have openly said they seek life imprisonment for Rhodes," Tarpley wrote in a 20-page filing on Sept. 6.
"Even the misdemeanor Jan. 6 defendants have been allowed more time to prepare for trial. Every single one of them."
The U.S. Attorney's Office said it opposes the trial delay.
"The defendant has opted to switch counsel three weeks before trial, without raising any concerns previously, citing the need to file frivolous motions and seek discovery already provided," Assistant U.S. Attorney Kathryn Rakoczy wrote in a court motion on Sept. 7.
"While the defendant has a right to counsel of his choice, that right is not absolute, and it should not be elevated above the public's right to a speedy trial of the alleged leader of a seditious conspiracy aimed at stopping the transfer of presidential power," Rakoczy said.
Rhodes was indicted on Jan. 12, 2022, for alleged seditious conspiracy, conspiracy to obstruct an official proceeding, obstruction of an official proceeding, and two other Jan. 6-related counts. He pleaded not guilty to all charges.
The indictment alleges the Oath Keepers conspired to impede the counting of Electoral College votes on Jan. 6 and prevent the transfer of presidential power, by force if necessary.
Attorneys Phillip Linder and James Lee Bright spoke in recent hearings about the need for a trial delay due to the alleged slow production of evidence by prosecutors.
They also told Mehta that Rhodes was not given enough computer access at the Virginia jail where he is held to view case evidence.
The Epoch Times reached out to Linder and Bright for comment on being removed from the Rhodes case.
Withheld Evidence Complaint
Rhodes is scheduled to be tried with three other Oath Keepers and one associate starting Sept. 26. He and his co-defendants have complained for months about the slow production of evidence by the U.S. Department of Justice and of being denied exculpatory evidence guaranteed under U.S. Supreme Court precedent.
Mehta denied repeated motions to delay the trial and to move it from the heavily Democrat District of Columbia to northern Virginia, some 8 miles away. Defense attorneys complain the conditions in Washington make it impossible to obtain a fair trial for their clients.
As a policy, federal prosecutors and the Department of Justice do not comment on active cases except in filings before the court.
According to Tarpley, Rhodes seeks materials on three Oath Keepers defendants—Joshua James, Brian Ulrich, and William Wilson—who took plea deals admitting to seditious conspiracy and agreed to testify against Rhodes and other defendants.
"Rhodes has information that the communications and posts of these co-defendants contain exculpatory evidence, including information that these co-defendants are knowingly, falsely claiming to be guilty of sedition," the motion said.
Rhodes and his new attorney are also seeking information from prosecutors on former Arizona Oath Keepers leader Ray Epps, who was recorded on Jan. 5 and Jan. 6 inciting protesters to go into the Capitol.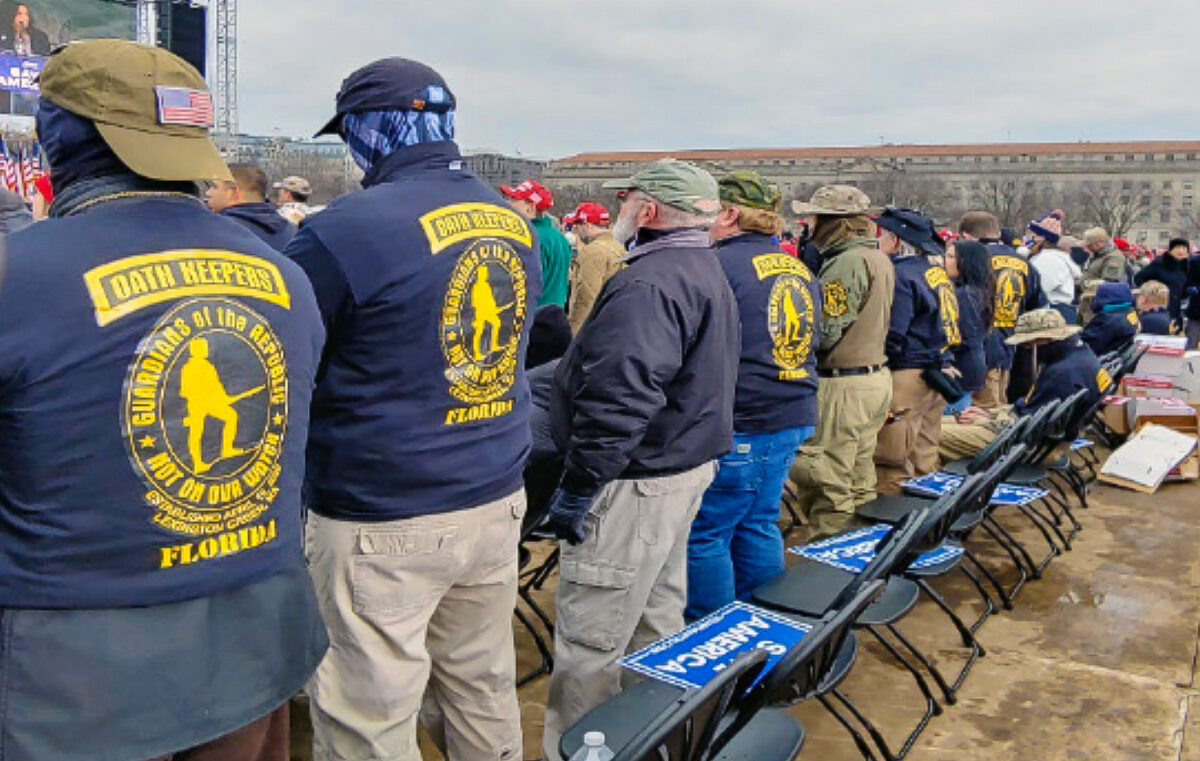 Epps told the FBI in a March 2021 interview that he brought a first-aid kit to Washington on Jan. 6 because he expected a terrorist bombing. He taught his son and a friend how to use a tourniquet in the event a bomb caused mass casualties.
Epps was originally listed as No. 16 on the FBI's Jan. 6 most-wanted page, but his listing was later removed without explanation. He has not been arrested or charged in relation to Jan. 6.
Tarpley wrote that he wants transcripts from the House Jan. 6 Select Committee of testimony given by Donald Trump attorney Rudy Giuliani, Oath Keepers attorney Kelly SoRelle, Latinos for Trump founder Bianca Gracia, and Oath Keepers associate Michael Greene.
"Failure to acquire this evidence may lead to Rhodes' and others' wrongful convictions for crimes they did not commit," Tarpley wrote.
SoRelle was charged on Sept. 1 in a four-count indictment for alleged conspiracy to obstruct an official proceeding, aiding and abetting the obstruction of an official proceeding, entering and remaining in a restricted building or grounds, and obstruction of justice—tampering with documents.
SoRelle was expected to be a defense witness in the Sept. 26 trial. Her indictment could make her unavailable to defense attorneys. SoRelle's indictment adds weight to the need for a trial delay, several case observers said.
Defense attorneys have filed motions over the past two weeks to compel the Department of Justice to provide more discovery information in the case.
Attorney Brad Geyer filed lengthy motions alleging that suspicious actors—not the Oath Keepers—are guilty of a conspiracy to attack the Capitol on Jan. 6.
Geyer represents Oath Keepers member Kenneth Harrelson.
Geyer and attorney Stanley Woodward—who represents Oath Keepers defendant Kelly Meggs—wrote that the DOJ has refused to turn over evidence beneficial to the defense.
This includes potential evidence of confidential FBI informants within the Oath Keepers, text messages from the U.S. Secret Service that were deleted from federal databases after Jan. 6, and FBI Form 302 summaries from interviews with dozens of witnesses.