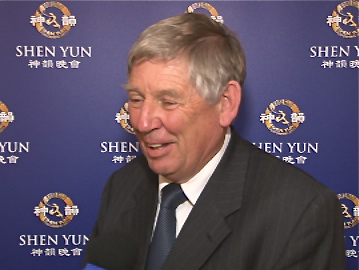 WELLINGTON, New Zealand—Shen Yun Performing Arts first ever show in the capital of New Zealand received 2 curtain calls by an appreciative audience. The Mayor of Masterton, which is one hour north of Wellington, Garry Daniell came to see Shen Yun for the first time.
Mayor Daniell felt each dance from the performance was, "quite individual and I feel fortunate to have seen them."
Shen Yun Performing Arts tour the world with three companies, bringing authentic Chinese culture to the world; each company has its own full orchestra, singers, and dancers.
"It's just amazing that so many performers came out here together with the orchestra, and I understand they have three casts like this, so it's just great to share that with the world," he said.
The mission of Shen Yun Performing Arts Company is to revive China's traditional 5,000 years old culture which has nearly disappeared over the last 60 years under the rule of the Communist Party.
Shen Yun is primarily a classical Chinese dance performance that draws from the wealth of stories and legends passed down throughout China's history, according to their website.
"The co-ordination was just wonderful," he said.
Shen Yun incorporates state-of-the-art animated backdrops that transport the audience to a world where heaven and earth a one.
"The backdrops there were just stunning, and the way that the actors melted into that was quite spectacular."
Mayor Daniell said the show had a message that "there's hope for the future," and he would "certainly encourage," his friends to come.
Reporting by Judy Wang and Nick Mclaughlin.
Shen Yun Performing Arts, based in New York, tours the world on a mission to revive traditional Chinese culture. Shen Yun Performing Arts New York Company will perform one more time at Wellington's St. James Theatre, April 24.
For more information, visit ShenYunPerformingArts.org.