Three NZ university lecturers who specialise in China issues have described how individuals—not enrolled as students—were present in their classrooms observing or photographing their lectures.
The revelations emerge as New Zealand (NZ) authorities work towards shoring up the country's national security amid ongoing concerns of Chinese Communist Party (CCP) interference in domestic affairs.
Auckland University's Stephen Noakes, a senior lecturer in politics and international relations, said on one occasion someone was taking photos during his class.
"There was someone I did not recognise in the room, and that person was pointing a phone around and taking pictures of the slides," he told the Red Line podcast series. "It made me incredibly uncomfortable, and I followed it up afterwards. I've not seen that person again."
Catherine Churchman, an expert in Chinese history at Victoria University in Wellington, said in 2017, a student began correcting her on her lecture content and telling her what the "official position" on certain historical issues were.
"I looked at him, and I thought, 'What are you actually [doing] in my class anyway?' And he said, 'I'm, I'm a visiting scholar.' And I said, 'Well, you're not supposed to be here.'"
Churchman told the person to leave but revealed she later saw the person getting off a bus near the Chinese Embassy in Wellington, NZ's capital.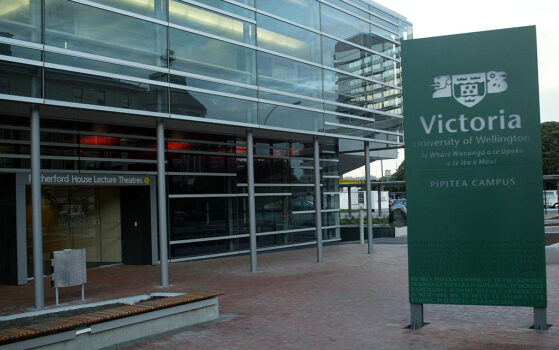 "Maybe this was just completely coincidental. Maybe he lived there; I don't know," she said.
Anne-Marie Brady, a China expert at Canterbury University, said people would often show up in her class that she had never met before.
"I was getting people turning up to my class who were not enrolled students and were there to either observe or disrupt. I just simply said, 'If you haven't enrolled in my class, you haven't paid the fees, you can't be here.'"
On one occasion in 2019, she had to force a woman to leave.
"She really wanted to stay and observe and not just observe—it was in a disruptive way, it was a somewhat intimidating way, for some of the other people in the class," she said.
Chris Whelan, the CEO of Universities NZ, said the group had received complaints of individuals attending classes and photographing students.
"We're not aware necessarily whether it's spying or exactly what's going on. There's enough there we do have some concern, and we're encouraging academics to be aware of this," he said.
He said universities were committed to protecting intellectual property and ensuring that NZ's free and open society was not being undermined.
The revelations from Red Line come as the NZ government continues its steady recalibration of the NZ-China relationship.
According to Anne Marie-Brady, since 2018, the government has been passing new laws and implementing "quiet policy adjustments" to counteract foreign interference activities by Beijing in its domestic affairs.
This was evidenced by the double resignations of two Chinese MPs last year. Yang Jian from the National party resigned from Parliament on July 10, 2020, while Raymond Huo from the governing Labour party resigned just 11 days later, July 21.
Leaders from both major parties remained tight-lipped on whether NZ's security agencies were involved in the resignations.
Concerns have also been raised over NZ universities providing technological know-how to Chinese institutions connected to the People's Liberation Army.