Thousands of New Zealand farmers nationwide took to the streets in over 40 cities and towns on tractors and utes to protest new taxes and regulations that the Ardern government implemented.
The 'Howl of a Protest,' organised by Groundswell NZ—an organisation made up of farmers, growers, contractors and tradespeople—was protesting a raft of new taxes and environmental regulations that they say are punishing the rural sector.
The regulations come after a 2019 environmental study, titled "Environment Aotearoa" (pdf), said the country was in a bleak environmental situation with the potential for catastrophic biodiversity loss and massively polluted waterways brought about by risky agricultural and industrial practices.
Groundswell co-founder and protest organiser Bryce McKenzie told RNZ on July 16 that farmers accepted they needed to make changes to help the environment, but that the NZ government's one-size-fits-all approach to regulating the rural sector would not work.
"Farmers are not putting their heads in the sand and saying there isn't a problem; they're definitely working very hard to try and make things right. It's hard to see why regulations [are] going to speed that process up," Mackenzie said.
Karen Barker, a farmer who is coordinating the Rotorua arm of Howl Of A Protest, told the NZ Herald that farmers and growers were fed up with "constant government interference."
She said many of the regulations forced upon them in recent years were impractical, prohibitively expensive, and we're creating "immense mental strain."
"We're constantly being told what we can and can't do. Everyone I know has had a gutful, and we can't stay silent anymore. We hope the townspeople will support us because the entire food-basket of New Zealand is at stake."
The protest organisers have released seven points (pdf) they want the government to address immediately, with the priority being on the new National Policy Statement on FreshWater and on Indigenous Biodiversity, which they say are stopping farmers from managing their land and practising conservation measures.
Further, the farmers want overseas agricultural workers to be allowed into the country, and they want the NZ government to immediately scrap what has been nicknamed the "Ute Tax" or the Clean Car Package rebate scheme.
The scheme, which came into force in July, means people buying new electric vehicles (EVs) could get up to NZ$8,625 back from the government and will be funded through levies on high-emissions vehicles from Jan. 1, 2022.
But farmers, horticulturalists, industry support people, and tradespeople fear that as they are the major uses of high-emission vehicles, they will bear the brunt of the government's new levies, and they note there is currently no electric alternative to these vehicles available.
"There is no electric alternative to the ute— a vehicle which is essential to New Zealand's economic heavy-lifters," said Groundswell. "If there is no alternative, the policy is clearly unworkable and merely another financial burden."
A point that is echoed by opposition Leader Judith Collins, from the National Party, who attended the protests on Friday. Collins has previously told RNZ that she would abolish the tax straight away if elected.
"Why are they having to pay for the government's failure to deal with emissions?" she said. "I think the government's move is simply a tax on those people who have to work for a living to enable others who want to have a 'nice to have'."
"For many families, this is simply out of their reach," Collins said.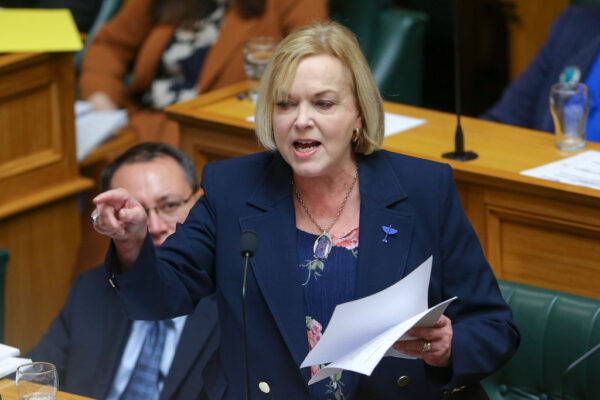 NZ Transport Minister Michael Woods has said previously that the scheme was about quickening the transition to cleaner vehicles. He has also said there were some electric trade vans currently available and that manufacturers had indicated that electric utes would be available soon.
In an address on Facebook, NZ's Prime Minister Jacinda Ardern said that she supported the right of the farmers and agricultural sectors right to protest across the country and that these were issues that she and the government "were working hard to respond to."
Ardern noted that she understood how critical the primary sector is to New Zealand, domestically and economically.
"In the last year alone, we have seen how important our food producers, in particular, have been not only to us domestically, but also to our economy. They have continued to hold up and generate an incredibly strong recovery for us in the wake of COVID-19," she said.
But she noted that New Zealand had a reputation of excellence to uphold in the export sector and that New Zealand was expected to demonstrate they are doing "their bit" on the environment, particularly around freshwater and agricultural products.
But Ardern promised that she and the government would work with the rural sector to tackle these challenges.
"My commitment is that we will keep working together, "Ardern said.