GARDEN CITY, New York—The New York state Republican Party nominated Congressman Lee Zeldin for governor and Alison Esposito for lieutenant governor on March 1, the second day of its two-day convention at the Garden City Hotel on Long Island.
Zeldin was the first nominee to address the issue of the 4,000 employees of the City of New York who were terminated for not getting vaccinated.
"I believe that every single one of them should get their jobs back with back pay," he said in his acceptance speech.
He attacked Democrat-induced problems such as critical race theory (CRT), increased crime due to cashless bail, high taxes, and overregulation, each followed by thunderous applause.
Zeldin received the first of many laughs when he said, "You would think between this microphone and the cameras in the back Schumer would have been here by now," referring to Sen. Chuck Schumer, the Democrat the GOP is looking to unseat with Joe Pinion.
There was a lot of talk of Zeldin's and Esposito's service before politics. Zeldin was a captain in the US Army during the Iraq War and Esposito was a deputy inspector in the NYPD. Zeldin remains a lieutenant colonel in the Army Reserves.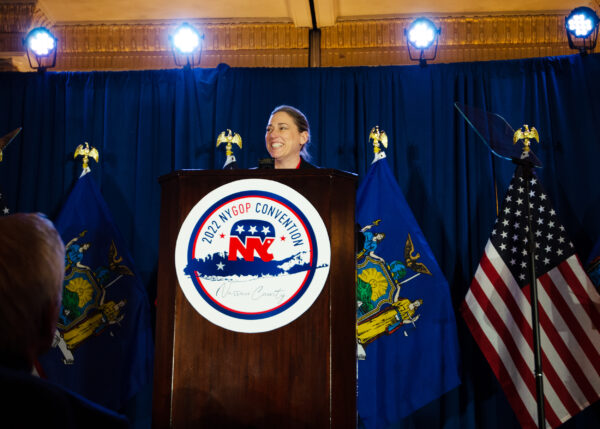 As he did the previous day, newly elected Nassau County Executive Bruce Blakeman kicked off the morning with a short speech.
There were several other hopefuls for governor.
Andrew Giuliani, Harry Wilson, and Rob Astorino made it far enough through the process to be in the primary, but Sheriff Mike Carpinelli and Derrick Gibson did not. However, Carpinelli and Gibson were each given an opportunity to speak, and both said they'd support the chosen candidate.
Giuliani is the son of former New York City Mayor Rudy Giuliani. The elder Giuliani was in attendance but did not speak.
Zeldin won over 85 percent of the weighted vote by delegates, beating out Wilson and Astorino.
Some delegates wore stickers that read, "I'm with Lee" and others wore T-shirts that read, "I'm All in for Zeldin." Once Zeldin was confirmed as the nominee, his campaign handed out large signs with his name above the word "governor," which many people held up when he took the stage.

As he did the first day, former New York Gov. George Pataki, the most recent Republican to hold the office, spoke briefly, as did former Congressman Peter King.
Congresswoman Claudia Tenney addressed the convention in a short, prerecorded video where she was the first one to speak of voter fraud.
The New York primaries will be on June 28.