These words, highlighting the achievements of the NYPD, are detailed on the New York City government website:
"For the past 25 years the NYPD has created and refined a crime-fighting system that led the nation and proved that police can drive down crime even as the population grows significantly."
It is important to review some statistics to appreciate the achievements of the NYPD.
NYPD Crime Data Warehouse
Information from the NYPD present insightful statistics from 1990 – 2014 on the historic reduction in crime. As the population grew from 7,332, 564 in 1990 to 8,475,500 in 2014, crimes dropped from 560,000 to 106,000.
The NYPD Crime Data Warehouse, cited as the source for these statistics, also notes that the number of murders dropped from 2,245 in 1990 to 333 in 2014.
New York City recorded the lowest number of murders in 2014, since 1957, dropping a staggering 85 percent since 1990.

New York City Transit Crime reduction also deserves attention. The total felony crimes have dropped 87 percent since 1990 although ridership has nearly doubled.
In 1990, subway ridership was estimated at 1 billion people per year with 17,497 crimes.
In 2014, ridership was an estimated 1.7 billion with 2,333 crimes.
Driving Down Crime, Reducing Use-of Force
The aforementioned statistics are leading crime reduction achievements for America. They were achieved with reductions in use-of-force and officer-involved shootings and fatalities.
Related Coverage
In 1990, there were 39 subjects that were shot and killed by police with an intentional discharge during an adversarial conflict. In 2014, there were 8.
Regarding the controversial stop, question, and frisk encounters, the NYPD Crime Data Warehouse cites a 93 percent drop since 2011.
Aside from the years noted above, current NYPD CompStat documents (open-source public records) also document the success of crime prevention. These program hold NYPD leaders accountable and memorializes continued achievements with reducing crime.

The NYPD, in collaboration with law-abiding citizens is making New York City a model of crime prevention for America.
For instance, compare New York City to Chicago. In one published report during 2016, Chicago had about 67 shootings per 100,000 people while New York City had five.
The aforementioned statistics are positive but unfortunately the media often sensationalizes the negative.
This is an injustice to the gallant efforts of dedicated NYPD rank and file, citizens, and police leaders.
NYPD Commissioner James P. O'Neill
Over the past 24 hours, I have had the privilege of speaking with, and listening to the highest level of NYPD leadership.

Although the character of these officials would direct praise to their rank and file, their highly-decorated careers exemplify authentic leadership.
According to his official bio, James P. O'Neill is the 43rd NYPD commissioner. Previously, he served as chief of department, the NYPD's highest uniformed rank.
Commissioner O'Neill is credited with developing neighborhood-based policing. This concept highlights more personal police and community interaction.
During a moment with Commissioner O'Neill on March 21, after his presentation for the American Academy for Professional Law Enforcement (AAPLE), I asked him for an explanation of the difference between community policing and neighborhood-based policing.
Related Coverage
He stressed that neighborhood-based policing demands more accountability from the officer. The officer not only develops partnerships with the community but assumes an ownership of responsibility.
The key to neighborhood-based policing is ownership according to O'Neill. "Fighting crime is what we get paid to do," he says, "But we can't do that unless we achieve full partnership with the community. Unless we have that connectivity, it's not going to work."
NYPD Chief of Detectives Robert K. Boyce
On Monday evening, March 20, at a National Law Enforcement Associates (NLEA) event, NYPD Chief of Detectives Robert K. Boyce was the featured speaker.
Prior to his presentation, I took a moment to personally thank Chief Boyce. I expressed to him that he was fulfilling his sacrosanct mission to protect the people of New York, and his work deserved gratitude.
According to the NYPD official bio, Chief Boyce has been with the department since January, 1983. He ascended through the ranks over the years, and has always been respected for his leadership, professionalism, and dedication.

According to NYPD News, Chief Boyce is virtually responsible for all of the Department's investigative resources.  Each of the eight Patrol Boroughs has a Detective Chief, who reports directly to Chief Boyce.  These individuals are responsible for the Patrol Borough's Precinct Detective Squads, Homicide Squad, Night Watch, Narcotics, Vice Module, and Gang Squad. A Detective Chief works collaboratively with the uniformed Borough Chief. This ensures that the work of Precinct Detective Squads, Narcotics, Gang, and Vice has resources that are closely coordinated to address crime in the boroughs.
Final Reflections
Emblazoned on every NYPD vehicle are the words courtesy, professionalism, and respect.
For Commissioner O'Neill and Chief Boyce, these words are not merely a motto but principles of ethical protectors.
Although the humility of these two fine men would direct attention to the hard working rank and file, a moment to express gratitude for their well decorated careers is in order.
Respect is at the heart of every dedicated police leader because their work is not just a job but a vocation.
Praise, gratitude, and encouragement are the order of the day for police leaders who inspire respect.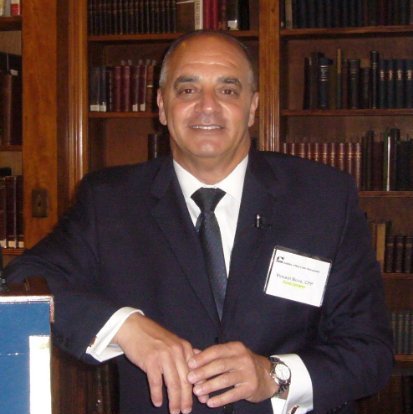 Vincent J. Bove, CPP, is a national speaker and author on issues critical to America. Bove is a recipient of the FBI Director's Community Leadership Award for combating crime and violence and is a former confidant of the New York Yankees. His newest book is "Listen to Their Cries." For more information, see www.vincentbove.com
Views expressed in this article are the opinions of the author and do not necessarily reflect the views of The Epoch Times.