Unvaccinated NYPD, FDNY, and DSNY (New York Department of Sanitation) members will be terminated on Feb. 11, unless they comply with the city's COVID-19 vaccine rules.
Letters obtained by The Epoch Times, written by the Sergeants Benevolent Association (SBA) and the Uniformed Firefighters Association (UFA) to its respective members, indicate that the NYC Mayor has decided to proceed with the mandatory COVID-19 vaccination requirement that threatens noncompliance with leave without pay and termination.
"The NYPD will notify new hires who have not provided proof of a second vaccination dose and employees on LWOP (Leave Without Pay) who refused to get vaccinated that they have until February 11, 2022, to comply," reads the SBA letter.
"The UFA has been informed that the Mayor is moving forward with termination of members who are non-compliant with the vaccine mandate."
It's not immediately clear how many police officers or firemen will be laid off for rejecting the controversial COVID-19 vaccines.
According to the New York Post, about 5,000 police officers have requested religious or medical exemptions and have been allowed to work while doing weekly testing.
Firefighters, Medics, and EMTs have formed a grassroots pro-choice group called Bravest for Choice and have been trying to have the city back down on the mandates.
"Bravest For Choice believes every person has the right to make his or her own informed choice when it comes to medical decisions," Matt Connor, a member of Bravest for Choice, told The Epoch Times.
"Furthermore, we acknowledge the right to make these choices based on an individual's own medical history, and/or sincerely held religious and personal belief," he added. "We object to a work environment where medical decisions must be made under the coercive threat of unemployment."
Their union representatives previously said during a press conference in early November 2021 they have been understaffed for a long time, and many were already overworked.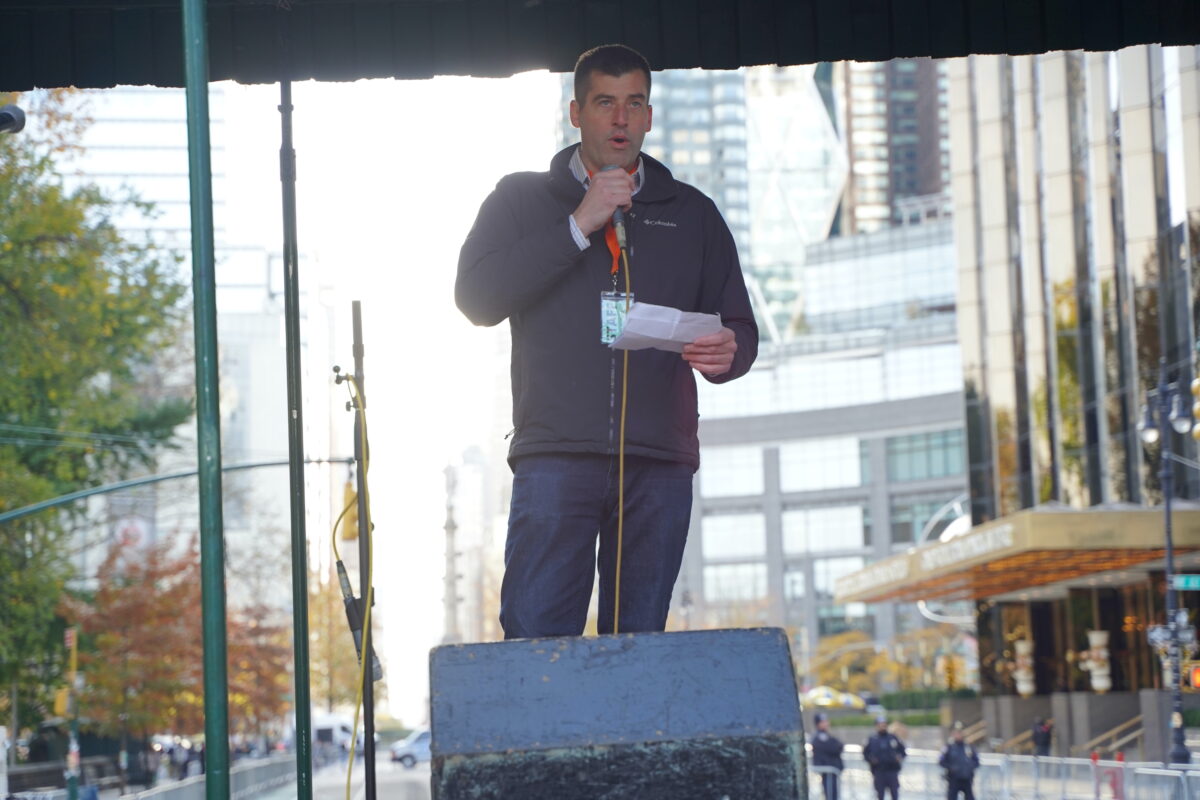 Connor said the group is "gravely concerned" about the situation and that if the city denies the "thousands of requests and appeals for reasonable accommodations" and terminates the applicants, there will likely be "severe impacts to public health and safety."
"For example, in the case of the FDNY, 'New York's Bravest,' terminations will exacerbate an existing staffing shortage that has been further impacted by a sustained elevation in medical leave due to illness and injury during the past several months following the mandated vaccination program."
In October last year, thousands of firemen protested against the mandates en masse, often citing that they have strong natural immunity and don't need the shots after having been exposed to the virus to a high degree during the height of the pandemic.
Connor noted that thousands of New York City employees have yet to disclose their COVID-19 vaccination status or provide proof of COVID-19 vaccination, and are doing weekly tests while their requests for reasonable accommodations are being evaluated. "Other workers have been segregated and involuntarily placed on Leave Without Pay since November 1st and thereafter," he said.
He said a lack of manpower will mean more need for overtime staffing, and the vaccine mandate "has disastrous potential to overtax an already stressed workforce."
"This policy could very well lead to further increase in illness and injury, and the resulting manpower shortage would invite a chain reaction," he continued. "Potential reductions in staffing … in combination with elevated emergency activity, can lead to a further rise in medical leave rates."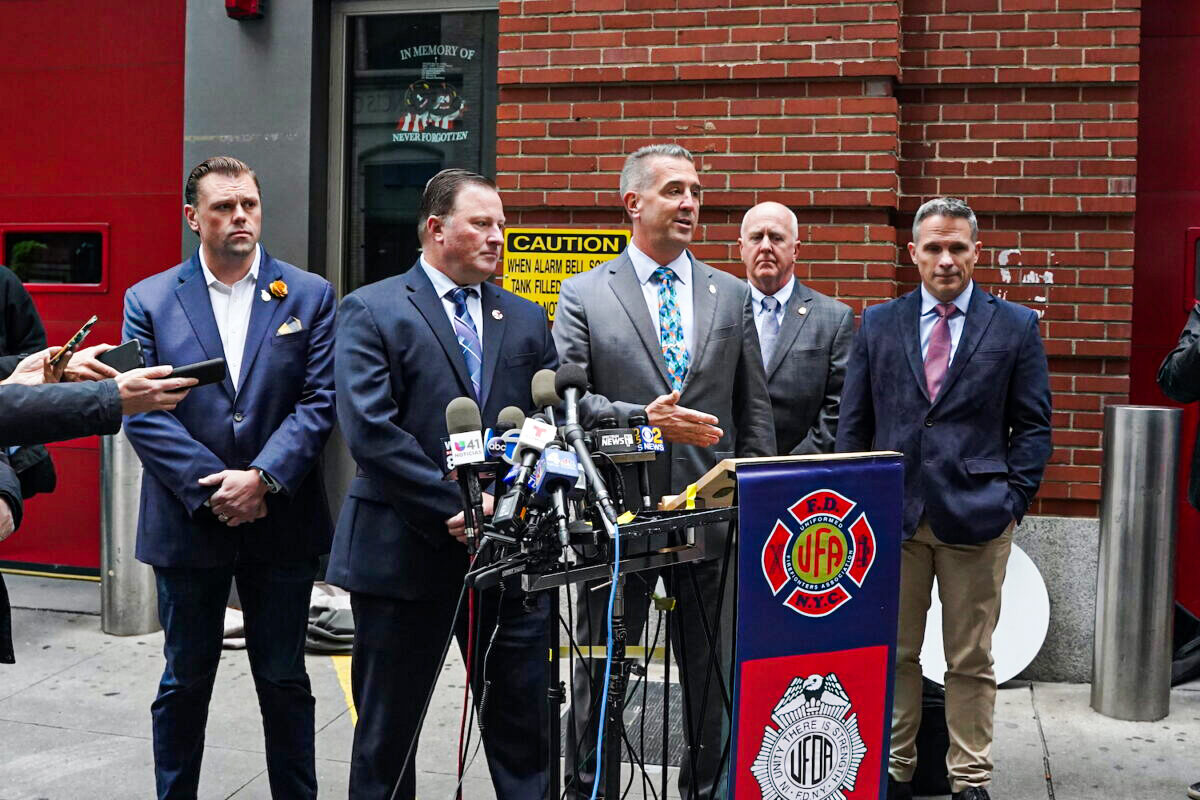 He also said that terminations as a result of the COVID-19 vaccine mandate may affect fire departments with staffing and the ability to promptly respond to calls.
"An out of service unit can cause the relocation of units across the city to balance coverage, or prompt neighboring units to come from greater distance to a call for an emergency," Connor said. "With resources spread thin geographically, response times have the potential to increase, which can put the public in grave danger, and the safety of first-responders at-risk."
In November last year, FDNY members told The Epoch Times that manpower shortages were causing alarmingly low firetruck availability due to many of them being sent home without pay for rejecting the jabs.
Unvaccinated DSNY members are also facing termination on Feb. 11 for the same reason.
Tommy Libretti works for the DNSY. On Jan. 31, he received a few text messages followed by a call from his representatives telling him he needed to report to a location in downtown Manhattan by the next day, and sign a waiver in order to keep his leave without pay (LWOP) status until June 2022 with benefits, he told The Epoch Times.
"I asked to see a copy of this waiver and was denied my request," Libretti recounted. "I also asked to see a document alerting me of this message so I can properly digress and reference any information—I was told it's in the mail.
"The very next day, the day of the 1P.M deadline, I received a rush order/overnight UPS envelope at 11:45 A.M containing the document to report downtown. I had all of one hour and 15 minutes to respond to a notice that required me to report and sign a waiver that would wave my right to sue but keep my LWOP status until June with benefits—OR—I'll be terminated on February 11th, 2022."
He said the situation is "unacceptable" and "inhumane."
"My concerns and pleas have fallen off deaf ears with no direction, no guidance, no interaction whatsoever—just a document sent hours before a deadline that wasn't promptly placed in my possession," he said.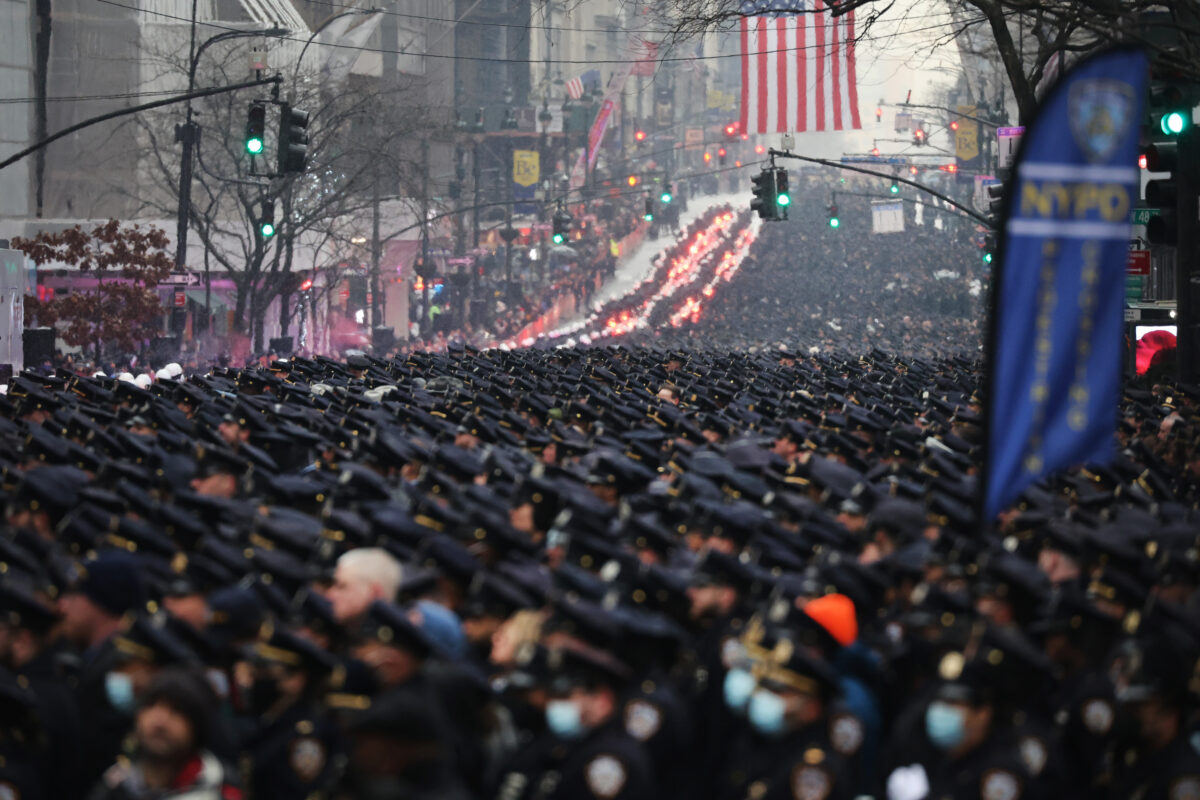 Joshua Goodman, the DSNY Assistant Commissioner for Public Affairs, said the department hopes that all remaining employees will take the vaccine. "[W]e are working with our partners in organized labor to make that hope a reality," he told The Epoch Times in a statement
"Vaccines help keep our workforce and the City at large safe, and DSNY currently has a vaccination rate of over 94 [percent]," he said, adding: "Any unvaccinated employee that is currently on Leave Without Pay is encouraged to submit proof of receipt of a COVID-19 vaccine as soon as possible, and no later than 5pm on February 11th."
The immediate termination doesn't apply to NYPD, FDNY, and DSNY members who still have pending reasonable accommodation requests.
NYPD and UFA did not respond to a request from The Epoch Times for comment.