New York City police officers cleared the so-called autonomous zone near City Hall in the early hours of July 22, surprising the occupiers.
The demonstrators had set up an encampment near City Hall, utilizing a city park and a plaza that typically is little-used except for a smattering of food trucks.
Video footage showed dozens of officers equipped with shields and wearing helmets entering the space and removing tents, tables, and other items. The items were placed in Department of Sanitation trucks and taken away.
New York City Mayor Bill de Blasio, a Democrat, told reporters later Wednesday that he made the call to clear the occupation.
"What we saw change over the last few weeks was the gathering there got smaller and smaller, was less and less about protest and more and more became an area where homeless folks were gathering," he said.
"I said repeatedly, we do always respect the right to protest, but we have to think about health and safety first, and the health and safety issues were growing."
He praised police officers for how the clearing was handled.
New York Police Department (NYPD) Commissioner Dermot Shea said he was happy with how the operation turned out.
"I would categorize this as one for the win column and another step toward getting back to normalcy in New York," he said.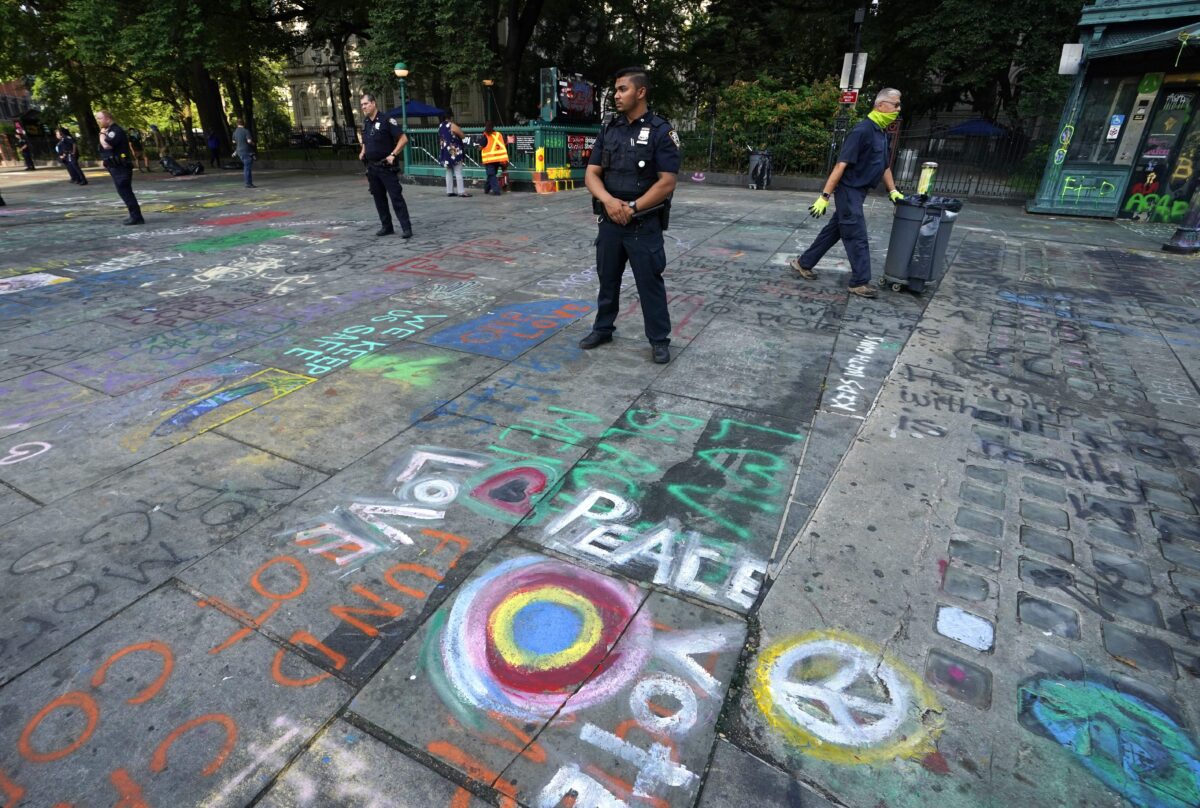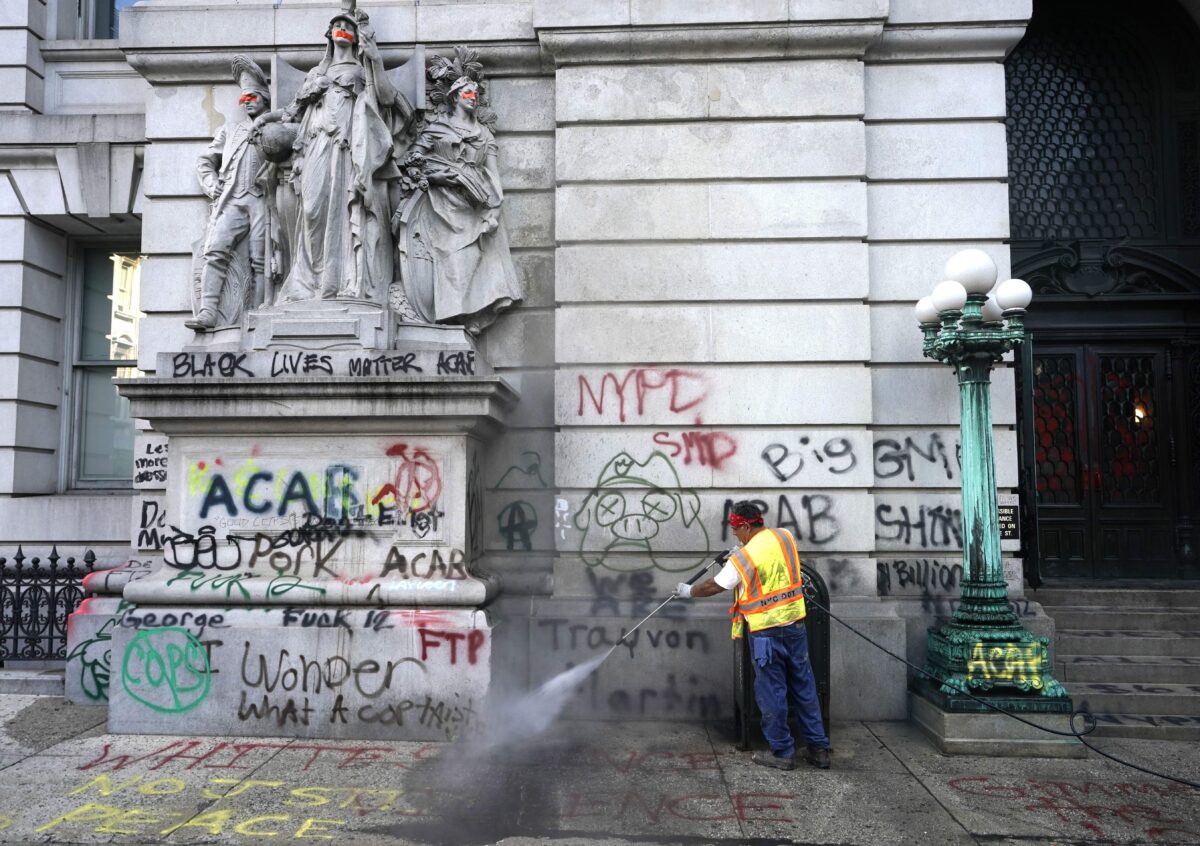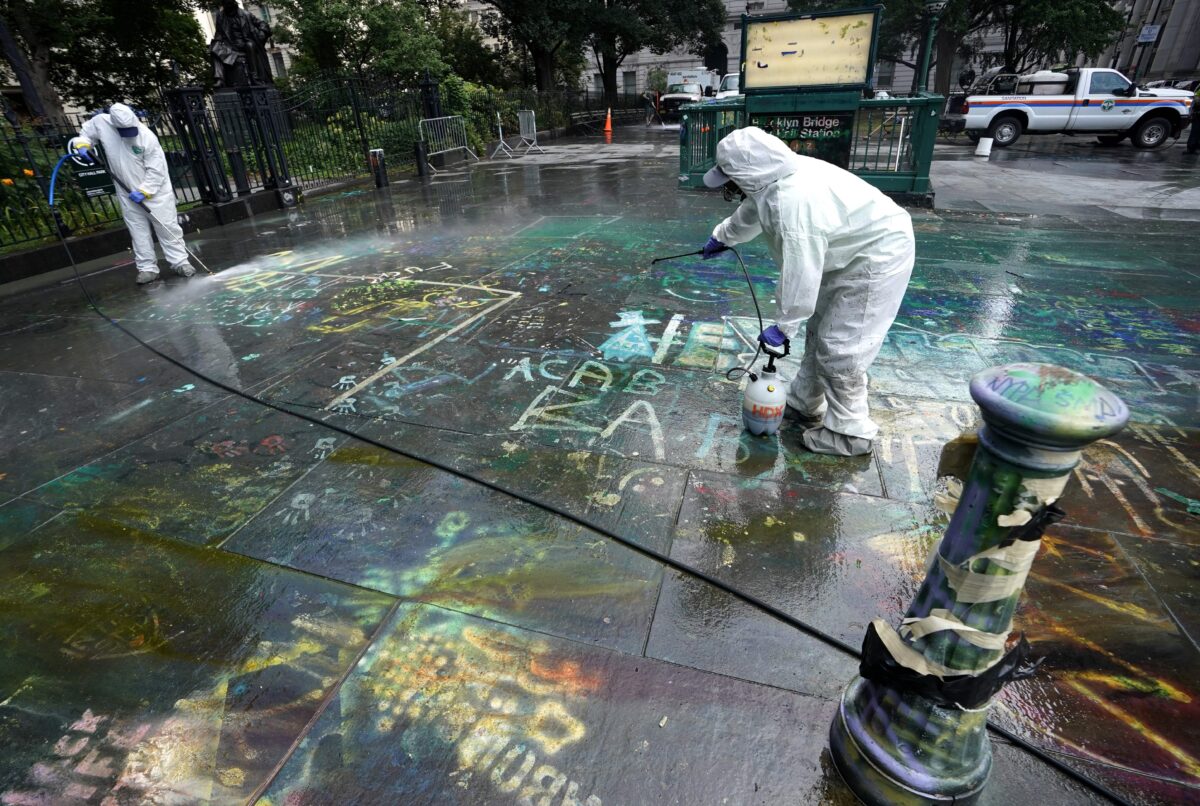 Around 40 or 50 people were at the park when the zone was cleared. Thirteen people were arrested, 11 of whom were male, an NYPD spokeswoman told The Epoch Times. Charges are pending.
Police officials said there were no apparent injuries suffered during the operation.
City workers, some in Hazmat-like suits, were seen later cleaning the area. The plaza was marked with chalk and graffiti, as were parts of a subway station and the outside of a nearby city building.
The clearing came as de Blasio joined some other Democratic mayors in urging the Trump administration not to send federal agents, arguing they're not needed to maintain order.
Crime has spiked in many of America's largest cities in recent weeks, amid protests and riots sparked in part by the death of George Floyd, a black man, in police custody in Minneapolis on Memorial Day.
In a July 22 letter to Attorney General William Barr and acting Homeland Security Secretary Chad Wolf, de Blasio said New York City officials "do not consent" to federal agents and officers being sent to assist local law enforcement.
"They have not been requested. They are not needed. And they have proved to bring way more harm than good," he wrote, threatening to take the federal government to court.
De Blasio said at the briefing that federal officers are being sent to do work they're not trained to do, such as crowd control.
"It threatens the core values of this country. So what we see in Portland is that the federal presence is actually making the situation worse," he added.
Wolf disputed that type of characterization on Tuesday, telling reporters in Washington that federal officers typically take a defensive posture but have been forced to escalate what they do because of the lack of action from local law enforcement.
"The fact that we are there is because local officials are not taking action," he said.