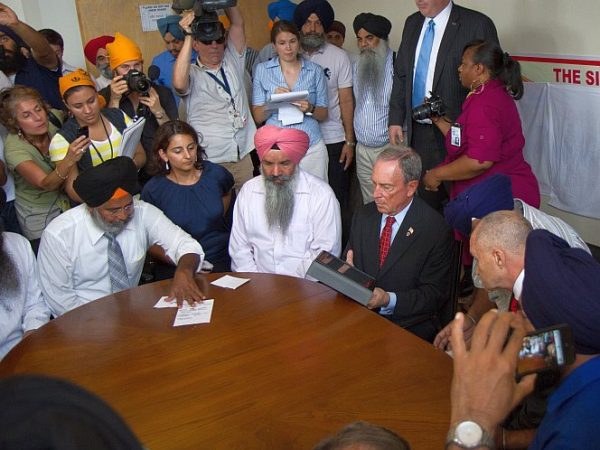 NEW YORK—As people are mourning the Sikh temple shooting in Wisconsin, city and community leaders are raising concerns for the safety of the large Sikh community in New York.
"It happened once here," Suki Singh, 49, a member of the Sikh Cultural Society in Queens, said on Monday. Singh is referring to the 2002 fire that burned down their cultural center.
"They need to take more measures, the police should be around the area more, especially during Sundays," Singh said.
Mayor Bloomberg, Police Chief Commissioner Raymond Kelly, and the Sikh Cultural Society leaders addressed the issue at a press conference Monday.
A shooting killed six people and injured three at a Sikh temple in Oak Creek, Wis., on Aug. 5. Shortly after the Wisconsin shooting, Kelly met up with Sikh Cultural Society leaders to express his condolences and offer extra help.
He said he has been in touch with federal authorities, and currently there are no known threats for New York. "We will continue to monitor this issue," Kelly said.
Previous threats against religious groups have been thwarted in New York. Every year, NYPD meets with religious groups in New York to ensure their safety, especially during religious holidays.

"We have always felt safe in New York City; a majority of Sikhs are living in the tri-state area," Harpreet Singh Toor, chairman of the Sikh Cultural Society said at the press conference.
Bloomberg calls Queens the "center of the Sikh community in the United States, with roughly 15,000 Sikhs in the surrounding areas."
"We are taking steps to make sure every religious organization's places of worship are protected," he said.
National Issue
Bloomberg feels that New York has done all that it can, and that the solution to gun violence lies in the hands of national authorities.
"New York state has tough gun laws. … There's already a three-and-a-half-year sentence for carrying a loaded gun," he said. "Eighty percent of guns come from outer states, it's not a problem that the state can do much about."
Bloomberg said it is not a problem to own a gun for protection, but national laws should prohibit the manufacture and sale of assault weapons, especially "armor-piercing bullets that are designed to kill police officers."
The Epoch Times publishes in 35 countries and in 19 languages. Subscribe to our e-newsletter.