NYC Street Vendors Mobilize for Elections
July 11, 2013 5:21 pm Last Updated: July 11, 2013 5:23 pm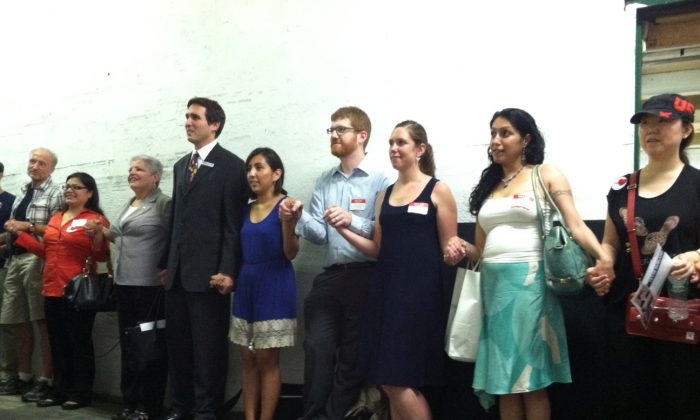 NEW YORK—The street vendors of New York City want to have their voices heard in City Hall, and are using this fall's elections as a platform to organize vendors and publicize issues that mean something to them.
Spurred on by the city's most powerful vendor organization, the Street Vendor Project (SVP), the merchants of hot dogs, flowers, t-shirts, street artists, and fancy food trucks plan to register voters and endorse candidates for the city elections in November. 
When Election Day comes, those endorsements could pay off with tangible votes. By their estimate, SVP said that there are 15,000–20,000 street vendors in New York City.
"I wish [elected officials] can support and help all the vendors," said Soledad Pabon at a launch party for the campaign in NoHo on the night of July 9. Originally from Lima, Peru, Pabon has run a business as a street vendor for 28 years. "All the big stores don't like us—we need power. We need an open industry."
Vendor Power, Voter Power! seeks to raise issues of concern to the community with lawmakers. These include principally availability of licenses and onerous fines.
Pabon, who sells general merchandise such as hats and sunglasses at both 34th Street and Seventh Avenue, and 28th Street and Seventh Avenue, has one daughter who is an immigration lawyer, and one in business school. Despite her longevity in the industry, Pabon, like many others, had to wait for years to get a license. 
The wait, which in Pabon's case was 13 years, is due to the limited number of vendor licenses the city gives out every year. In addition to the mountain of paperwork to apply, the Department of Consumer Affairs (DCA) uses a lottery system to determine who gets a license. 
The current number of open slots for vendor licenses is 853, and the DCA gives special consideration to veteran applicants.
That limitation means that many of those who are willing and able to work as vendors often risk going completely outside the system, rather than wait for years to get the city's red-stamp approval.
Heleodora Vivar, an SVP member who has been working as a vendor selling general goods for a decade, has never had a license. 
"It's a huge problem; there are a lot of people who don't have a license," said Vivar, who is originally from Mexico. "But it's our right to sell and work."
Her stand is on Manhattan's Upper East Side. She has been a resident of the United States for 22 years, and is quick to point out that although the city won't validate her business, she has always paid her taxes.
Even those who do have licenses sometimes get hit hard with fines for small things such as setting up too far from the curb, or failing to display a license around the neck. The SVP has been working to reduce the amount vendors are fined, and the rate at which fines escalate. 
Luther Bolden lost his vending license seven years ago after repeated fines became too much of a burden. In 2006, the city quadrupled the penalties on licensed street vendors from $250 to $1,000 per ticket. 
"For me it just got too overwhelming," said Bolden. "I felt like I was getting harassed by the police."
Today, he still owes $11,000 to the city in fines and is trying to find a way to pay off the debt.
After numerous complaints from vendors the city reduced the maximum fine to $500 in February, still a high cost for a business with modest revenues. 
The vendors who manage to work within the system and steer clear of fines end up becoming part of the community they work in, just like any storefront in a building does. 
"I don't care how cold it is, how hot it is, I'm on that corner," said Derrick Wilmot, an SVP board member who has had a vendor business for 14 years. Wilmot, a Vietnam Veteran, sells sheets, clothing, and toys at 77th Street and Third Avenue in Manhattan.
"People bring me hot cocoa, the bank lets me use their bathroom. I feel the neighborhood loves me."