A man sought after by police after assaulting an elderly Asian-American woman in New York City was arrested on Wednesday and charged with a hate crime, authorities said.
The New York Police Department Hate Crime Task Force said in a statement that detectives arrested 38-year-old Brandon Elliot for allegedly assaulting 65-year-old Vilma Kari—an Asian woman who immigrated from the Philippines—in broad daylight on Monday.
Authorities charged the suspect, a parolee convicted of killing his mother nearly two decades ago, with a felony assault as a hate crime.
Thanks to assistance from the public and excellent investigative work by @NYPDHateCrimes Detectives, the individual wanted for Monday's assault of a 65 year-old Asian female, at 360 West 43rd St, was arrested and charged with Felony Assault as a Hate Crime. pic.twitter.com/ZQRVGZEAb2

— NYPD Hate Crimes (@NYPDHateCrimes) March 31, 2021
Police said the attack happened at about 11:40 a.m. on Monday on 360 West 43rd Street two blocks from Times Square. Elliot was seen in a video approaching the woman and then kicking and stomping her while also making "anti-Asian statements."
A hospital spokesperson told The Associated Press the woman was discharged from the hospital one day after the attack after being treated for serious injuries.
Elliot was living at a hotel that serves as a homeless shelter a few blocks from the scene of the attack, authorities said.
The suspect was released from prison in 2019 and is on lifetime parole after being convicted more than a decade ago for stabbing his mother to death in the Bronx in 2002.
Hate crimes against Asian-Americans have risen in New York City in recent months. Twenty-seven incidents were recorded in 2020 by NYPD, up from a single report the year prior.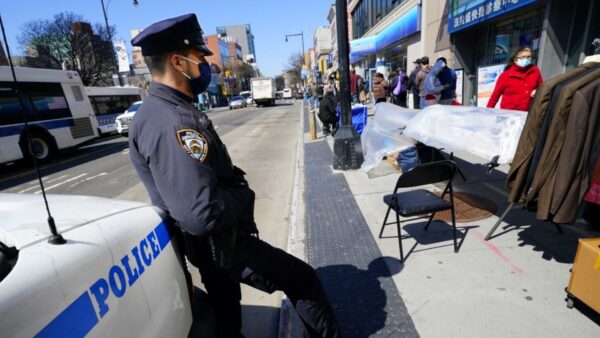 That jump happened even as the total number of reported incidents dropped from 420 to 265.
"Like much of America we've seen a disturbing spike in hate crimes targeting Asian-Americans in New York City," NYPD Commissioner Dermot Shea said during a press briefing earlier this month.
Other large cities also saw a rise in numbers last year, though overall Asian Americans rarely face such incidents. The majority of hate crime victims in New York City are Jewish.
Zachary Stieber contributed to this report.
From NTD News