NYC Mayor Bill de Blasio Signs Four Green-Code Bills
May 19, 2014 5:26 pm Last Updated: May 19, 2014 5:27 pm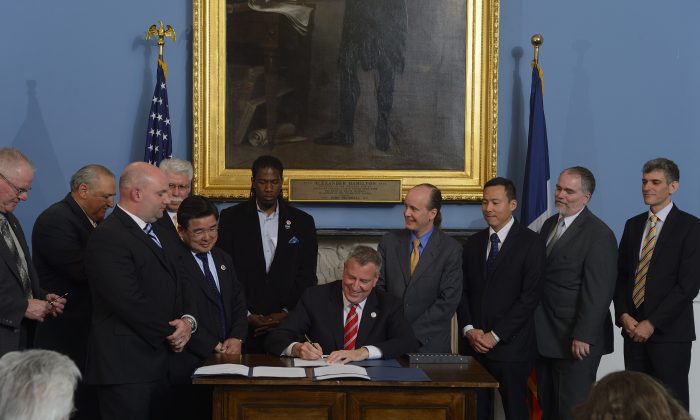 NEW YORK—Mayor Bill de Blasio signed a batch of four green-code bills on Monday, which will make the city's buildings more energy efficient and safe.
The bills are part of a list of 151 proposals created by the NYC Green Codes Task Force. More than 50 of the proposals have been implemented since the task force released its recommendations in 2010.
The first bill mandates construction companies to insulate piping which has been exposed during construction.
The lack of piping insulation is a nationwide problem in the United States. Hot-water pipes lose heat if not insulated, which results in additional costs to landlords. Meanwhile, cold-water pipes without insulation accumulate mildew, which promotes mold growth, resulting in air quality and health issues.
The second bill mandates that some stairwell doors in apartment buildings be equipped with devices to hold them open. The purpose of the bill is to keep doors to stairwells open in order to encourage residents to use the stairs, a form of exercise proven to reduce the chance of a stroke.
Due to the city's fire codes, stairwell doors are to be closed at all times to prevent smoke from spreading from floor to floor in case of a fire. The hold-open device would automatically trigger when smoke is detected and close the door it is installed on.
The third bill requires the use of mold-resistant drywall and cement in building areas prone to moisture. Since mold can release harmful substances into the air, the new requirement is expected to benefit the well being of New Yorkers.
The fourth bill mandates that construction companies use energy efficient lighting on construction sites. Lighting at constructions sites has to be on around the clock. Meanwhile, construction companies usually opt for cheaper incandescent light bulbs. Energy-efficient light bulbs use less energy while providing the same amount of light and have a much longer lifespan.