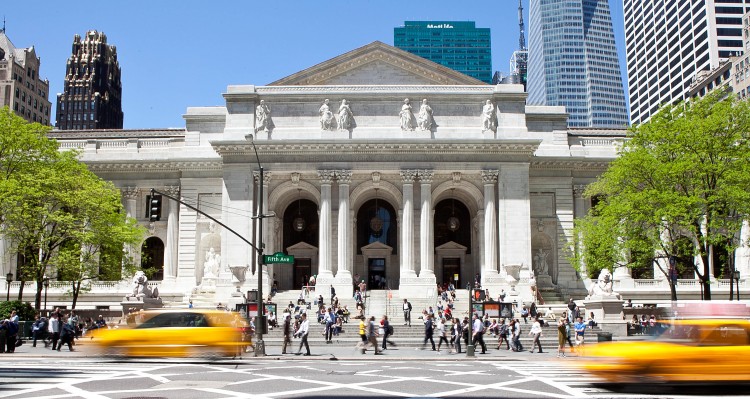 NEW YORK—Public libraries are a lifeline in New York City, providing millions access to books, computers, educational classes, and after-school programs—all for free. Despite a sharp increase in visitors, the city's libraries once again find their funding on the cutting board in the mayor's recent proposed budget.
Representatives from the Queens, New York, and Brooklyn Public Libraries appeared at an executive budget hearing at the New York City Council Monday to discuss how dramatic the changes in services would be if the proposed $96 million in cuts are passed.
"It was very sobering," City Councilwoman Gale Brewer, said after the hearing on Monday. "I noticed a real sense of 'We really need this funding.'"
Cuts have been made in each of the last several years and libraries are at a point where they have nothing left to cut without a substantial decrease in services.
"We are not at a point where we can absorb these kinds of cuts," Christian Zabriskie, CEO of Urban Librarians Unite, an independent advocacy organization in the city.
"We are pretty much at the max of efficiency right now. Any real cuts are actually going to have a real, direct impact on the kinds of services that we can provide."
Libraries are no longer just a place to check out books, but a way for citizens to improve their lives through free educational classes.
"The Queens Library has spent the last year delivering free educational and cultural opportunities to over 40,000 New Yorkers each day we are open," said Thomas W. Galante, president and CEO of the Queens Library according to his prepared statement. "The computer access, workforce development, and lifelong educational opportunities we provide are the cornerstone of thriving communities in Queens."
The Queens Library would lose $26.7 million under the proposed budget cuts, 31 percent less that funding from this year's fiscal year budget and 42 percent less than fiscal year 2008.
According to Galante, the library would be forced to cut its staff by over 600, close 18 of the libraries and cut hours to only 2-3 days a week.
The story was much the same at the New York Public Library which faces a proposed $42.6 million cut in funding, adding to the $20 million already cut since fiscal year 2009.
Tony Marx, New York Public Library President & CEO, told a story at the hearing of Tommy Foday, a refugee from Sierra Leon who learned to read and use computers at his local Statan Island Library and recently passed his U.S. citizenship exam.
"This is just one of the millions of stories of New Yorkers who come to our libraries for more than just books on shelves, and whose life has been changed by their local library," Marx said, according to his prepared remarks.
The Libraries are not only a place for educational classes, but also for help finding jobs. According to numbers provided by Marx, 47,676 New Yorkers attend job-related classes at the libraries.
If these proposed cuts go through however, it will be the library employees needing help looking for new jobs. "The savings created by our current service model, which have allowed us to continue to provide New Yorkers with comprehensive library service even with significantly less funding, has reached its breaking point," Marx's statement said.
The NYPL has already cut 430 full and part time positions since July 2008 and would be forced to close 12 branches if the cuts go through.
"We have to do everything we can to restore this funding so those people who are the most venerable among us are not hurt," said City Councilman Jimmy Van Bramer, who worked as the Chief External Affairs Officer for the Queens Public Library for 11 years.
Van Bramer hopes the City Council will be able to reduce the amount of funding cut as it has in years past. "I am an optimist by nature so I am hopeful but I am realistic that it is an incredibly large number, $100 million, but I am hopefully we are going to be able to be there for libraries."
The Epoch Times publishes in 35 countries and in 19 languages. Subscribe to our e-newsletter.