NYC Increases Pay for Community-Based Pre-K Teachers
April 14, 2014 7:19 pm Last Updated: April 14, 2014 7:19 pm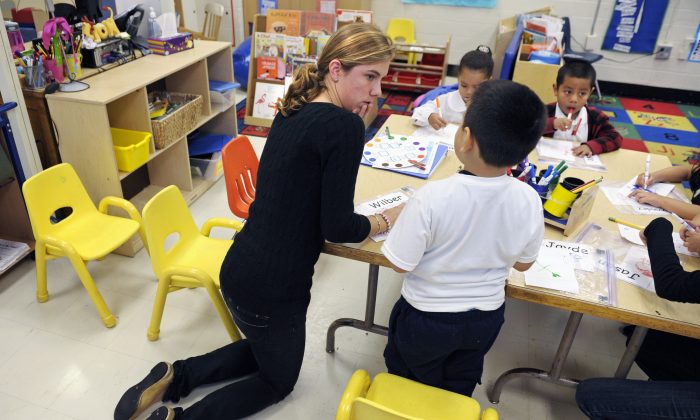 NEW YORK—The city will pay for higher salaries for prekindergarten teachers at community based organizations, Mayor Bill de Blasio announced Monday. An estimated 1,450 teachers will get the raise starting this September. Still, the boost is not enough to level the playing field between two different kinds of pre-K providers.
"A great classroom starts with a great teacher, and today we're taking a big step to help our grassroots community groups attract and retain the best and the brightest educators," de Blasio said in a statement. "Establishing pay equity is a feature of many of the nation's highest performing pre-K programs."
The city plans to fund pre-K universally at about $10,500 per child per year.
There are two kinds of pre-K teachers in the city. One teaches at a pre-K operated by a public school. The other teaches at a pre-K operated by a community based organization (CBO).
The public school teacher works under the United Federation of Teachers union contract, with a starting salary of $45,000 to $51,000, based on achieved education. The teacher will receive regular raises based on seniority, and also health and pension benefits. To get the job, he or she has to have a state certificate for early childhood education.
Non-profit pre-K providers are held to the same quality criteria as school-based pre-K. Teacher working for the CBOs are paid $30,000 to $40,000 based on achieved qualifications. Seniority has little to no impact on salary. Health and pension benefits are modest, if present at all. A state certificate is not required if one presents a study plan to get it in three years.
The on-going pre-K expansion, a signature plan of de Blasio's, counts more on the CBOs to provide new capacity, since a majority of public schools already wrestle with overcrowding.
The mayor announced that teachers at community organizations who do hold the state certificate, will be paid more—$44,000 or $50,000—depending on whether they have a bachelor's or master's degree.
The hike will help with hiring, but calling it equity would be a stretch, according to Vaughan Toney, president of the Friends of Crown Heights Educational Centers Inc., a non-profit serving about 1,400 children, mostly in Brooklyn. The organization will open 100 pre-K seats this September.
"In terms of benefits it's not comparable," Toney said. "No one is talking really about what the cost would be to offer these teachers health insurance." He estimates a health plan would add another $18,000 a year on top of the salary costs. Pension benefits would be worth thousands more.
Community organizations are further at a disadvantage compared to public schools, because most prominently, they have to pay rent. What the city offers is "simply not enough to provide a quality program and give people proper compensation and benefits," Toney said. At least $12,000 per child would be necessary, he said.
The mayor's announcement notes that community organizations can pay teachers more with money they raise privately, a weak argument for Toney.
"Think about where these CBOs are located. In East New York, in East Flatbush. I mean, this public-private partnership, that works fine on the Upper East Side, where you can get a rich guy to write you a check for $25,000," he said. "But cookie sales and that sort of stuff is not going to cut it."