NYC Horse Carriage Drivers to Join People's Climate March
September 1, 2014 7:16 pm Last Updated: September 1, 2014 7:17 pm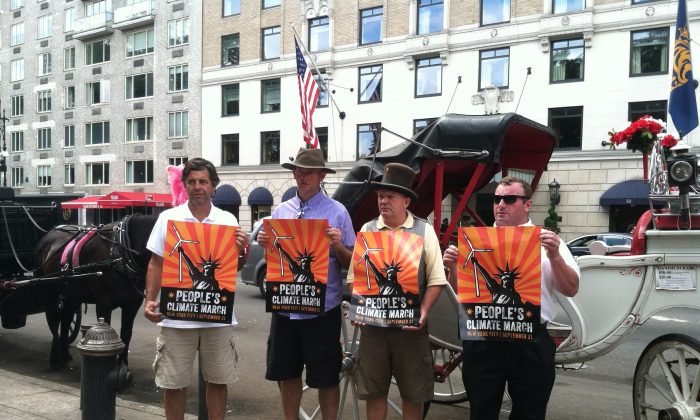 NEW YORK— Local carriage drivers announced on Monday that they will participate in the People's Climate March on Sept. 21—anticipated to be the world's largest organized event to bring attention to the effects of climate change. 
Carriage drivers are concerned about the source of batteries that may be used for electric cars proposed by anti-horse-carriage groups to replace New York City's horse-drawn carriages. 
The march will be held two days before President Barack Obama and world leaders are scheduled to attend the U.N. Climate Summit, a meeting to discuss policies for reducing greenhouse gas emissions and curtailing the negative effects of global climate change. 
Over 950 labor unions, environmental groups, and other organizations plan to attend the march, according to the march website.
Horse carriage drivers said on Monday that they are participating in the march because as workers who use animal power instead of diesel fuel, they support policies that can reduce humanity's impact on the environment.
Animal Power
Christina Hansen, a horse carriage driver in New York City for two years, said that much of the world's population still relies on animal power for work. "If they all converted to diesel, it'll be a disaster," she said.
The city's horse-drawn carriages, which mainly operate around Central Park in Manhattan, was the subject of a much-heated debate after Mayor Bill de Blasio promised to ban them during his campaign for office. Although the mayor has since repeatedly said that he will act on his promise, no legislation has yet been proposed to ban the carriages.
If banned, about 300 carriage drivers, stable workers, and other employees in the industry will be out of work.
Earlier this year, New Yorkers for Clean, Livable, and Safe Streets (NYCLASS), a group that opposed the horse-drawn carriages, unveiled a prototype for "horseless e-carriages" that could be used to replace the horse carriages. 
NYCLASS and animal rights activists argued that the conditions of urban streets make it difficult for horses to work, and that horses can be a safety hazard for pedestrians if they get spooked.
The horse carriage industry, which is represented by the labor union, Teamsters Local 553, are concerned about the environmental pollution caused by the mining of materials used to make the electric car batteries. 
Instead, Hansen said New York City can look to models in Europe and Baltimore, Md., where horses have been viewed as environmentally friendly alternatives used to collect recyclable waste and transport farm produce to local farmers' markets. 
"For thousands of years, humans have been working alongside horses," Hansen said. "We should not dispense away with animal power so easily."