NYC Exploring Anti-Speeding Technology for Taxis
April 15, 2014 6:22 pm Last Updated: April 16, 2014 7:07 am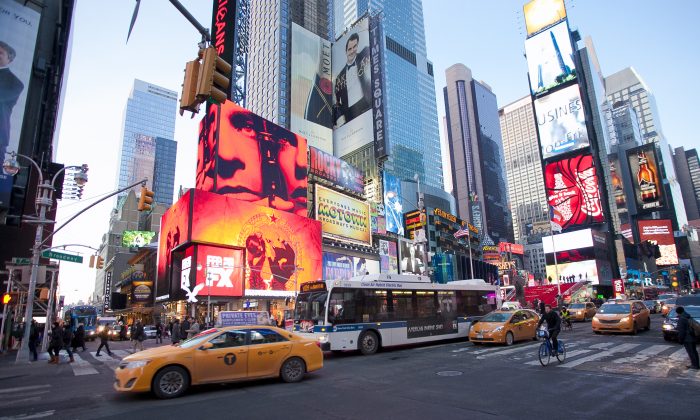 NEW YORK—The city's Taxi and Limousine Commission (TLC) has put out a Request for Information on one of the more contentious items in the mayor's Vision Zero plan to reduce traffic fatalities: reducing taxi speeds.
Technology that would stop a taximeter if drivers exceed a certain speed does not exist yet, but it's something the city is interested in exploring. The mayor's Vision Zero action plan suggested stopping or reducing fare collection as a way to change the incentive of taxi drivers to speed.
TLC is looking at the "usefulness and feasibility" of technology that can govern taxi speeds, such as automatically limiting speed, sending alerts to drivers, or adding tools that could reduce reckless behavior.
The proposal has sparked worry from drivers and the New York Taxi Workers Alliance.
One potential scenario is that voluntary pilot programs will be used to test any worthwhile technologies, TLC spokesman Allan Fromberg said.
Safety, legal, or policy experts, equipment or software providers, users of similar technologies, and the public are invited to submit information by April 25.
TLC has already started playing safety announcements in taxicabs as a part of Vision Zero. The agency is also planning to create a safety enforcement squad and publicly accessible honor roll of safe drivers.
Council member Jimmy Vacca recently proposed a bill for a pilot to put black boxes in taxis, to collect and send back more trip data.
With the addition of credit card readers to taxis in 2008 came electronic trip-sheet data, and the cabs have since become a wealth of data for the city.
NYC Taxi Stats
Over 175 million taxi trips each year
Taxi and livery crash rates are one-third of crash rates for other vehicles
The typical taxi travels 70,000 miles a year, and carries 10,000 passengers
The average trip distance is 2.6 miles
99 percent of trips are under 12 miles
For every 4 pedestrians injured by a normal car, 3 pedestrians are injured by a taxi.
19 percent more bicyclists are injured by taxis than by normal cars.
Source: Schaller Consulting 2006, TLC 2013