NEW YORK—After two months of inaction, the New York City Department of Education (DOE) is making good on its threat to terminate unvaccinated teachers. In a Jan. 31 email, the department set a new termination date of Feb. 11.
In fall 2021, the DOE offered unvaccinated teachers two packages. The first package gave them the option to quit, be paid for all remaining sick days, and have health insurance for a year, but would have prevented them from suing the DOE. The second package offered teachers unpaid leave and health insurance for a year, but still would have prevented them from suing the DOE.
Thousands of teachers opted to not accept either offer and were put on unpaid leave in October 2021. They were told that if they didn't comply, they would be fired on Dec. 1, 2021.
Nadia Lyakhnovich, a special education teacher in East Harlem, is one of the teachers to be fired.
"I knew this was coming," she told The Epoch Times. "I didn't see them going back and giving us our jobs back."
Rachel Maniscalco, a dual English and special education teacher in Staten Island at both the middle school and high school levels, is a participant in three lawsuits.
One is a class-action suit against the New York City Department of Health, the New York Mayor's Office, and the DOE. Maniscalco is officially named as the plaintiff, representing unvaccinated teachers. The grounds of the lawsuit is that the mandate is unconstitutional.
The second lawsuit is similar, but represents tenured teachers. They're arguing that since not getting a COVID-19 vaccine doesn't violate their contract, they should be put on paid leave. Nicole Broecker is named as the plaintiff and the United Federation of Teachers has been added to the list of defendants.
The third lawsuit was filed by Maniscalco as a single plaintiff with several of the same defendants. However, in this one, she's not citing a violation of the U.S. Constitution, but of labor laws.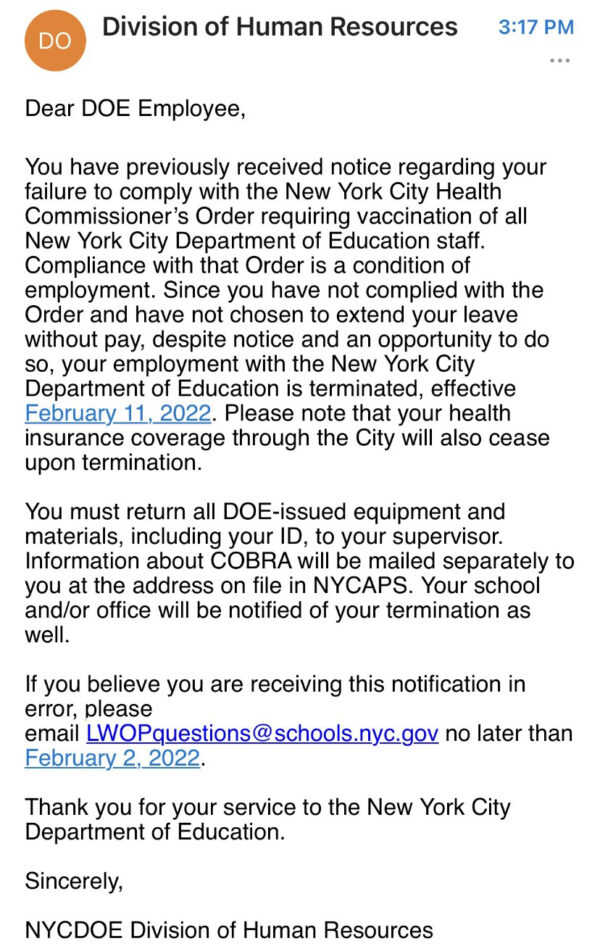 "I did not get this letter," Maniscalco told The Epoch Times regarding the termination email.
She speculated that it has something to do with the third lawsuit.
"They hate me. They want me gone. But I think I've made such a ruckus, that they can't really do to me what they've done to other people," Maniscalco said.
In addition to DOE employees, she said "every municipal worker" of the City of New York who didn't comply will be fired, including personnel from the New York Police Department, the Fire Department of New York, and the Department of Sanitation.
"Thousands of people will be outright terminated," Maniscalco said.
"Honestly, deep down I've known since this mandate came down," Lyakhnovich said. "I just had a feeling that my career as a teacher in New York City was over."
Lyakhnovich has already gotten certified in another state, so she'll possibly move out of New York in 2023, most likely to the state in which she obtained certification or another red state.
"And not a blue city in a red state," she said. "I don't want to be in that location, either."