NYC Democrats to Pick Public Advocate Nominee
September 30, 2013 5:52 pm Last Updated: October 17, 2013 11:56 am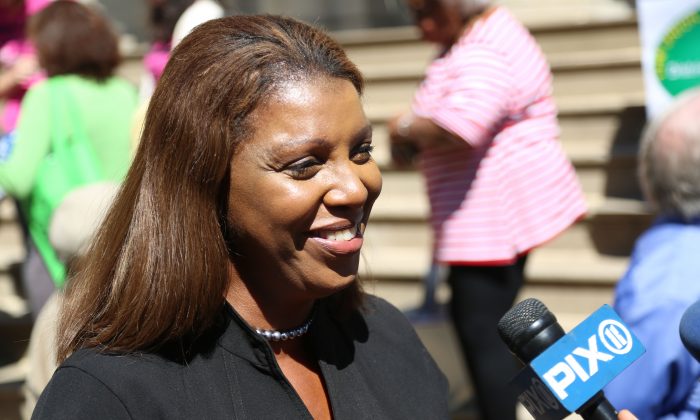 NEW YORK—On Tuesday, October 1st, the Board of Elections (BOE) will roll out the lever voting machines for the last time this election season as voters head to the polls to choose the Democratic nominee for the public advocate's office.
State Senator Daniel Squadron will face City Councilwoman Letitia James. On September 10, James won the crowded primary field with 36 percent of the vote, but did not reach the 40 percent needed to advance, thus forcing a runoff election.
Tuesday's matchup is head to head, with no required minimum needed to advance.
Candidates flung personal attacks at each other during the final week of the. Squadron and James had several heated exchanges during the lone debate aired on NY1 last week.
Squadron accused James of lying several times. Squadron also asked James to apologize for personal attacks against a trust fund, which Squadron claims was lost in the Madoff scandal.
Council member Melissa Mark-Viverito released a video asking for Squadron to run a clean campaign. He did not counter with any video messages.
At $13 million, the runoff—which is expected to draw roughly 150,000 people—will cost substantially more than the $2.2 million budgeted for the public advocate's office.
Some have suggested using an instant runoff system, which would allow voters to pick their top two candidates on the primary day, thus avoiding costly runoff elections.
On Monday, September 30, at an unrelated press conference, de Blasio was asked his thoughts about the cost of the runoff to replace him.
"I want to save money as much as anyone," de Blasio said. "The problem I have with instant runoff voting is I am not sure it gives a complete picture of the choice at hand because people are making their decisions often with less information than they would have if they got to compare candidates in the runoff."
De Blasio did not offer any specific solutions, but said he would be open to alternatives to instant runoff voting.
If elected, James will be the first woman and the first African American woman elected to a citywide office. If Squadron is elected, all of the citywide offices would be filled with white males. This could a play a role in the race for City Council Speaker, where there would be pressure to elect a minority or a woman to break the pattern of all-white leadership.
Polls open on Tuesday, October 1st, at 6 a.m. and close at 9 p.m.