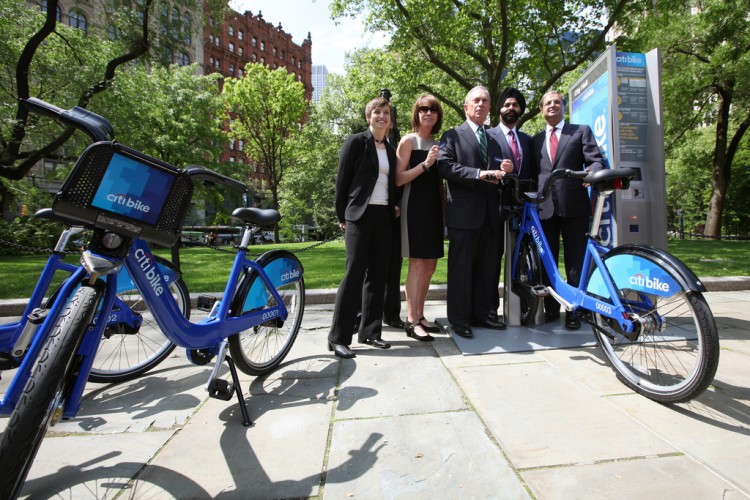 NEW YORK—Citibank became the long sought-after private sponsor for the city's upcoming bike share system on Monday. Definite prices were also revealed after many months of speculation and approximate figures.
"The idea behind bike share is simple: give people one more way to get around town," said Mayor Michael Bloomberg at City Hall, according to a release. "We're able to create this new option at no cost to taxpayers because of the commitment of an institution with a 200 years tradition in New York: Citigroup."
Two options will be available for renting bikes. The first is short-term access, for either 24 hours ($9.95 base price) or 7 days ($25 base charge). For up to a half-hour, renting a bike is no additional charge. After a half-hour, a $4 dollar charge will be levied; after an hour, a $13 charge will be levied; and every subsequent half-hour, $12 will be added onto the total charged.
The second option is long-term: $95 for an annual membership. With the annual membership, one receives 45 minutes of free bike rental each time. After 45 minutes, the $4 charge will be levied; then, like the short-term options, $13 will be levied after an hour, and a $12 additional charge added for each subsequent half-hour.
Prices for either option get as high as $145.00 after six and a half hours, putting the emphasis on short rides, or those less than three miles.
Short-term option customers will get an access code; annual members receive "a unique key," according to the CitiBikeNYC website.
Credit is the only form of payment accepted. Users must be 16 years or older. The system will be available for 24 hours a day, 365 days a year.
Along with Citi's $41 million agreement, MasterCard was revealed to have invested $6.5 million as the system's payment sponsor.
The city and Alta Bicycle Share, the system's operator, will split any profits from the bike share. After getting more than 63,000 online votes for bike station locations and meeting with various community boards and other groups, the city will soon finalize and release station locations, and begin installing them in late July. Stations, which will be every several blocks, will be solar-powered, will have between 15 and 60 bikes, and can be placed in minutes with a crane.
If a station is full when a rider returns a bike, then a 15-minute time credit will be given along with directions to the nearest station with empty slots. The penalty for a lost bike is $1,000.
Accompanying the announcement are new sites and dates for demonstrations where the public can take the bikes for a spin and ask representatives from the city's Department of Transportation and CitiBike questions. The next three sessions will be from 12 p.m. to 4 p.m. in each of the following: Flatiron, on Broadway between 22nd and 23rd streets (May 10); Hell's Kitchen Flea Market, on West 39th Street between 9th & 10th avenues (May 12); and Brooklyn Flea Market at Fort Greene, 176 Lafayette Avenue between Clermont and Vanderbilt avenues (May 17).
The Epoch Times publishes in 35 countries and in 19 languages. Subscribe to our e-newsletter.