BROOKLYN, New York—About 25 protesters gathered for three hours outside outgoing Mayor Bill de Blasio's Brooklyn residence, a day after he announced that NYC private sector workers must get a COVID-19 vaccine or lose their jobs.
The protesters blocked traffic, and shouted at the top of their voices during the cold night, drawing the attention of neighbors, some of whom called the police.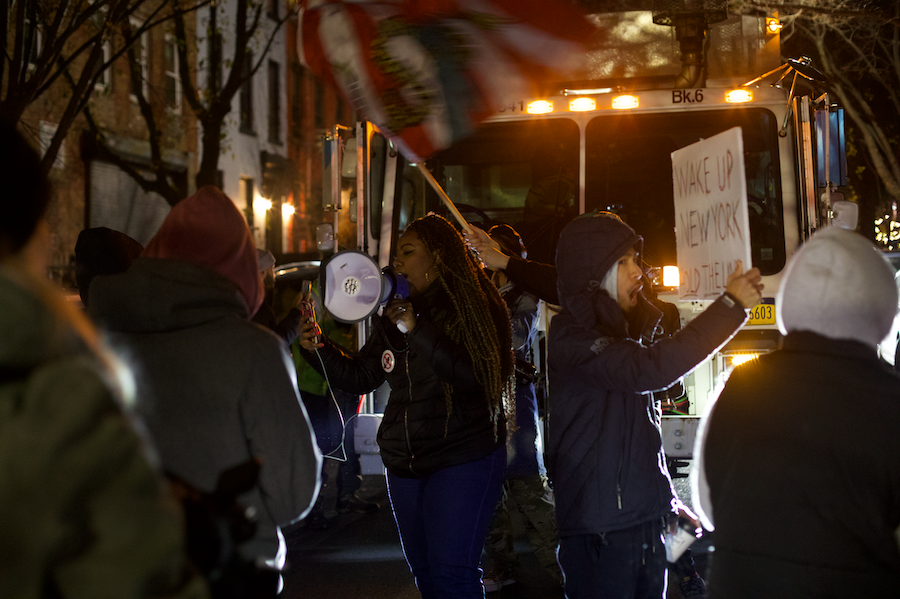 They played drums, tambourines, metal sheets, and used at least four megaphones.
The entry to de Blasio's residence is under construction, but it did not stop the vandalization of the outer wooden structure. Protesters wrote "[expletive] de Blasio," "where is the $ Chirlane?" and filled the structure with stickers.
de Blasio was reportedly not at his Brooklyn residence, but the protestors wanted to send a message that they would not let him—or his neighborhood—be at ease as long as the mandates are imposed on them.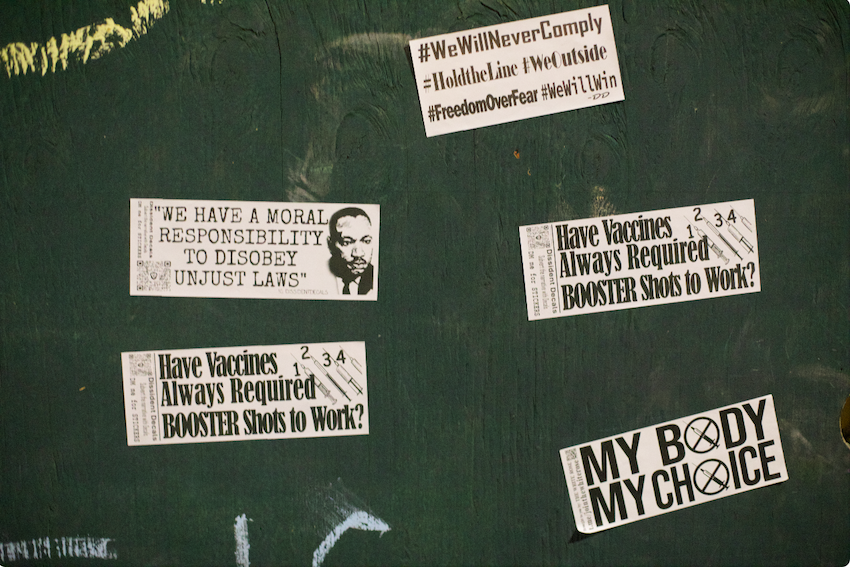 About 20 police officers responded to calls to disperse the crowd.
On one occasion, police used force to remove the protesters from the roadway, only to see them go back and block traffic again.
The police captain said that they just "wanted to preserve the peace."

Tensions escalated when protest leaders noticed that a group of police were standing by with plastic handcuffs.
An NYPD officer from the Community Affairs Unit negotiated with the crowd and calmed them down, successfully reaching a deal to allow them to protest for one more hour.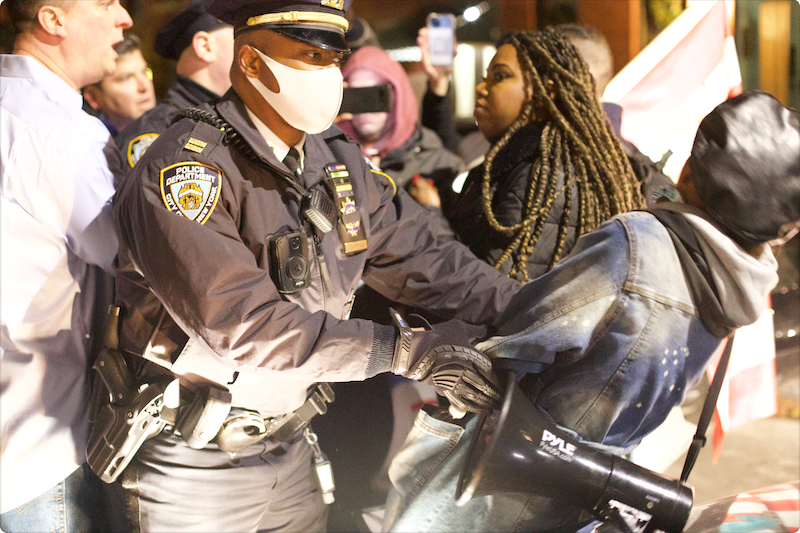 The protesters chanted "No vaccine mandates," "No medical tyranny," "[Expletive] Joe Biden, and de Blasio."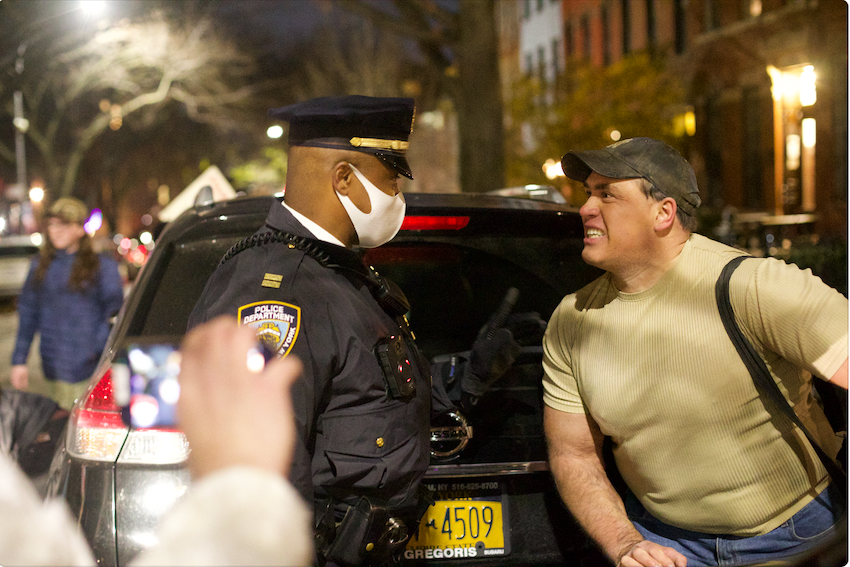 Mark Szuszkiewicz, who ran for City Council earlier this year was also at the protest.
"We want to put the message out there that Bill de Blasio, aka Warren Wilhelm, is not a dictator. We do not live in a dictatorship. mandates are not laws," Szuszkiewicz said. "We have a constitution and we're not going to comply."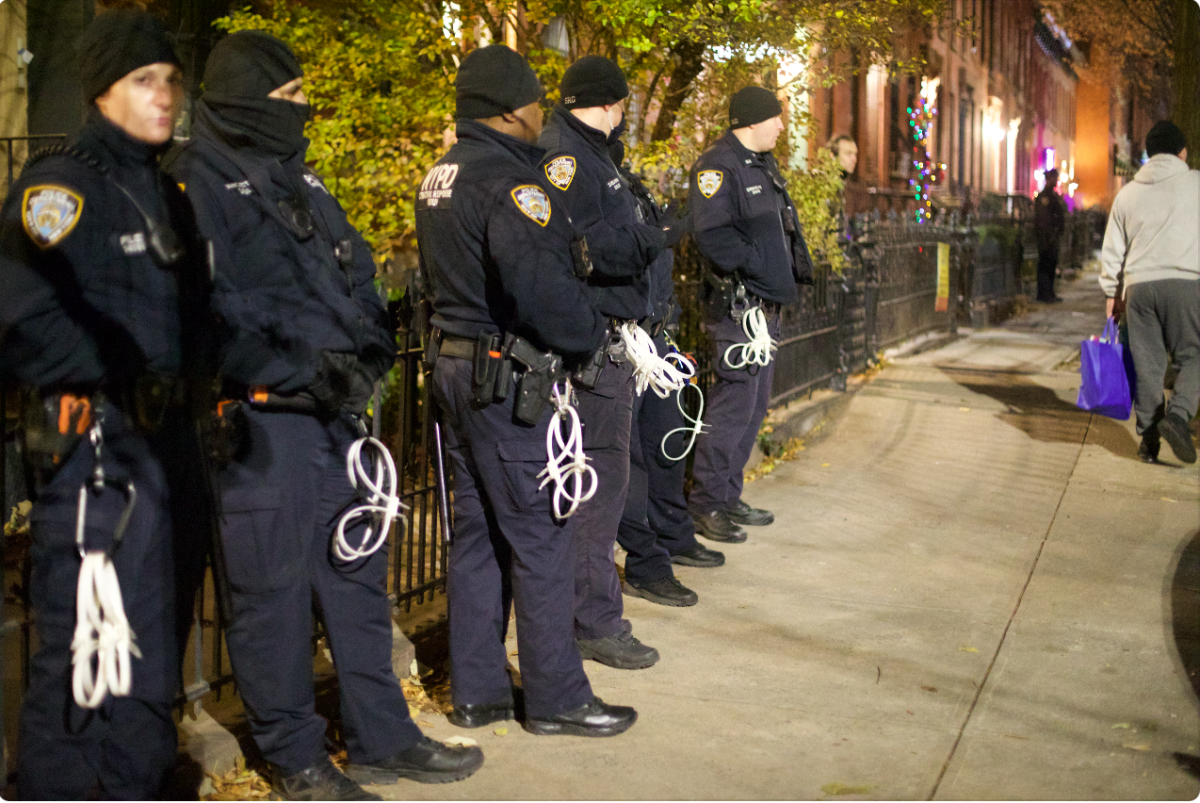 Not all the protesters favored blocking the traffic.
Also among the crowd was Derrick Gibson, a Republican running for New York governor.
"I am here to support my constituents out here fighting back against the illegality of the mandate," Gibson said. "De Blasio put out your own yesterday," Gibson said.
"The autonomy of anybody's body, the government doesn't have the right to violate, and I'm standing up for that and I'm against that totally."
The Epoch Times has reached out to the mayor's office for comment.