NY Gets Ready for Health Plan Marketplace Enrollment
September 27, 2013 6:35 am Last Updated: September 27, 2013 7:25 am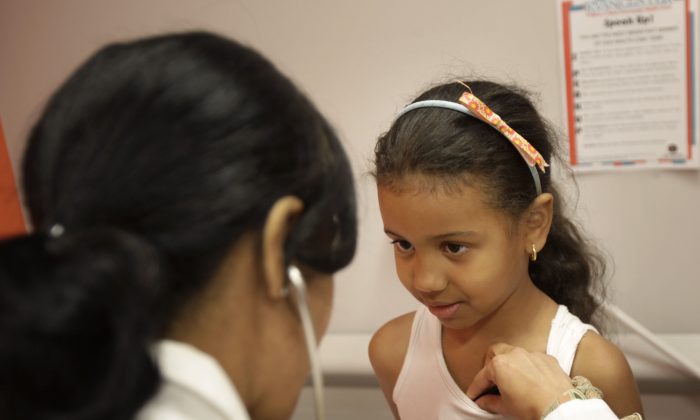 NEW YORK—Come Oct. 1 and advertisements of NY State of Health: The Official Health Plan Marketplace will be everywhere—on the subway, in newspapers, on TV, even on coffee sleeves and hand sanitizers.
Oct. 1 marks the start of the open enrollment period for the state's health plan marketplace. People who want to buy health insurance, which becomes mandatory on Jan. 1, can start shopping for plans at competitive prices and applying for federal subsidies.
Aside from the marketplace's website, consumers can call assistants to check their eligibility for cost reductions and purchase coverage.
The call-in center will provide services in most languages, including English, Spanish, Russian, and Chinese. The phone lines are already open, but will start enrolling people on Tuesday.
People who meet income requirements can enroll in Medicaid and Child Health Plus through the exchange.
A single adult without dependents earning an annual salary of $15,280 or less in 2013 should be eligible for Medicaid from Jan. 1, 2014.
Undocumented immigrants can get preapproved for Emergency Medicaid and apply for Child Health Plus for family members under 19, without any risk of deportation or penalties.
The open enrollment period ends on March 31, 2014. After that time consumers will not be able to apply for government subsidizes or Medicaid until the next enrollment period. Exceptions will be made for people with a "qualifying life event," such as pregnancy, or divorce.
Under the Affordable Care Act, health insurance becomes mandatory from Jan. 1, 2014. Those who do not sign up to a health plan could be fined by the Internal Revenue Service.
In 2014 the fine will be $95 for uninsured adults, and $47.50 for uninsured children, but not more than $285 per family. If the family has a higher income, the fine will be 1 percent of their income.
In 2015 the fine will increase steeply to $325 uninsured adults, and $162.50 for children, but no more than $975 per family, or 2 percent of the family income if it is higher.