NY Diaper Derby Pre-Empts Triathlon
July 12, 2013 4:41 pm Last Updated: September 3, 2013 8:57 pm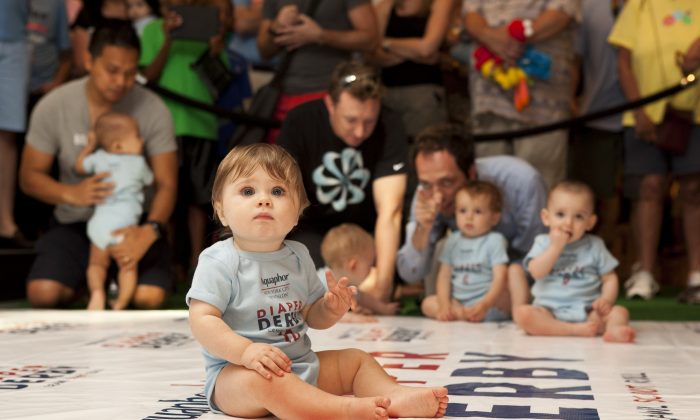 NEW YORK—Who cares if New York City can't host the Olympics? New York City has its own annual Olympic-distance competition, featuring the more avant-garde competitions suitable to New York—like a diaper derby, and an underwear run through Central Park. 
In light of the 2013 Aquaphor Triathlon this past weekend, the annual Aquaphor Diaper Derby was held inside the Midtown Hilton Hotel on July 12.
There were five rounds of races, and one championship round. In total, thirty babies crawled 10 feet. But it was more difficult than it sounded. 
Jennie Finch, former Olympic soft ball gold medalist and spokesperson of Aquaphor Triathlon, attended the event. She gave some commentary during the race. 
With a "one, two, three," the first race was off—yet nothing happened. The row of babies remained still, timidly looking into the sea of what must have looked to them as—mysterious flashing cameras—awaiting at the finish line. 
A baby suddenly charged forward. There was an applause. The noise frightened him; he stopped, and the race returned to its lull.
For the second round, the press moved to the sidelines, while the parents awaited by the finish line, waving temptations such as Sponge Bob plush toys, juice bottles, and even an iPad. 
One baby went for the iPad, even though it was not his mother who was holding it.
"That was really fun," said Alicia Hall, from Yonkers, whose baby had just finished a race. 
Hall said she's not competing in the triathlon, but felt that it was a fun thing to do anyway.
"I had heard about it from a friend," she said. "I thought it sounded crazy. It sounded fun. And it was fun."
Leon Carney, from Brooklyn, took his baby to race during the fifth round. 
"I'm excited," Carney said. 
"This is the beginning of his racing career," he joked, playfully tapping the diaper of Gable Carney, 11 months. "I heard about this last year, but I didn't have a baby then. I'm glad to be participating this year." Carney is running in the weekend triathlon.
The winner of the diaper derby was Justin Morales, from Yonkers. He is turning one on Tuesday. 
The Aquaphor New York City Triathlon is an Olympic Distance race consisting of a 1500 meter swim, a 40 kilometer bike and a 10 kilometer run. 
Each year, over 3,000 athletes brave the waters on the Hudson River, bike along Manhattan's West Side highway, and race through Central Park. 
But before the big day, there were similar derby events in Manhattan on Friday afternoon.
The annual Fresh Pair Underwear Run at Cherry Hill, Central Park, is a 1.7 mile run that takes place in Central Park every year on the Friday before the Aquaphor New York City Triathlon. 
There are no timing chips or expensive race gear required, it's just 500 people running together in their underwear. 
The 2009 underwear run broke the world record for the greatest number of people gathered in their underwear. 
On the Sunday following the triathlon, there was also an Animal Medical Center Doggy Dash, which is a race where dog owners and their best friends can compete.