NEW YORK—The ability to interpret familiar, standard repertoire with such freshness, nuance, and originality that audiences listen with rapt concentration—erupting at the end with cheers—is a rare gift. It cannot be taught. It stems from the performers' innate musicality, tireless self-study, and capability to express deep emotional involvement with the works they are playing.
Three outstanding performers displaying this gift for drawing-in listeners with hypnotic effect appeared at a trio of concerts by the New York Concerti Sinfonietta on May 10, 12, and 13.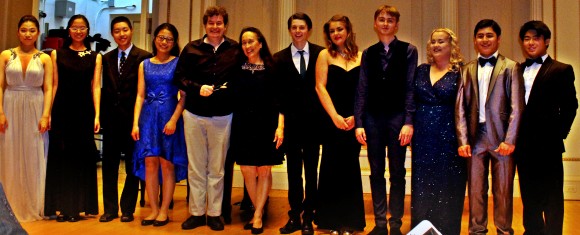 Featuring winners of the 2017 International Shining Stars competition, which is open to all age groups, the May 12 concert was held at Carnegie Hall's Weill Recital Hall. It was flanked by two concerts at the acoustically congenial Church of St. Gregory the Great, unfortunately slated to close after this season.
Three Hypnotic Performances
Clara Neubauer, 15 years old, made her debut with the NY Concerti Sinfonietta last October in Mozart's Fourth Violin Concerto. This time, Clara chose the first movement of the Wieniawski Violin Concerto No. 2 in D minor, Op. 22. It had usually been interpreted so cloyingly by golden age violinists that it took on a faded Victorian aspect.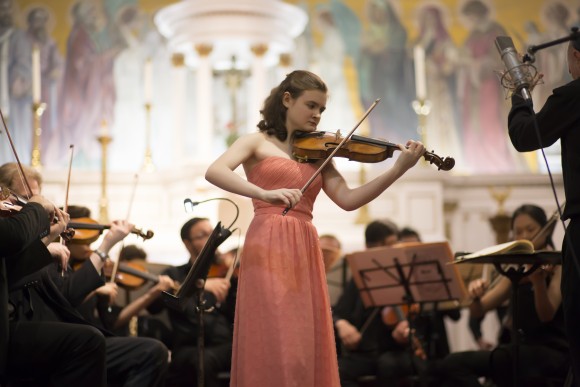 Not so for Clara. She played it with the dedication and dignity it deserves, but seldom gets. It was a lovely, glowing performance that raised the stature of this now infrequently heard work. Clara exhibited flawless intonation even in the highest registers, masterful upbow staccato bowing, and an opulent, rich tone on the lower strings, abetted by the loan of a 250-year-old Guadagnini violin by her mother, Kerry McDermott of the NY Philharmonic.
It was a committed, refreshing performance displaying absolute technical security. The Sinfonietta responded with tender and shapely support.
Also spellbinding was 14-year-old Lily Zhou's presentation of the first movement of Chopin's Piano Concerto No. 1 in E minor, Op. 11. Drawing sensuously beautiful tone from Carnegie Hall's 9-foot Steinway Concert Grand, Zhou manifested a top-class musical intelligence. Her rhapsodic, poetic performance was full of delicious details and constant surprises that revealed Chopin's genius. Zhou's sensitive rubato seemed as if it was being improvised on the spot. She paid unusual attention to the balance between hands, never allowing secondary ornamental material to predominate.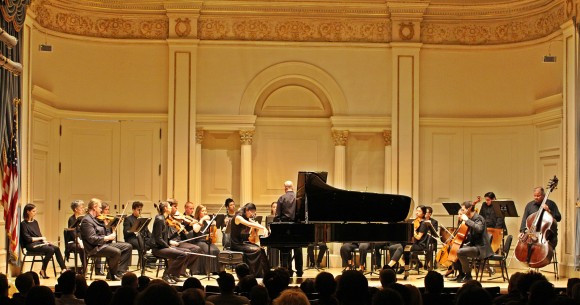 Zhou's varied dynamics, limpid touch, and luminous pedaling were a thing of beauty. She had technique to burn, but it was always in service of the music. The conductor and orchestra mirrored her subtlety.
The third, highly original player at these concerts was pianist Stanley Sisskin, a mature and experienced artist, heard in the Schumann Piano Concerto. He most recently appeared with the NY Concerti Sinfonietta in piano concertos by Mozart (Oct. 2014) and Grieg (Jan. 2016). Maintaining a wonderful sense of flow and poetry, Sisskin skillfully conveyed Schumann's syncopations, accents, and lilting rhythms. To an unusual degree, he clearly articulated the keyboard passagework by detaching each note, constantly bringing-out felicitous details of inner voices and counterpoint that usually remain submerged.
Sisskin's pursuit of perfection led him to procure a rarely encountered German Gotrian grand piano in place of the Church's customary Yamaha. Maestro Hostetter ably supported Sisskin's concept, drawing ravishingly subtle and nuanced playing from the 28-piece ensemble. It was a distinguished interpretation and inspired collaboration, ending in a pulse-quickening, exultant conclusion that elicited a prolonged standing ovation.
Stellar Talent
Other performers also were impressive. Oliver Neubauer, age 17, Clara's older brother, played the Paganini Violin Concerto No. 1 in D Major, Op. 6. The concerto, one of the most technically challenging in the repertory, can become merely a collection of violinistic tricks and fingering stunts. To his credit, Oliver emphasized its musical content and bel canto heritage, freely varying the tempos and embracing the work's singing qualities.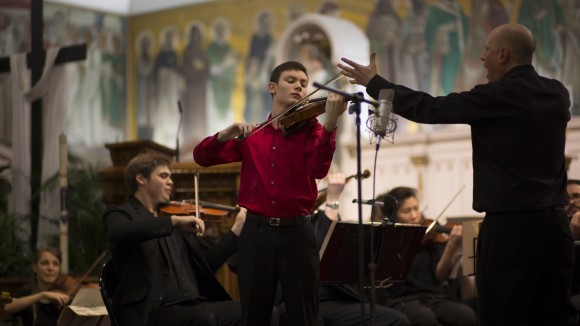 Nevertheless, the concerto is a minefield of technical difficulties; few soloists traverse it unscathed. Playing a violin on loan from the Juilliard Historic Stringed Instrument Collection, Oliver was commendably accurate, and the treacherous passages of fingered double-stop harmonics in the last movement were as cleanly executed as I've ever heard them. It would be interesting to listen to him in a more musically demanding concerto.
Two sterling Irish singers appeared at Carnegie. Soprano Rebecca Rodgers is gifted with an ample-sized, powerful operatic voice. Her brief solo with the Sinfonietta, "Porgi Amor," the Countess's aria from Mozart's "Marriage of Figaro," was followed by a winsome performance of Puccini's "O mio babbino caro" from "Gianni Schicchi," accompanied by pianist Seth Weinstein.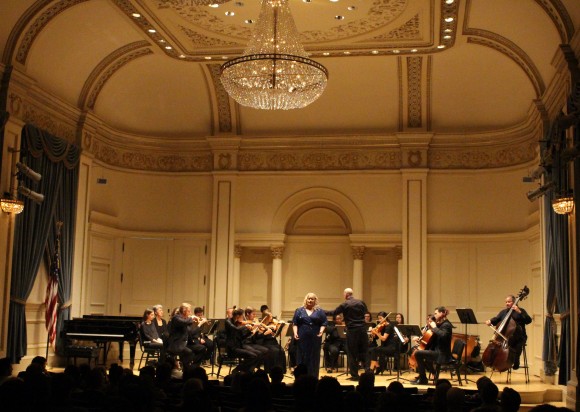 Rodgers proved to be equally adept in both Classic and Romantic repertoire, save for an occasional tendency to slow her vibrato to less than an optimum rate. She shows considerable potential; large voices such as hers are comparatively rare.
Soprano Robyn Richardson, ably partnered by pianist Keith Stears, displayed a flawlessly produced, beautiful voice that was beyond criticism. She affectingly sang "The Mother" by T. C. Kelly, and "When You Are Old" by Frank Bridge to a poem by William Butler Yeats. She could have a brilliant future as a recitalist.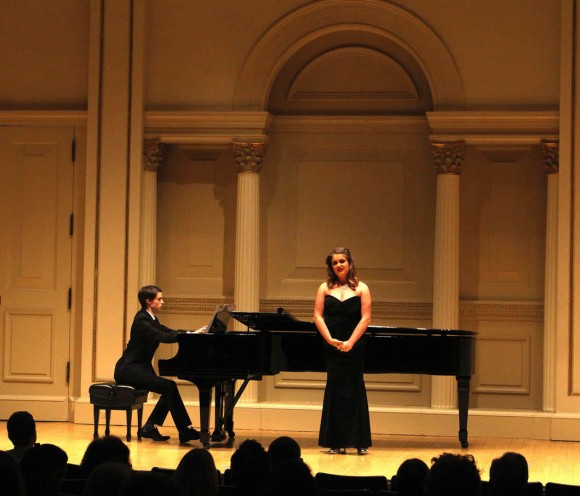 Two Liszt opera transcriptions for solo piano were offered at Carnegie, one of Verdi, the other of Wagner. Liszt's "'Rigoletto' Paraphrase" is a compendium of every device in the arsenal of Romantic piano technique. Rowel Friers almost succeeded in simulating a stageful of singers and an orchestra in the pit, to boot! Playing with unashamedly virtuoso flair, he concluded in a blizzard of octaves and stentorian sonorities.
The Wagner-Liszt "Isolde's Liebestod" was the last work the great Vladimir Horowitz ever played and recorded, a mere four days before his death. At Carnegie, Irish pianist Aidan Chan gave it an appropriately operatic, elegiac performance of Wagnerian sweep and ebb and flow. He shrewdly scaled his dynamics from a hushed, foreboding start, to a grand climax of rich resonance.
Mozart's lovely, lyrical Piano Concerto No. 12 in A Major, K. 414, is one of his earliest piano concertos in the active repertoire. Kevin Zhu, 11 years old, played the first movement at a relaxed tempo and with style and poise. His was a joyous interpretation that captured the playfulness of the downward appoggiaturas in the opening theme, while also conveying the work's occasional forays into neo-Baroque solemnity. Zhu's phrasing, dynamics, and crisp articulation effectively projected the concerto's many beauties.
The last two movements of Marcello's Concerto for Oboe and Strings in D minor, performed by 18-year-old Dubliner Ben Gannon, supplied a welcome contrast of instrumental tone color. First published in 1717, J. S. Bach thought highly enough of the concerto to arrange it for solo keyboard. Accompanied by an ensemble of ten instruments, Gannon played it with plangent tone, rhythmic buoyancy, dexterous fingering, and admirable breath control.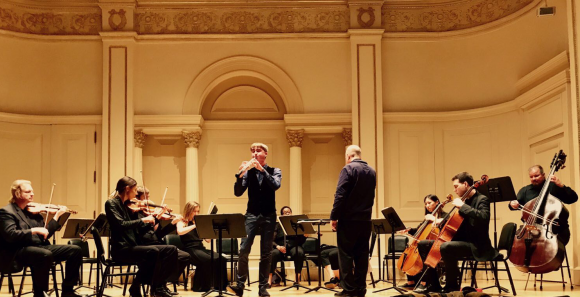 Irish stepdancer and folk spoon player Niall O'Leary, an unexpected surprise special guest, reprised his Jan. 2016 appearance with the NY Concerti Sinfonietta. Making his debut at Weill Recital Hall, O'Leary encored Copland's "Hoedown," which is based on an Irish reel. Initially seated while strumming the spoons as if they were castanets, he jumped to his feet and tap danced at center stage, his steps thundering through the hall in a virtuosic display.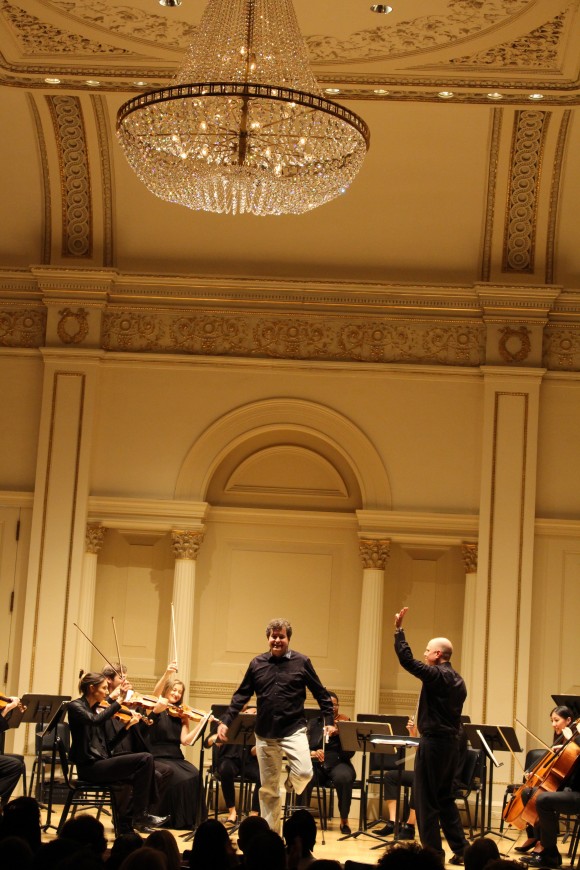 Additional performers heard at these concerts were violinists Sidi Bao and Jinwoo Jung, and pianists Winnie Li, Edella Litvak, Jeremy Zhang, and Yein Choi.
Maestro Paul Hostetter, principal conductor of the NY Concerti Sinfonietta, expertly adapted to the varying interpretations of the soloists. The ensemble numbered from 21 to 32 players, depending on the size of the stage, achieving sensitive and tonally alluring sonorities.
A Dedication and Upcoming Festival
Founder and artistic director of the NY Concerti Sinfonietta and its international competitions, Dr. Julie Jordan is a Steinway Artist and pedagogue. She has served for more than three decades on the piano faculty of The Juilliard School Evening Division, where she created the Piano Concerto class and Solo and Collaborative Piano classes.
The May 2017 concerts were dedicated to the memory of Dr. Jordan's Irish father, William Michael Jordan, whose parents were from County Mayo. He passed away in March at the age of 88.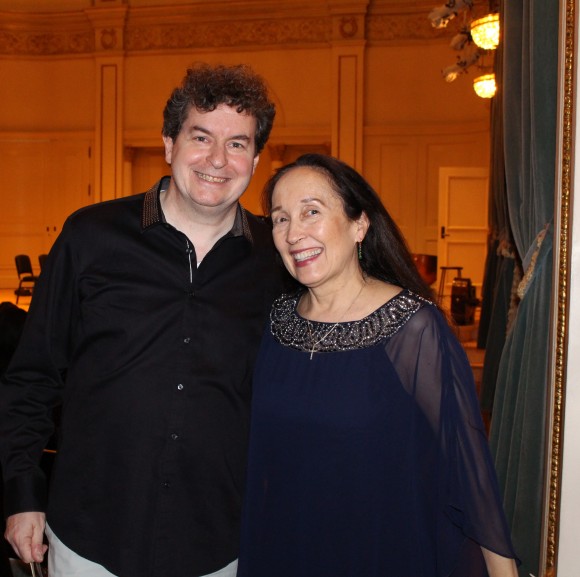 This summer, Julie Jordan will hold an inaugural "When Irish Stars Are Shining" Festival July 18-28 at the Clayton Ballsbridge Hotel in Dublin. The 10-day intensive event will provide music students of all ages with opportunities to participate in master classes, as well as performances, for all instruments and voice. The festival will feature current and past NY Concerti Shining Stars, with a competition for summer participants to join the 2017-18 International Shining Stars winners in New York.
The New York Concerti Sinfonietta will next perform at Carnegie Hall on Oct. 29, 2017 and June 1, 2018. Additional concerts will be held in New York City venues throughout the 2017-18 season. Annual auditions and master classes will be held in Ireland, California, Utah, Texas, Florida, and New York City.
For information, or to apply for forthcoming competitions and debuts, contact dr.juliejordan1@gmail.com or newyorkconcertisinfonietta.com
Michael Sherwin has held Rockefeller and Fromm Foundation Fellowships in music criticism. He has written for The Epoch Times, Wagner Notes, The Juilliard Journal, Musical America, and other publications. He recently served as producer of a 2-CD album of "20th Century American Choral Treasures" for the National Endowment for the Arts.