NY City Council Seeks Relief for Businesses
April 10, 2013 9:56 pm Last Updated: April 15, 2013 11:52 am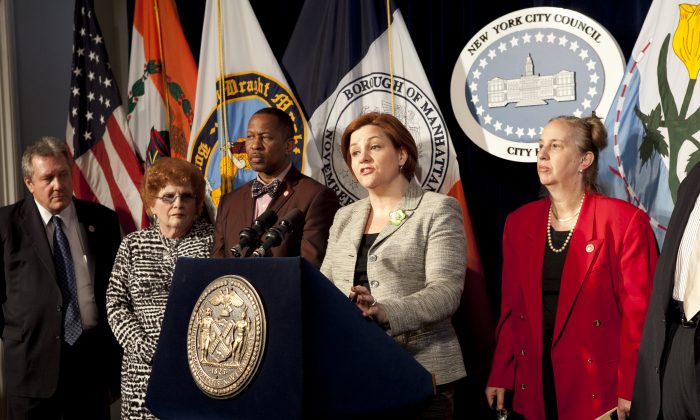 NEW YORK—The City Council passed a package of bills aimed at helping business owners in New York City navigate the rules and regulations related to doing business in the city.
One of the major aims of the four bills passed Tuesday is to collectively reduce the burden of fines on small-business owners, sometimes levied for petty offenses such as a misplaced sign.
"[Business owners] consider fines—and this is really sad—a part of doing business," said Speaker Christine Quinn during a press conference at City Hall Tuesday before the bills were voted on.
The package is aimed at streamlining processes in order to reduce fines. Proposals include reviewing regulations that can result in fines, standardizing inspector training, and establishing agency liaisons.
"We have to protect our economy, and this is the best way to do it," said Diana Reyna, chair of the City Council's Committee on Small Business during the press conference.
According to Quinn, inspectors frequently find technical violations during inspections and hand out steep fines to the business owners. The new legislation, now on the mayor's desk to be signed, should change many potential fines to warnings, and allow business owners a brief grace period to fix the violation.
One of the more striking aspects of the overhaul on city government interactions with small businesses is related to keeping inspectors on a tighter leash and making them more accountable and effective.
"We do get a lot of complaints about inspectors," said Council member Karen Koslowitz at the press conference, adding that a "core curriculum" is essential for them.
Koslowitz added that with the enormous number of languages represented in the population of the city, language barriers shouldn't be a major problem for business owners. That's where agency liaisons who can answer questions for business owners will come in. With a simple phone call, owners should be able to reach the right person who can help them understand how to be in line with the law—and ultimately avoid fines.
"We always hear 'We want to comply, we want to comply,'" said Koslowitz.