Sixteen-year-old Tristan Nunez, driving the No. 16 Performance Tech Elan-Mazda, won both races at the Cooper Tires IMSA Prototype Lites Monterey event last weekend, tightening his hold on the series championship.
Nunez got his season off to an amazing start by winning the pole and his first two races as a full-time driver in the IMSA Lites series in March, becoming the youngest winner in series history. In April he took the pole, won once and retired once with a blown engine while firmly in the lead.
The young south Floridian returned to total domination at the next Lites event, at Mazda Raceway Laguna Seca in Monterey, Calif. on May 11 and 12. The Performance Tech driver again won the pole, and led both races flag to flag.
"What an incredible weekend for the No. 16 'Dnt txt n DrV' entry," Nunez said in a press release. "I am so proud of the team and what were able to accomplish this weekend.
Two races were scheduled for the weekend, a 30-minute sprint on Friday and a 45-minute run Saturday morning, with qualifying Thursday afternoon.
Nunez not only qualified fastest, he used the least possible number of laps to do so. IMSA Lites mandates that drivers qualify and start the first race on the same set of tires and Laguna Seca's 11-turn, 2.238-mile track is notoriously sandy. Nunez needed to go fast in a hurry, and he did, setting the best time in half-a-dozen laps.
This gave Nunez the pole for the first race and, as he has in every other race this year, he drove away from the field. His progress was impeded only by three caution periods—the only time the opposition got a chance at him was on the restarts.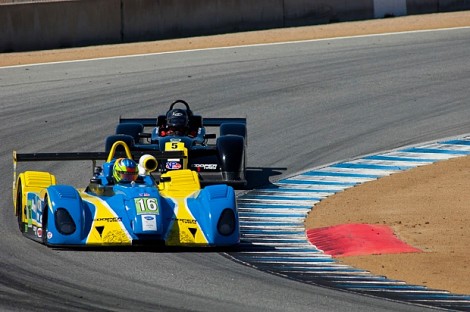 Not that restarts were a big problem—the Performance Tech pilot managed each one perfectly. He opened a gap of 3.5 seconds over Antonio Downs in the two laps between the first two caution periods, seven seconds in the seven laps until the next yellow flag, and another 2.8 seconds in the final three laps of racing.
Eurosport Racing's Antonio Downs finished second, 6.3 seconds ahead of Masters Class winner Charlie Shears of Comprent Motorsports
"The first race of the weekend was tough as there were several cautions and I was concerned that somebody was going to hook onto me and we would have a battle for the lead," Nunez said. "But we were able to pull away and come out on top with each restart. What a fantastic race! I really enjoyed this race because it challenged me to stay focused on making the restarts perfect. One mistake could have cost us the win."
The second race was 10 minutes longer than the first (shortened due to heavy fog at the start,) and had two fewer caution periods. Again, Nunez started from the pole, having set the fastest race lap in the first contest, and again was never passed. By the time Europsport Racing's Jim Garrett went off at Turn Two on lap ten, Nunez had a opened a gap of seven seconds of Charlie Shears.
Daniel Mancini, in the second performance Tech car went into the gravel on lap 12, extending to caution period another two laps. When the race went green on lap 14, Nunez went back to work, opening a gap of three seconds within three laps and then maintaining it until the checkered flag waved on lap 26.
Charlie Shears held on to second and Mikhail Goikhberg of JDC Motorsports, who started 14th after a wreck and a penalty in the first race, worked his way up to third.
"I was glad that we were able to put down the fastest lap of the race to earn our sixth pole win and have a good start to the second race today," the teen-age driver explained. "I was able to put my head down and run hard today without worrying about cautions and restarts. We ran a smooth race and I was so glad to be able to bring my car with all of the signatures on it to victory lane for a second time this event."
The signatures he spoke of were the hundreds of names signed by teens who pledged not to text and drive at the Safe America Foundation Safe Teen Driving Academy on May 5, 2012 at Atlanta Motor Speedway.
Nunez doesn't use his race car to advertise sponsors' emblazoned on the side of the Performance Tech Elan-Mazda. In its place he has the words "Dnt txt n DrV," reminding his peers about the dangers of distracted driving. At the Atlanta event, Nunez invited fans to seal their pledges not to text and drive by signing their names on his race car.
The Epoch Times publishes in 35 countries and in 19 languages. Subscribe to our e-newsletter.