Number of Female Smokers Growing Among 360 Million Smokers in China
October 28, 2007 12:00 am Last Updated: October 28, 2007 12:00 am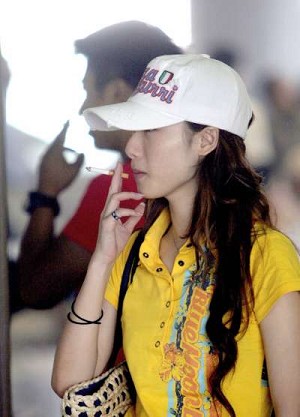 TAIPEI—According to a recent study, there are 360 million smokers in mainland China, which accounts for one-quarter of the total smoking population in the world. This number surpasses even the U.S., the world's largest tobacco producing country. China consumes one-third of the global cigarette production yearly. The ill effects of smoking and second hand smoke are becoming a major health concern.
According to a report in the Guangdong-based Nanfang Daily, a survey company recently conducted a telephone survey in the cities of Beijing, Shanghai, Guangzhou, Wuhang, and their surrounding suburbs. The survey sampled a total of 2,650 people.
The results indicated that in the four major cities, 28.5 percent of people above 18 years of age smoked, which was lower than the nation-wide average of 30.3 percent.
It was shown that half of all male smokers participating in the survey had a long history of smoking. In contrast, women smokers tended to have a short smoking history. Out of the female smokers, those who had smoked less than five years accounted for 31.6 percent, while those with under 10 years of smoking experience accounted for roughly 70 percent. In comparison, the numbers for the male smokers were 17 percent and 37 percent respectively. These results indicate that there has been a rapid growth of female smokers in China in recent years. However, the survey indicated that only 3.1 percent of Chinese women smoke.
According to the report, when compared to the figures from the previous year, the percentage of smokers in the four major cities is declining. The average personal consumption rate of smokers this year was 17 cigarettes per day. The report also indicates that the consumption rates in the cities are lower than that of the suburbs. Still, compared to the previous year's numbers, the smoker population as a whole is exhibiting a gradual trend of increase in tobacco consumption.
The report for 2006 indicates that well-educated groups exhibit a low percentage of smokers and consumption rate. The group with post-graduate or higher levels of education had a smoker rate of 21.2 percent. In contrast, the group whose education was limited to elementary school or lower had a smoker rate of 34.5 percent, or 1.6 times that of the post-graduate group. Their consumption rate was 19.4 cigarettes per day, or 1.3 times that of the post-graduate group.
The report also showed that the older the age group, the higher the smoker percentage. At the same time, the daily personal consumption rate also increases with age.
Upper management, private business owners, and sales people have the highest percentage of smokers when compared to other occupations. Among these, the upper management group has the highest percentage of smokers, followed by sales.