Talk over the years about the potential of a Chernobyl- or Fukushima-like nuclear disaster along California's coast has had many people wondering whether the threat is real or based on irrational fears. 
Opinions vary widely, but local residents, city officials, watchdog groups, and the power company responsible for the storage of more than 100 massive containers of spent nuclear fuel near San Clemente, California, can agree on one thing: the radioactive waste should be moved away from heavily populated beach areas to a more permanent repository. 
But the original site chosen for national nuclear waste disposal in the Desert Southwest closed its gates nearly a decade ago, forcing power plants all over the United States to store radioactive materials onsite in canisters. The San Onofre Nuclear Generating Station (SONGS), located on the Pacific coast about five miles southeast of San Clemente, is one such site. 
"This is a very bad location to store nuclear fuel. It's a real concern," said Chris Duncan, who was recently elected to San Clemente City Council. "You might have earth and water getting in; you can have a terrorist attack; it's right on the shoreline with an earthquake fault not too far away." 
Like other city officials, and most of the candidates who ran in the election, he pledged to help solve the problem. Duncan, recently reelected Councilmember Gene James, and Councilmember-elect Steven Knoblock all told The Epoch Times in recent interviews that something needs to be done about the nuclear waste, and soon.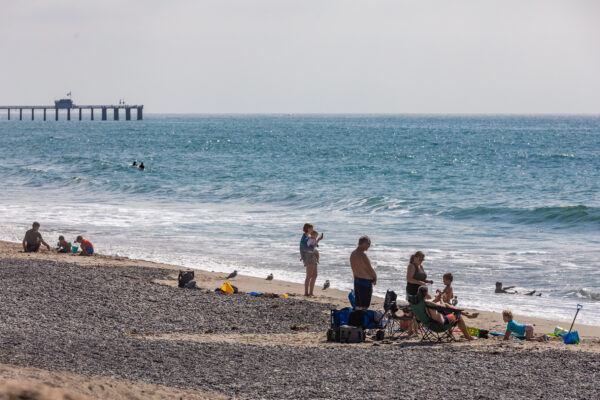 During their election campaigns, all three promised to work with federal, state, county, and municipal governments toward the safe removal of spent nuclear fuel stored at SONGS. 
The nuclear power plant is strategically situated on the electrical power grid, between two of California's largest cities, San Diego and Los Angeles, but its proximity to these large populations and military bases also makes it a potential terrorist target. 
Its location near the ocean and several seismic fault lines could also spell trouble. Though the plant was built to withstand a 7.0 magnitude earthquake, some experts say California is due for an even stronger quake within the next 30 to 40 years. 
Nothing to Fear, Says SoCal Edison
John Dobken, a spokesperson for the company that manages the facility, Southern California Edison, told The Epoch Times that residents living near the San Onofre Nuclear Generating Station (SONGS) have nothing to fear. 
"There is a small group of people that is heavily invested in scaring people about spent nuclear fuel," Dobken said. "And we do our best to try and provide the facts that are based on the science around spent nuclear fuel."
The nuclear waste is stored in stainless steel containers that are welded shut and encased in concrete. The containers are certified safe for at least another 80 years, he said. The plan is for a permanent storage site to be available for them before that time, and plans are already in the works for two "consolidated interim storage sites" in New Mexico and Texas.
"The canisters themselves have a service life of 100 years or more," and even the most extreme rise in sea levels would not affect safety at San Onofre until at least 2050, he said.
"No one has ever been harmed by spent nuclear fuel. The environment has never been harmed by spent nuclear fuel," Dobken said. 
"The spent nuclear fuel is solid, and we backfill the canister with helium. So basically, the canisters are just going to sit there and undergo radioactive decay. They're not a threat to the community at large." 
Some claims by environmentalists that spent nuclear fuel can affect the 8 million people who live within a 50-mile radius of the plant are unwarranted, he said. 
"There's no science to back that up; there's no facts to back that up," Dobken said. If these groups were pressed to produce evidence, "they couldn't, because it's just not true," he said. 
There is little danger of an earthquake breaking open containers of spent nuclear fuel, which is stored in a "solid pellet" form, Dobken said. 
"What do earthquakes break? They break things that are high on shelves at the high center of gravity. These modules are basically in a below-grade, concrete monolith bunker. They have a very tight tolerance where they are, so you can only have a little movement, and plus they weigh 50 to 52 tons," he said. 
Hypothetically, if a 30,000-pound steel-and-concrete lid on a container was removed, and the weld on the top of the canister was cut open, "you could stand a certain distance from that opening, and nothing would happen to you. The spent fuel would still be in sealed fuel rods," Dobken said.
"We've never had a leaking canister. In fact, the entire nuclear industry has never had a leaking canister of spent nuclear fuel," he said.
Disdain and Distrust
Despite reassurances from SoCal Edison, nuclear safety watchdogs have more than just a few qualms about San Onofre. They claim the company has covered up mishaps at the plant in the past and betrayed community trust.
Groups such as Public Watchdogs based in San Diego and San Onofre Safe, based in San Clemente, point to an accident at the plant more than two years ago as an example of why they don't trust SoCal Edison. 
On Aug. 3, 2018, a canister containing radioactive waste became jammed as plant personnel were loading it into dry storage. The misaligned canister was being lowered into a storage vault when it hit the guide ring attached to the inside wall of the shaft, got hung up, and was resting on the divider shell assembly, according to the Nuclear Regulatory Commission (NRC). The lifting devices were no longer supporting the weight of the canister, creating a risk that it could have fallen 18 feet into the storage vault, the NRC reported.
The incident triggered an investigation, and the NRC later reported that SoCal Edison failed to act immediately to properly report the accident.
Recently, tall waves slammed the outer sea wall at the SONGS facility, renewing fears among nuclear watchdogs. Chatter about rising sea levels, climate change, and, more recently, king tides, has led to even more uncertainty about the stability of 123 massive containers of spent nuclear fuel stored at the decommissioned, but not-yet-dismantled, nuclear power plant.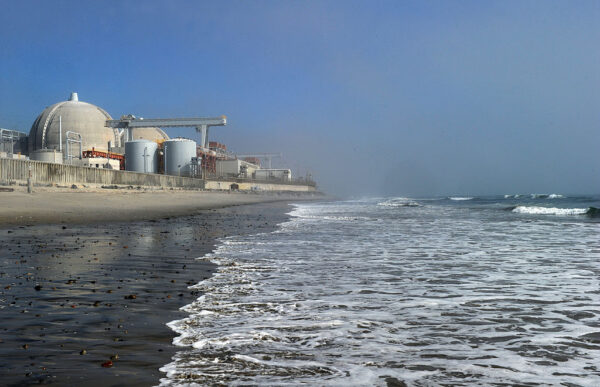 At a SONGS Community Engagement Panel virtual meeting on Nov. 19, the panel dismissed claims raised at an Aug. 20 meeting that rising sea levels could flood the San Onofre plant. 
Donna Gilmore, founder of SanOnofreSafety.org, told The Epoch Times in a Dec. 1 interview that she's less worried about rising sea levels and more concerned about aging, thin-walled NUTECH horizontal modular storage system (NUHOMS) containers made by Orano USA, which she said are prone to corrosion and cracking and can't be inspected or repaired.
"These canisters are stored above ground and are more than 17 years old," Gilmore said. The site has two storage systems. Some canisters are stored below ground, some above ground in a concrete bunker with walls 5 feet thick. 
Gilmore, a San Clemente resident and retired computer systems analyst, began researching problems at the plant more than a decade ago after hearing reports of problems at the San Onofre plant, which was still operating at the time. 
She contacted a whistleblower at the plant and began researching statistics on the NRC website. After compiling five years of data on complaints from employees at all U.S. nuclear power plants, Gilmore said she discovered that San Onofre was one of the worst. 
"I took the table and put it into an Excel spreadsheet, made a graph out of it, and San Onofre was off the chart on number of complaints from their own employees compared to all the other reactors in the entire country, and this had been going on for years," Gilmore said. 
When SoCal Edison announced it was going to close the facility, Gilmore began to wonder about the nuclear waste. "So, I've spent the last decade doing deep-dive research on the waste storage, and what I found is they are using these thin-wall canisters … that the NRC admits can't be inspected or repaired and are vulnerable to cracking," she said.
Gilmore suspects, too, that many of the Holtec containers have been scraped on their way to storage. Ever since the accident on Aug. 3, 2018, Gilmore has had little faith in the method used to lower casks down the shaft into the underground storage vault. "It's not a precision system," she said. And the containers, she said, "wobble like Tarzan on a rope."
Though many have tried to dismiss her concerns, "When I tell people that you've got a Chernobyl nuclear disaster's worth of radiation in each canister, they go from wishing you would shut up to eyes wide open, paying attention again," she said. 
The Shutdown
SONGS is a twin nuclear reactor power plant on 84 acres leased to SoCal Edison by the U.S. Navy. It's situated in the United States Marine Corps' Camp Pendleton in north San Diego County, just across the line between Orange and San Diego counties.
SoCal Edison, a subsidiary of Edison International, owns a 78 percent stake in the San Onofre plant. San Diego Gas & Electric and the City of Riverside own about 20 percent and 2 percent, respectively. 
When the San Onofre plant was shut down in 2012, it was providing enough power to service about 1.5 million homes.
The power plant began operations in 1968. It was one of the largest nuclear generating stations in the United States and was the biggest in Southern California until 2012 when it halted operations.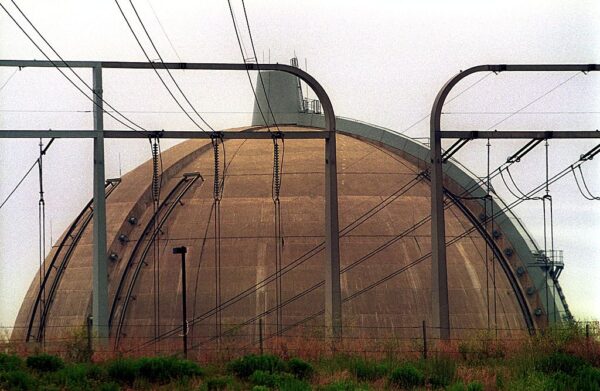 The plant was shut down in January 2012 when a radiation leak led to the discovery of hundreds of damaged tubes inside stream generators. Though SoCal Edison had originally planned to repair the damage and reopen the facility with the permission of the NRC, the plant never again produced electricity. SoCal Edison permanently closed the plant in 2013 after a battle with environmentalists who questioned whether the plant could ever be safely reopened. 
Four years ago, AECOM and Energy Solutions were awarded a contract to decommission the nuclear generating station. 
In August, SoCal Edison completed the process of transferring pools of spent nuclear fuel into dry storage, but currently there is no place to move the waste, Dobken said. 
Long-Term Solution
Plans to dismantle SONGS and remove radioactive nuclear waste have been a highly controversial issue, not just in coastal cities in California but also among Western Shoshone Native American tribes in Nevada where containers of spent nuclear fuel were supposed to be sent. 
They were expected to be shipped to the now-abandoned Yucca Mountain Nuclear Waste Repository project on federal land adjacent to the Nevada Test Site, where nuclear bombs were tested in the 1950s. The Yucca Mountain repository site is located in Nye County, about 100 miles north of Las Vegas. 
Former Sen. Harry Reid (D-Nev.), then senate majority leader, strongly opposed the Yucca Mountain project. The project was approved by Congress in 2002, but then-President Barack Obama's administration pulled federal funding for it on April 14, 2011.
That same month, the U.S. Government Accountability Office (GAO) concluded that the Obama administration's decision to shut down Yucca Mountain was strictly political, not for technical or safety reasons. 
The federal watchdog warned in its report "Commercial Nuclear Waste: Effects of a Termination of the Yucca Mountain Repository Program and Lessons Learned" that the shutdown could stall the opening of a nuclear waste repository by more than two decades. 
Critics of the decision to close Yucca Mountain said it was only "kicking the can down the road," according to the GAO report. 
"Some of the officials we spoke with estimated that the termination of Yucca Mountain could set back the opening of a new geologic repository by at least 20 years and cost billions of dollars," the report stated.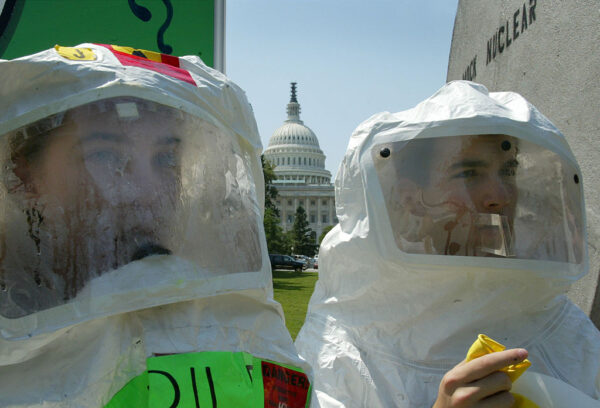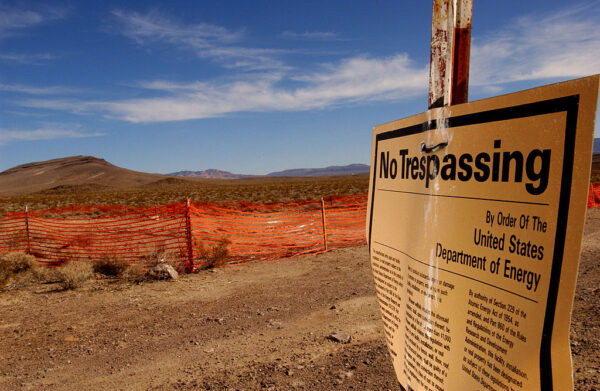 A decade later, most nuclear power plants in the United States are storing radioactive waste indefinitely onsite in dry-cask storage in steel-and-concrete tanks. 
"We're halfway there," Dobken said. "We really need the federal government to act in order to get this process going again."
House Republicans fought to revive the Yucca Mountain project because it had already cost taxpayers more than $12 billion. They argued that the site would permanently solve the puzzle of where to store more than 65,000 metric tons of spent nuclear fuel being stored near reactors in 33 states. Since then, that amount has risen to some 80,000 metric tons. San Onofre holds about 1,609 metric tons (3.55 million pounds). 
President Donald Trump reversed position on the issue earlier this year, however, and assured Nevada that its concerns about Yucca Mountain were heard at the White House.
Gilmore doesn't see a solution in the form of a national nuclear waste repository happening any time soon, and she said both Congress and the energy companies have made the Department of Energy (DOE) their scapegoat. "They've given the DOE an impossible task," she said. "And Congress is what, a bunch of lawyers? What the heck do they know about this stuff?"
"This isn't storing marshmallows," she said. 
"The 'spent' nuclear fuel in the containers is not totally spent," Gilmore said. "It's just not cost effective to continue to use it to produce power. This stuff is super hot thermally, super radioactive, and has to be kept away from mankind, basically indefinitely."
Fairlie Serious About Risks
On the same day the SONGS Community Engagement Panel met, Nov. 19, the Samuel Lawrence Foundation (SLF) hosted a virtual forum featuring radiation risks expert Ian Fairlie. 
Fairlie is Canadian radiation biologist based in London who once headed Britain's Committee Examining Radiation Risks of Internal Emitters. He prefaced his remarks by saying he has never been to San Onofre, but said there are three main sources of risk at the site: spent fuel cells, reactor shields, and sea dumping.
Spent Fuel Cells
He criticized the use of all thin-wall canisters at San Onofre and had nothing good to say about the newer Holtec canisters. "They're cheap," he said. 
Holtec containers are usually 3/8 to 5/8 of an inch thick, he said. "They're prone to cracking; they're designed to be temporary and are not really robust from external attack, in my view." 
Fairlie recommended more reliable Castor and Pollux ductile cast-iron casks. Made in Germany, these casks, named after twins in Greek and Roman mythology, cost about $5 million apiece and "are able to withstand external attack because their walls are about a foot-and-a-half thick." 
Dobken said SoCal Edison's nuclear engineer disagrees. Dobken said via email of the casks Fairlie recommended, "The bolted-lid casks rely on O-rings and those O-rings have failed in the past. That's why the casks have monitors, to detect such a failure. Welded-lid canisters, such as those at SONGS, don't require similar monitors because the canisters are leak-tested prior to storage placement."
Reactor Shields
Long after their reactors are shut down, nuclear power plants continue to emit tritium, a mildly radioactive form of hydrogen, into the air, which drifts downwind and "people breathe it in," Fairlie said. 
San Onofre, he said, emitted about 25 curies of it into the air in 2018 from inside the concrete of its biological shields. "That's a huge amount of radioactivity," he said. 
Nuclear reactors that were shut down in Canada in 1986, as well as some in Britain that were closed years ago, are still emitting radioactive tritium, Fairlie said. 
"Not many people talk about this, but I think that we should, because it's a danger," he said. 
Sea Dumping
Fairlie said the process of dismantling the San Onofre plant and breaking down radioactive components by putting them in large tanks to "cut them up underwater by laser" is worrisome because the San Onofre dumps the water into the ocean at weekly intervals, Fairlie said.
"The fact that they are broken up underwater tells me these components are extremely radioactive," he said. 
"We don't know what the concentrations are of that water," he said. "We just don't know. We understand that San Onofre gives us useless data. … What we need to know is what the concentrations of radioactive materials are in the water."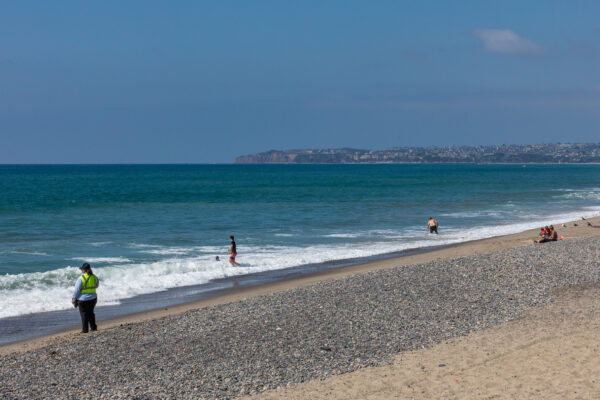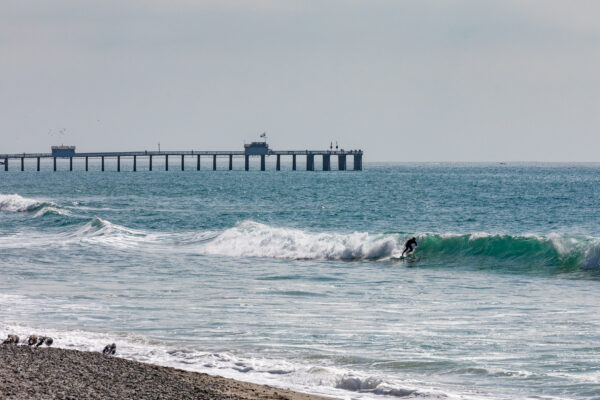 Asked whether it's safe to surf near San Onofre, Fairlie said his advice to surfers would be to err on the side of caution and "surf elsewhere."
Without relevant data, "it's difficult to nail down quantified risks at San Onofre," he said. 
Warnings and Signs
Women who are pregnant or breastfeeding, or who are of child-bearing age and intend to have a family "shouldn't live near San Onofre," Fairlie said. "Definitely, if they live closer than three miles, they shouldn't. They should move away."
No children should be living near the site either, he said. "Now, I'm aware that might cause distress to people, and I'm sorry if it does, but in my view, it's better to be aware of the dangers than to live in ignorant bliss. It really is." 
Fairlie warned people not to eat wild berries, mushrooms, honey, or vegetables from gardens near San Onofre. "It's just not safe," he said.
Fairlie encouraged people to be aware of radiation risks, get informed, and warn others. He encouraged activists to make their own signs warning beachgoers that the seawater near San Onofre is likely contaminated with radioactivity. He said if people get upset, "so they should be."
'Bogus' Study
SoCal Edison's Dobken said many of Fairlie's claims are wrong.
"A lot of Dr. Fairlie's comments would be more germane to an operating nuclear reactor rather than a nuclear site that's been decommissioning with only spent nuclear fuel on site," he said.
Dobken said SLF has tried to create an "atmosphere of fear" around San Onofre by suggesting a Fukushima-like event could occur there, Dobken said. 
SLF released a study last year that concluded that "a significant release of nuclear material" at San Onofre could impact millions of people in a 50-mile radius and cost $13.4 trillion throughout five decades. But the problem with that theory, Dobken said, is "we can't have a Fukushima-like event at SONGS because the reactors have been shut down since 2012. So the whole basis for that economic study is bogus."

He criticized SLF for continuing to promote the study "relying on the fact that people don't know that the underlying incident can't occur. They're going out there and basically fooling people. And it's not right. It's not right for the community," he said. 
SLF didn't respond by press deadline.
Dobken said, "We have enough things to worry about in 2020. We shouldn't be inventing new things to worry about."