Workers will still be entitled to compensation if they can show that they contracted COVID-19 in their workplace, the premier said, adding the update was "both fair to employees and ensuring businesses aren't hit with an unexpected spike in their insurance bills."
The special COVID-19 amendment was added to the Workers Compensation Act in May 2020, soon after the start of the pandemic. It had made it easy for workers risking their health and safety in retail, healthcare, hospitality, and other frontline industries to file a workers' compensation claim if they presumably caught COVID-19 in the course of their employment. In effect, the amendment placed the cost of catching COVID-19, which originated from Wuhan, China, on the shoulders of Australian businesses.
"When the NSW Government originally made the amendments, we had little information about how COVID-19 was spread and whether it was more likely to be contracted in workplaces, and we certainly didn't have a vaccine rollout," Premier Dominic Perrottet said.
"Now that the economy is steadily reopening, we want businesses investing in new staff and higher wages, not inflated insurance bills."
The government has said it will move to repeal the amendment in parliament next week.
If the changes aren't made, there could be more than 25,000 extra claims over the next year, with insurance premiums rising by A$950 on average, says Minister for Digital and Customer Service, Victor Dominello.
"Removing the automatic workers compensation entitlements will not remove a worker's right to make a claim if they contract COVID-19 as a result of their employment. This right is retained," he added.
"There is nowhere else in the world with automatic workers compensation rights due to COVID-19 that are as broad as those in NSW."
The government says COVID-19 claims could cost the workers' compensation system up to A$638 million over the coming year, citing Doherty Institute modelling.
Greens MP David Shoebridge, who was a key proponent of the protection, says no one should trust these figures.
"The cost to date has been less than $20 million and the government's initial estimate was that it would be more than $8 billion over four years," he told AAP.
The Greens will be opposing the reforms as put forward by the government, Shoebridge said.
"These are laws designed to protect our frontline workers, the nurses, the teachers, the retail workers, who put themselves on the line during the pandemic.
"These workers continue to be the most at risk from catching COVID at the workplace and the government is ripping away their protections," he said.
Unions NSW Secretary Mark Morey called on the government to reconsider the "harsh, heartless and unnecessary" change.
"Any savings to government will be tiny but the impact on individual workers will be massive," Morey said.
The most affected workers will be those who put themselves in harm's way to serve the public, who are "overwhelmingly" women, he said.
"This is not the sort of nastiness that has gotten us through the pandemic," Morey added.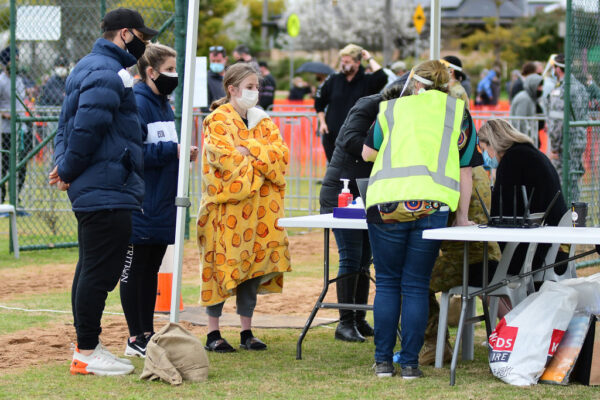 Meanwhile, about 91 per cent of people in NSW over 16 are now fully vaccinated and 94.2 per cent of adults have had their first jab.
Some 224 people remain in hospital, four fewer than the day before, with 32 in intensive care.
In the 12-15 age group, more than 80 percent have had their first dose and 72.4 percent both.
If the repeal succeeds, workers will still be able to make claims.
However, workers will need to prove that they contracted COVID-19 while at work.
Shoebridge said he was concerned it will be "next to impossible for a young supermarket worker to prove they contracted COVID at work rather than at home or on public transport there and back."

Treasurer Matt Kean said that without a repeal of the amendment, "we risk losing jobs just as our recovery is gaining momentum across our State."
"Small businesses have been hit hard enough by COVID-19 restrictions over the past two years, so now would be the wrong time for them to be slugged with a massive, unexpected insurance premium increase," he said.
By Hannah Ryan. The Epoch Times contributed to this report.