Charity Leader Forcefully Detained During 'Two Sessions'
March 21, 2010 3:24 am Last Updated: October 1, 2015 8:33 pm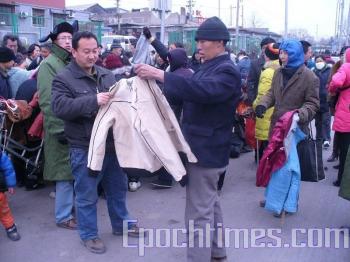 Liu Anjun, a key member of a private volunteer charity known as the Sunshine Community, was released after 17 days of detention when the annual session of the National People's Congress and the Chinese People's Political Consultative Conference concluded.
Mr. Liu was one of several mainland human rights activists who were detained—a routine practice of the communist regime during its annual session of political meetings. Some of those arrested are still reported as missing.
The Sunshine Community helps orphans and homeless children to find schools, raises funds for retirement homes, and provides food and clothing to the homeless, the elderly, and petitioners who become stranded in Beijing.
According to Ms. Sun, Liu's wife, two policemen visited their home on Feb. 28, demanding that Liu leave Beijing during the time of the meetings. When he refused, stating that his handicap made it difficult for him to travel, the police returned on March 1 to forcefully take him into custody.
Several other Sunshine Community volunteers who were at Liu's residence were also arrested on March 14, the last day of the communist annual session. One of them is still missing.
Ms. Sun said she was also nearly arrested that day. "Fortunately, I was very alert. I closed the door right after they left the house. They kept knocking on the door, and I simply ignored them,' she said. However, she realized her electricity, Internet service, and cellular phone services had all been disconnected after they left.
Liu said he was locked away in a motel room where he was constantly interrogated by national security officers about the activities of the Sunshine Community, including its records and donations.
Ms. Sun contacted patrol assistance after her husband was taken. They referred her to the local Public Security Bureau, but they were of little help.
Some online activists reported receiving an SOS message from Liu, but they were unable to establish contact with him.
Since its establishment, the Sunshine Community has been subjected to constant suppression by the communist regime. Recently, local authorities disrupted a Chinese New Year's Eve dinner for petitioners and detained several of their volunteers for interrogation. A food distribution event during the Lantern Festival was also stopped.
Read the original Chinese article.