Now We Can Praise Joan Rivers
September 4, 2014 7:32 pm Last Updated: September 5, 2014 8:38 am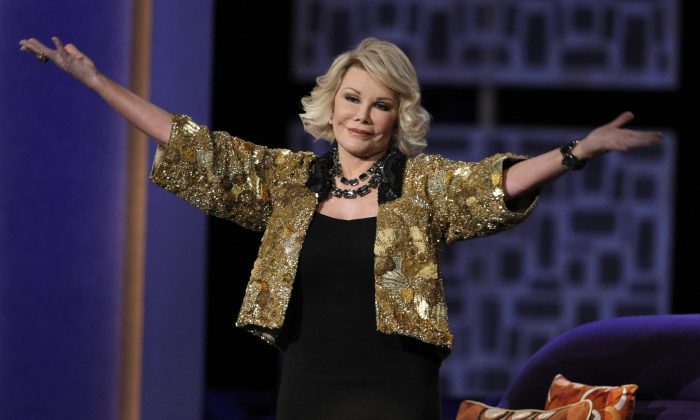 The voice was like a cheese grater working its way through gravel. The attitude was unsparing. The timing was perfect. The sharpest zingers were aimed at herself.
Joan Rivers was the hardest of the hard core.
Nothing seemed to be off limits for her. She joked about her husband's suicide. "One of the earliest jokes I did about my husband was that I was the one who really caused Edgar's suicide, because, while we were making love, I took the bag off my head."
"My husband wanted to be cremated. I told him I'd scatter his ashes at Neiman Marcus—that way, I'd visit him every day."
She joked about the Holocaust.
Yet she got a small tattoo that said 6M, to remember the six million Jews who died in the Holocaust. She included her only child, Melissa Rivers, in her work. They were partners, working the red carpet together, demanding to know, "Who are you wearing?" Woe unto the celebrity wearing something that could be mocked. 
Her daughter said Thursday that she died at Mount Sinai Hospital in New York, surrounded by family and close friends.
"My mother's greatest joy in life was to make people laugh," Melissa Rivers said. "Although that is difficult to do right now, I know her final wish would be that we return to laughing soon."
Rivers, who made "Can we talk?" a trademark of her routines, never mellowed during her half-century-long career. She had insults ready for all races, genders, and creeds. She moved from longtime targets such as the weight problems of Elizabeth Taylor, of whom she said "her favorite food is seconds," to newer foes such as Miley Cyrus, and continued to appear on stage and on TV into her 80s. She stated that she would work to the end, and she nearly did. Her show "Fashion Police," was on break when she died.
Comedy was not only her calling but her therapy, as she turned her life inside out for laughs, mocking everything from her proclaimed lack of sex appeal ("My best birth control now is just to leave the lights on") to even her own mortality.
"I have never wanted to be a day less than I am," she insisted in a 2013 interview with The Associated Press. "People say, 'I wish I were 30 again.' Nahhh! I'm very happy HERE. It's great. It gets better and better. And then, of course, we die," she quipped.
She was born in Brooklyn on June 8, 1933, with the name Joan Alexandra Molinsky. Her parents, Beatrice (Grushman) and Meyer Molinsky, were Jewish immigrants from Russia. Her father was a doctor.
Rivers honed her New York attitude, and her Brooklyn accent was one of her trademarks. 
She graduated from Barnard College in 1954 with a BA in English literature and anthropology. She was chosen as a member of Phi Beta Kappa, the prestigious academic honor society. Before she graduated, she wrote for the hit television comedy show "Candid Camera" in 1953.
Rivers loved fashion, and started her working life as a shoe buyer for Lord & Taylor. But her fate lay elsewhere. 
She said she wanted to be an actress, but comedy paid the bills. She wound up with a star on the Hollywood Walk of Fame.
She wrote autobiographies and advice books, including "Enter Talking" and "Still Talking," "Bouncing Back: I've Survived Everything … and I Mean Everything… and You Can Too!" and "Don't Count the Candles: Just Keep the Fire Lit!" Her humor books include "Having a Baby Can Be a Scream" and "The Life and Hard Times of Heidi Abromowitz."
She starred in "The Joan Rivers Show" (1968), "Joan Rivers: A Piece of Work (2010)" and "The Joan Rivers Show" (1989). She was married briefly to James Sanger and to Edgar Rosenberg for 23 years.
In 1983, she scored a coup when she was named permanent guest host for Carson on "Tonight." But the relationship led to one of the lowest points of her life.
Although she drew good ratings, NBC hesitated in renewing her contract three years later. Fledgling network Fox jumped in with an offer of her own late-night show.
She launched "The Late Show Starring Joan Rivers" on Fox in 1986, but the venture lasted just a season and came at a heavy price: Carson cut ties with her when she surprised him by becoming a competitor.
Carson kept publicly silent about her defection but referred obliquely to his new rival in his monologue on the day her show debuted.
"There are a lot of big confrontations this week," Carson said as the audience giggled expectantly. "Reagan and Gorbachev, the Mets versus the Astros, and me versus 'The Honeymooners' lost episodes."
Her show was gone in a year and she would declare that she had been "raped" by Fox; three months later, her husband was found dead.
Rivers was a pioneer at a time when comedy was not at all welcoming to women. About young female comics, she said, "They all come up to me and say, 'Without you, I couldn't be here, the barriers you broke down.'" 
She said she always told them to back off, because "I still could take every one of you with one hand behind my back. Outta here. Talk like that at my funeral, but not 'til then."
Associated Press contributed to this report.