Jan. 25 updates. Click here for Jan. 26 updates.
6:50 a.m. UTC—Shandong Province and Xi'an City Announce Transportation Bans
According to the Chinese news portal Sina, Shandong province has begun banning trans-provincial inbound and outbound buses and taxis beginning on Jan. 26. The trans-municipal taxi service is also suspended.
Xi'an, the capital of central China's Shaanxi Province, will halt trans-provincial and trans-municipal buses and taxis starting at 6 p.m. local time on Jan. 26, according to Sina. Additionally, ride-hailing services are required to suspend their trans-provincial and trans-municipal services.
6:10 a.m. UTC—China's Foreign Ministry Will Provide Assistance for US Personnel Extraction from Wuhan
Hua Chunying, a spokesperson for China's foreign ministry, has said  that China "will provide assistance and convenience" to an earlier quest by the U.S. government to withdraw its officials in its Wuhan Consulate, according to a Jan. 26 announcement on the ministry's website.
The U.S. consulate in Wuhan said in a statement that "the Department of State is making arrangements to relocate its personnel stationed at the U.S. Consulate General in Wuhan to the United States.
"We anticipate that there will be limited capacity to transport private U.S. citizens on a reimbursable basis on a single flight leaving Wuhan Tianhe International Airport on January 28, 2020 and proceeding directly to San Francisco.
"Interested U.S. citizens in possession of valid passports should contact BeijingACS@state.gov with the their personal information.
As there are currently estimated to be 1,000 U.S. citizens in Wuhan, priority will be given to individuals at greater risk from coronavirus, the statement said.
Read more here.
4:40 a.m. UTC—China's Southern City Shantou Announces Partial Lockdown
Shantou, a city located in southern China's Guangdong Province, became the first city outside of Wuhan's Hubei province to announce a citywide partial lockdown.
In an announcement published on its official website, the Shantou government announced four different measures in an effort to prevent furhter spread of the virus.
Beginning at 2 p.m. local time on Jan. 26, all public transportation services will come to a halt.
At midnight on Jan. 27, cars, boats, and people will be forbidden to enter Shantou without permission. Special supplies can still be transported into the city with permission.
Additionally, people arriving at Shantou at the local Chaoyang and Shantou rail stations will be subjected to screening and urged to leave.
There are no restrictions on people leaving the city.
In a separate announcement on Jan. 26, the Shantou government announced its first confirmed case of the virus. The patient, 66, a retiree from Wuhan, arrived in Shantou in the evening on Jan. 17. She tested positive on Jan. 24.
4:00 p.m. UTC—US, France Scramble to Evacuate Citizens From Epidemic-Hit Wuhan
The United States, France, Jordan, and Australia are coordinating with Chinese authorities to evacuate their citizens out of Wuhan—the now-locked down Chinese city where the deadly coronavirus outbreak first began.
The State Department ordered all non-emergency personnel and family members to leave on Jan. 23, according to its website. Details of the evacuation are still being finalized and are subject to change.
A spokesperson for the State Department told The Epoch Times on Saturday that the health and safety of U.S. citizens, including U.S. consulate workers in Wuhan, is their "top priority."
There are currently limited emergency services available to U.S. citizens across Hubei province. The spokesperson encouraged individuals to enroll in the Smart Traveler Enrollment Program to receive notifications and any health and security alerts or government plans.
Read more here.
3:25 a.m. UTC—Singapore, Macau, South Korea Report More Cases
In Singapore, the local health ministry has reported its fourth confirmed case, according to the Strait Times. The patient, 36, was a man from Wuhan who arrived in Singapore on Jan. 22. He tested positive on Jan. 25.
In Macau, the local government reported three more cases on Jan. 26, bringing the total number of cases in the city to five.
One of the three cases involved a retired Wuhan female resident, 58, who arrived in Macau on Jan. 23 by boat from Hong Kong.
The fourth case involved a 39-year-old housewife from Wuhan, who arrived in Macau on Jan. 22.
The fifth infected person was a 21-year-old teacher from Wuhan. She arrived in Macau on Jan. 23.
In South Korea, the local disease control and prevention center has reported a third case in the country. According to Yonhap News Agency, the patent, 54, lived in Wuhan and arrived in South Korea on Jan. 20.
Currently, the following jurisdictions outside of China have detected patients who have tested positive for 2019-nCoV:
Hong Kong: 5
Macao: 5
Taiwan: 3
Thailand: 5
Japan: 3
South Korea: 3
Singapore: 4
Malaysia: 4
Vietnam: 2
Nepal: 1
France: 3
Australia: 4
United States: 2
Canada: 1
3:15 a.m. UTC—3 Beijing Doctors Test Positive for Coronavirus
Beijing Municipal Health Commission, in an announcement on Jan. 26, stated that three of its doctors had tested positive for 2019-nCoV.
One of the three doctors, surnamed Wang, traveled to Wuhan on a business trip on Jan. 8 and reported to Beijing on Jan. 16. He tested positive for the virus on Jan. 21.
The second doctor, Lu, went to Wuhan on Jan. 10 and returned to Beijing the following day. He also tested positive on Jan. 21.
The third doctor, surnamed Yan, recently went on trips to several areas in China, including the Chinese cities of Changchun and Dalian. During a meeting on Jan. 14, Yan sat next to Lu and began having a fever on Jan. 18. Yan tested positive for the virus on Jan. 25.
The announcement said the three doctors are now under isolation treatment.
3:00 a.m. UTC—Hong Kong Disneyland Announces Temporary Closure
Hong Kong Disneyland announced that its park will be closed beginning on Jan. 26 as a precautionary measure in line with prevention efforts being taken in Hong Kong to stop the spread of 2019-nCoV. However, it stated that its resort hotels will remain open.
Additionally, Ocean Park announced its closure beginning on Jan. 26 in response to the city government's decision on Jan. 25 to raise the city's response level to "Emergency"—the highest of Hong Kong's three-tier system.
1:50 a.m. UTC—China Suspends Local and Overseas Group Tours
China Association of Travel Services announced that travel agencies will suspend all group tours, according to state-run media China Daily.
The announcement came after a similar announcement by China's Ministry of Culture and Tourism, which halted all local and overseas tour groups on Jan. 24.
However, all groups that set their departure date before Jan. 27 are not affected by the travel freeze and may still depart, the association said.
12:30 a.m. UTC—Canada Says Coronavirus Has Spread to Toronto
The Sunnybrook Health Sciences Centre in Toronto has said that a patient from China in its care has tests positive and is presumed to be a carrier of 2019-nCoV.
The hospital said in a statement that it is "caring for a patient who has a confirmed case of the novel coronavirus that originated in Wuhan, China."
The test used is considered to have 95 percent accuracy in identifying the Wuhan virus.
The man in his 50's arrive in Toronto on Jan. 23 from Wuhan after flying through Guangzhou.
As he was at home for a few days, the people that live with him are now in self isolation, Ontario's Associated Chief Medical Officer Dr. Barbara Yafe told a press conference.
In the SARS outbreak of 2003, Toronto was affected and 44 patients died in the region. A total of 438 patients were infected across Canada.
9:40 p.m. UTC—China Sets up Epidemic Control Group Amid 'Accelerating Spread' of Virus
Chinese leader Xi Jinping set up an epidemic control group on Saturday.
In an emergency meeting with his closest political inner circle, Xi Jinping warned of the "grave situation" and the "accelerating spread" of the epidemic, saying the new task force should focus on containing the situation with utmost urgency and that should be the highest priority task for all levels of government organs, according to state news agency Xinhua.
The event coincided with the Chinese New Year, a week-long national holiday when tens of millions of Chinese living abroad and in other parts of China travel back to their hometown, heightening fears of the virus's further spread.

2 p.m. UTC—New Countries Confirm Cases
Authorities in Australia and Malaysia confirmed new cases of coronavirus, meaning the Wuhan virus has spread to 10 countries around the world.
The virus already spread to Nepal, Japan, South Korea, Vietnam, Singapore, Thailand, the United States, and France.
The Australian cases included a Chinese national who flew into Melbourne on Jan. 19 and didn't show symptoms until after landing. There were also three other men—aged 53, 43 and 35—who all arrived from Wuhan earlier in January, as early as Jan. 6.
All four were isolated and Australian authorities said the risk of transmission remains low.
Malaysian authorities, meanwhile, said three people tested positive for coronavirus.
The trio, all Chinese nationals, are related to the 66-year-old man who is isolated in neighboring Singapore with the illness. That man also transmitted the virus to his son.

1 p.m. UTC—Social Media Depicts Chaos in Wuhan
The epicenter of the virus is chaotic amid an ongoing quarantine and a rash of deaths from the coronavirus, known in some quarters as the Wuhan coronavirus.
Wuhan, a city of some 11 million, was locked down on Thursday.
Wuhan residents, including some health workers, took to Chinese social media, such as Weibo and WeChat, to relay their exasperation and fears for the future in a city that has entered into a partial lockdown. Some have gone out of their way to bypass China's internet firewall and access blocked sites so that their voices can be heard by the outside world.
In one video, what appear to be covered bodies are seen in a hospital hallway between two rows of seated patients, as fully covered medical staff continue to hustle about. The woman who took the video said some of the alleged bodies may have been there all morning. In another clip shared online, a patient is seen falling to the ground while waiting in line for treatment, apparently fainting.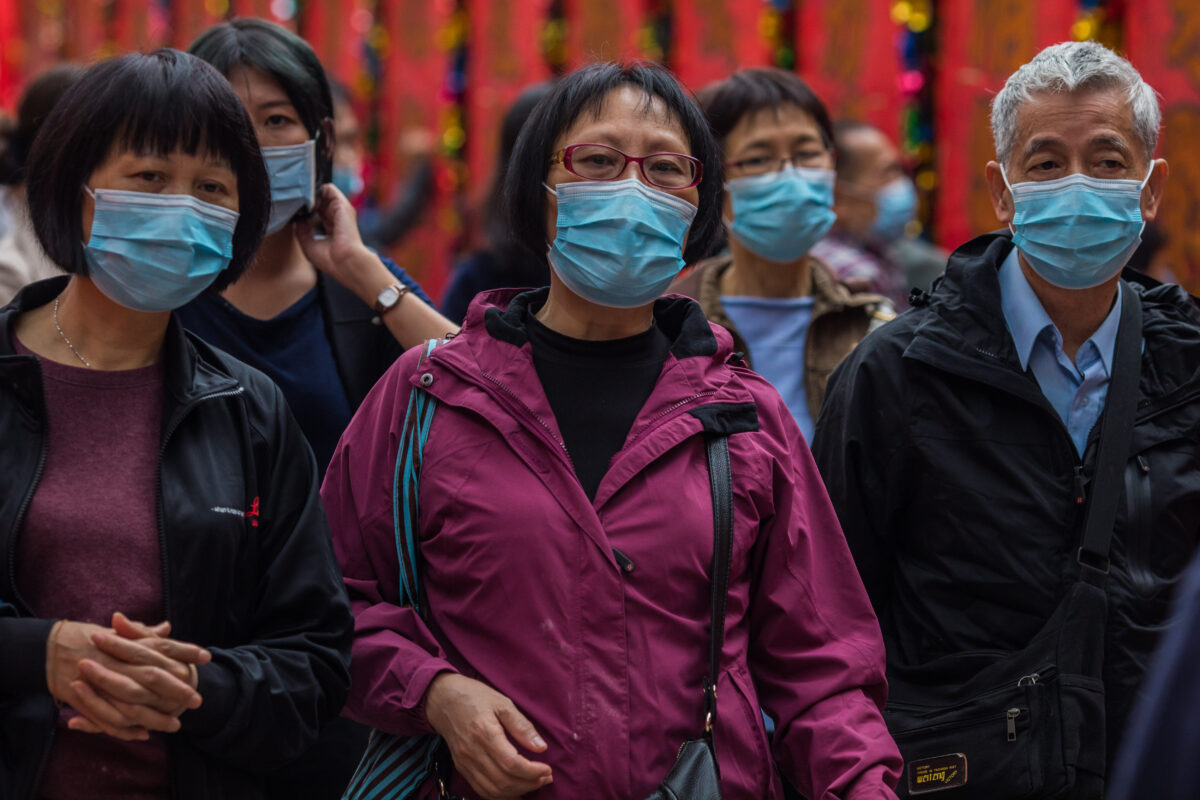 12 p.m. UTC—Chinese Doctor Worries Outbreak Will Get Worse
A doctor in Wuhan City who has been treating patients with Wuhan pneumonia disclosed some alarming information about the new virus, and expressed concern that the disease will be out of control in the next several months due to the authorities' slow response and lack of transparency.
The doctor, surnamed Xu, spoke to U.S.-based Chinese-language outlet Secret China on the condition of anonymity on Jan. 24.
He disclosed that by Dec. 31, 27 patients were confirmed to have been infected by the coronavirus, but Wuhan's public health officials decided not to inform the public of the new disease. Moreover, some features of the Novel Coronavirus make it more dangerous than SARS (Severe Acute Respiratory Syndrome).

10 a.m. UTC—Snakes Could be Original Source of Coronavirus
Snakes—the Chinese krait and the Chinese cobra—may be the original source of the coronavirus that has triggered an outbreak of a deadly infectious respiratory illness in China this winter.
The many-banded krait (Bungarus multicinctus), also known as the Taiwanese krait or the Chinese krait, is a highly venomous species of elapid snake found in much of central and southern China and Southeast Asia.
The illness was first reported in late December 2019 in Wuhan, a major city in central China, and has been rapidly spreading. Since then, sick travelers from Wuhan have infected people in China and other countries, including the United States.
Zachary Stieber, Olivia Li, Frank Fang, Eva Fu, Cathy He, The Conversation, and The Associated Press contributed to this report.