Iran is increasingly interfering with the UK to achieve its objectives and must now be seen as a top-tier threat, British think tank the Henry Jackson Society (HJS) warned.
The activities include encouraging Scottish separatism and attacks against Israel, Saudi Arabia, and global counter-terrorism efforts, according to a 100-page report (pdf) published by the HJS on Monday.
The report, authored by the think tank's counter-terrorism and British jihadism expert Paul Stott, said the Iranian regime is "a dictatorial regime that seeks to propagate its own interpretation of Islam globally in order to secure maximum politico-religious advantage."
The report said the regime has sought to interfere in the constitutional integrity of the UK with online disinformation and fake websites, as well as using physical means to achieve its objectives.
It also cited a few examples of Iranian activities in other countries, including Assadollah Assadi, an Iranian diplomat in Vienna who was convicted for planning to bomb a rally of the National Council of Resistance of Iran (NCRI) in France in June 2018, endangering thousands of attendees including a British delegation of 35 and senior U.S. politicians such as Rudy Giuliani and Newt Gingrich.
"The Iranian government is a hostile one. It holds British citizens hostage, using them as bargaining chips," Stott said in a statement, referring to a number of British-Iranian nationals who are or have been imprisoned in Iran, including Nazanin Zaghari-Ratcliffe, who is arguably the most high-profile.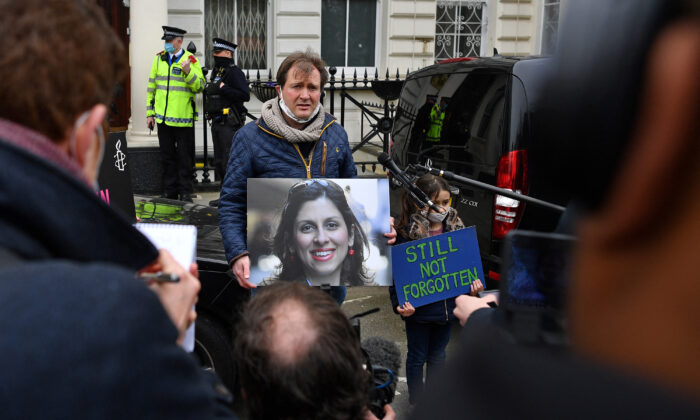 Iran also "seeks to interfere in the constitutional arrangements of the UK, via the tool of online disinformation," Stott said. "Here Iran must now be seen as a top-tier threat, with similar intentions to Russia."
"Regardless of the negotiations between the West and Iran over its nuclear ambitions, Iran also seeks to weaken our social cohesion, promoting its own stripe of Shia Islam at institutions in the UK," Stott added. "More than three decades on from the fatwa against Salman Rushdie, little has changed."
Rushdie is a British-American writer, whose life has been endangered after the Iranian regime in 1989 issued a fatwa—a legal opinion rendered by an Islamic scholar—against him over his novel  "The Satanic Verses."
Stott called his report "an investigation, audit, and analysis of Iranian influence networks in the United Kingdom."
It identified seven areas where Iran has or seeks to establish influence networks, including in politics, religion, the media, cultural networks, the Iranian diaspora, education and academia, and business and finance.
Stott cited examples of how Iran has "put considerable effort" into developing political relationships with pro-independence Scottish politicians, supported Irish republicanism in Northern Ireland, and manoeuvred its way into both the far left and the far right.