Not enough Sydneysiders are practicing social distancing, according to new modelling from the University of Sydney (USyd)—which claims that increased compliance with the restrictions will see a significant reduction of cases.
A group of USyd professors released the findings on July 13, claiming that currently, only 40 percent of the Sydney population was observing social distancing rules, and it was impacting the government's efforts to suppress the virus.
Professor Mikhail Prokopenko from the Faculty of Engineering said the Delta variant of COVID-19 appeared to be twice as virulent as previous strains and could spread faster.
The modelling explored the measures being deployed to contain the virus, including both mitigation (isolation and home quarantine) and suppression (school closures and social distancing).
It ultimately found that an increase in social distancing measures was needed, and if 70 percent of the Sydney population were to comply, it would see a "sufficient reduction" of new COVID-19 cases after two months.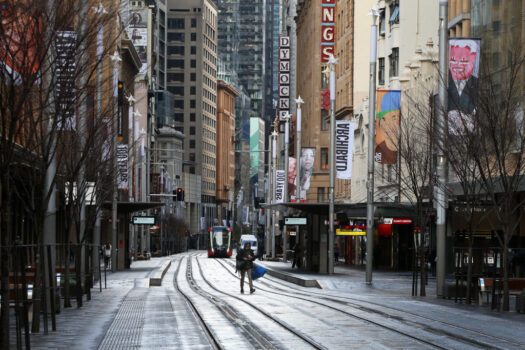 This could be expedited if up to 80 percent of Sydneysiders complied with social distancing requirements.
"Compliance with 80 percent social distancing would mean that four out of five people must drastically reduce their contact with others to just 10 percent of what they normally do," Prokopenko said in a statement.
"For example, this would mean reducing your shopping frequency or duration to just one out of 10 typical trips or hours," he added. "So, if someone spent 10 hours a week doing the shopping, now it needs to reduce to just one hour of shopping a week."
"The same goes for chatting with neighbours and other activities which involve being around people outside your household," he said.
"Crucially, 80 percent of social distancing also means that many services currently deemed essential would need to be included under the lockdown restrictions."
The findings echoed those published by the Burnet Institute, a medical research body in Melbourne, that called for tighter rules on the public akin to Melbourne's Stage Four restrictions.
"For Melbourne's second wave, this included closing non-essential retail, restricting movements to 5km from home and within the hours of 8 p.m. to 5 a.m., and mask-wearing outdoors," researchers from the Institute wrote in The Conversation.

The new data comes as Greater Sydney grapples with a spike in infections from the Delta variant of COVID-19. The region is under a five-week lockdown with restrictions placed on the movements of Sydneysiders. The city will enter its fourth week of lockdown as of July 19.
Melbourne has also entered a five-day lockdown to suppress the virus after 18 cases were recorded.
The Australian Industry Group (AI Group), the country's national employer association, has pushed back against calls for tougher restrictions saying Australia must find a more "durable" way forward.
"Australia's governments must resist being pressured into ever-tougher lockdowns by loudmouth commentators and instead recognise our community and our businesses deserve more considered, and proportionate approaches to dealing with COVID," Innes Willox, CEO of the AI Group, said in a statement.
"Armchair experts driving calls for all states to emulate Victoria's sometimes draconian response to periodic outbreaks demonstrate a woeful lack of understanding of how our economy works and ignore the past successes of more targeted actions and the economic carnage and mental stress that 'go hard, go early' excessively causes," he added.