Foreign Affairs Minister Marc Garneau said he's not worried that a Beijing-linked visa application company that the Canadian government has contracted will result in the personal data of applicants falling into the hands of Chinese authorities as security protocols have been put in place.
"We are not concerned about VFS Global in China," Garneau told the Standing Committee on Canada-China Relations (CACN) on June 7, saying Canada has a "rigorous procurement process" led by the Public Services and Procurement Canada. He added that the Chinese company's role is "limited to logistical and administrative support."
"[Immigration, Refugees and Citizenship Canada] officials closely monitor the activities of the visa application centers to ensure strict privacy standards as detailed in the contract that they're met, and we have lots of proof to show that we monitor this very carefully,"  he said, adding that the government is acutely aware of the risks of operating in any foreign environment.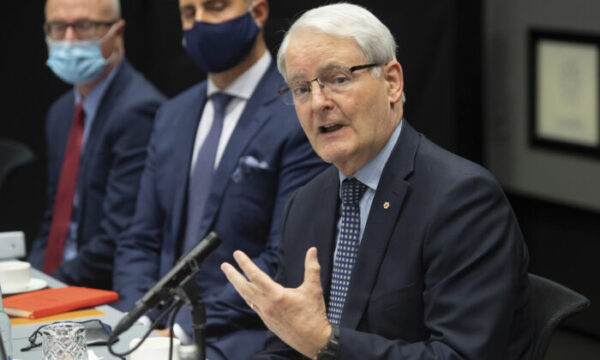 VFS Global was contracted by the Canadian government in 2008, and renewed in 2018, to process visa applications on its behalf in 83 countries. Concerns arose when the Globe and Mail first reported in February that the company has subcontracted its Beijing operations to Beijing Shuangxiong Foreign Service Company, which is owned by Beijing Municipal Public Security Bureau.
Jiten Vyas, regional group chief operating officer at VFS Global, confirmed that Chinese regulations mandate that any state-owned company must recognize the Chinese Communist Party (CCP) in its articles of association and a party organ must be established in any state firm that hires more than three Communist Party members, in his testimony before the Commons Committee on Citizenship and Immigration (CIMM) on Feb. 22, which was included in a special report on Hong Kong submitted by CIMM to Parliament Tuesday.
In addition, all major business and management decisions must be discussed by the party organ before they can be presented to the company's board of directors or management for decision.
"The first role of the directors or executive[s] who are party members is to execute the will of the party in performing their duties," the report states.
Joey Siu, a pro-democracy activist from Hong Kong Watch, said that people seeking a visa to come to Canada may hesitate to apply for one once they realize that the visa centres have contracts with Chinese companies with close ties to the CCP.
"I believe that a lot of activists, protesters or even random everyday citizens in China would be afraid to apply because that would mean their information would be collected by the Chinese Communist Party. That also means that the Chinese Communist Party would be aware that they are planning to leave the country," Siu told the CIMM on Feb. 17.
Ward Elcock, former director of Canadian Security Intelligence Service, isn't convinced that the processing of information in VFS Global's facility in Beijing is secure.
"In reality, that institution or that office functions entirely within the control of the Chinese intelligence services," he told the CACN on May 3. "For the foreign intelligence service, that is potentially gold, and the reality is there's almost always a way to access material no matter what security is put in place in a situation like that."
In one of its recommendations, the CIMM report proposes that the Immigration, Refugees and Citizenship Canada end its contract with VFS Global and bring the services back in-house at Canadian diplomatic missions in China.