Australian Prime Minister Scott Morrison has defended a Senate inquiry into the complaints handling processes of the Australian Broadcasting Corporation (ABC), after allegations against the government of "political interference."
Morrison said the ABC is a government agency funded by taxpayers and is not "above … scrutiny." He rejected ABC Chair Ita Buttrose's earlier allegation that the inquiry was "an act of political interference designed to intimidate."
"That is a matter for the Senate," Morrison told reporters in Sydney on Monday. "There is nobody above the scrutiny of the Senate. I don't understand why that would be an extraordinary initiative to take."
"[The ABC] is a government agency. They have their independence and no one's questioning that, but they are not above the scrutiny of how they conduct themselves using taxpayers' money."
"That is business as usual for the Australian Parliament. I don't know why they would consider themselves an exception to business as usual."
The Senate environment and communications legislation committee announced an inquiry into the complaints handling arrangement of the ABC and Special Broadcasting Service (SBS) on Nov. 11.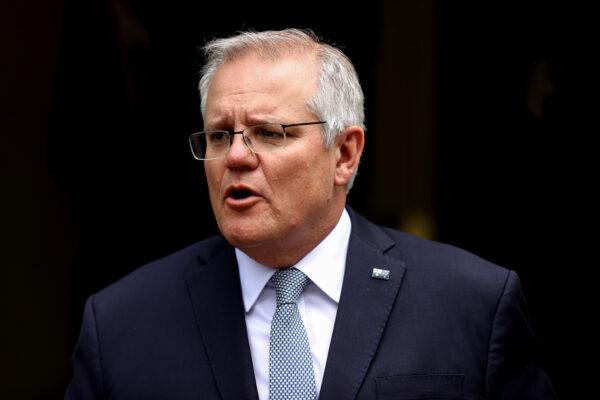 Senator Andrew Bragg, chair of the committee, described the move as a "surgical inquiry," which followed public concerns raised over the current system.
"As a strong supporter of the ABC, I am worried that complaints are not being seriously addressed and this is undermining the organisation," Bragg said in a statement. "If mistakes are made, Australians expect the national broadcaster to swiftly resolve them."
"Having made extensive complaints myself, I am concerned this is not the case."
ABC's Buttrose, appointed by Morrison in 2019, said on Monday that the ABC's relationship with the government is "strained," which concerned her very much.
"It would be much better if the government and the national broadcaster had a better relationship," she told ABC radio.
"We are not the enemy. We're easily accessible. I've said to politicians many times. I'm approachable, please pick up the phone."
Buttrose wanted the Senate to suspend the inquiry until an independent review of its complaint process, commissioned by ABC, which would be a first time in 12 years, is complete.
Announced in October, the review will be headed by former Commonwealth and New South Wales Ombudsman John McMillan AO, and former SBS Director Jim Carroll, with findings expected to come out in April.
The senate's inquiry, which involves SBS as well, is due to report on Feb. 28, 2022.
The move comes following multiple complaints and lawsuits against the ABC's reporting. In April, the ABC apologised to conservative Alice Springs Deputy Mayor Jacinta Nampijinpa Price for broadcasting views, since withdrawn, that were "false and defamatory" on two local radio services in September 2019.
In May, former Attorney-General Christian Porter discontinued a defamation case against the public broadcaster after it agreed to add an editor's note to a story that accused an unnamed cabinet minister of raping a woman in the 1980s, which unintentionally suggested that Porter had committed the alleged offence.
In July 2020, the Falun Dafa Association of Australia—a spiritual group severely persecuted and defamed by the Chinese Communist Party in China—sent a complaint letter to the ABC concerning the broadcaster's program, "The Power of Falun Gong," describing the programming as "reckless" with "misleading and unsubstantiated allegations."
The broadcaster's impartiality has also come under criticism from Australia's longest serving communications minister, Richard Alston.
"It seems to take endless delight in being at war with middle Australia, let alone those with conservative inclinations," he wrote in an op-ed in the Australian Financial Review.
"The great majority of its staff work in the comfortable inner-city enclaves of Ultimo in Sydney and Southbank in Melbourne, and nearly all its commentators and presenters are tertiary educated, with the same world view fixated on progressive social issues such as gender diversity, discrimination, climate change, gay marriage and asylum seekers."
Senator Bragg meanwhile encouraged Australians who have views to make submissions to the inquiry.