North Korea has once again warned of "nuclear war," but it added a new wrinkle in its threats by saying it intends to make a missile capable of hitting the U.S. East Coast.
On Monday, Oct. 16, North Korea's Deputy U.N. Ambassador Kim In Ryong warned that the situation on the Korean Peninsula, which includes South Korea, "has reached the touch-and-go point and a nuclear war may break out any moment," reported The Associated Press. He claimed that the isolated, communist country is the only one in the world under "such an extreme and direct nuclear threat," adding that it has the right to possess nuclear weapons of its own.
Also on Monday, a North Korean official, who was not named, said Pyongyang is committed to developing an ICBM, or intercontinental ballistic missile, that's capable of hitting the East Coast, CNN reported.
The official added that North Korea isn't ruling out diplomatic relations with the United States. But, the official said, "Before we can engage in diplomacy with the Trump administration, we want to send a clear message that the DPRK has a reliable defensive and offensive capability to counter any aggression from the United States."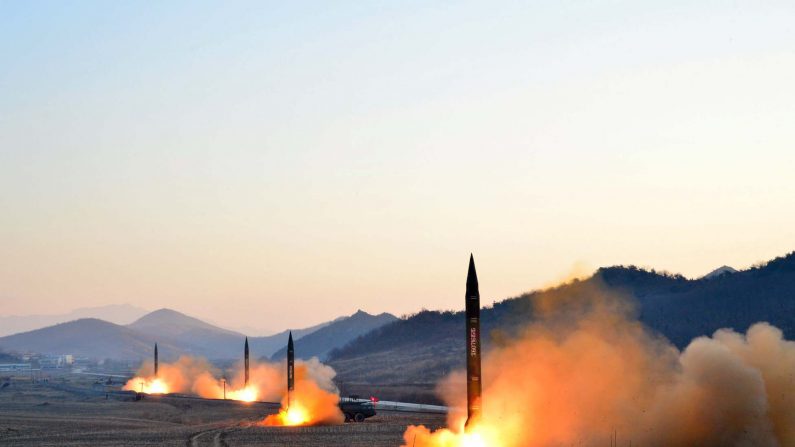 According to AP, Kim In Ryong added that the whole "U.S. mainland is within our firing range and if the U.S. dares to invade our sacred territory even an inch it will not escape our severe punishment in any part of the globe."
"Unless the hostile policy and the nuclear threat of the U.S. is thoroughly eradicated, we will never put our nuclear weapons and ballistic rockets on the negotiating table under any circumstances," Kim said.
It comes after U.S. Secretary of State Rex Tillerson said that diplomatic efforts will continue until "the first bomb drops," without elaborating.
President Donald Trump "has made it clear to me to continue my diplomatic efforts," Tillerson said. Tillerson's comments Sunday come amid soaring tensions between the United States and North Korea following a series of weapons tests by Pyongyang and a war of words between the two countries' leaders, Reuters reported.
The president, earlier this month, said the United States will "do what we must do" to prevent more threats from Pyongyang, which has indicated that it would attack the American territory of Guam.
"We cannot allow this dictatorship to threaten our nation or our allies with unimaginable loss of life," he reportedly said during a meeting with high-ranking military officers. "We will do what we must do to prevent that from happening and it will be done if necessary, believe me."
Reuters contributed to this report.