North Korean leader Kim Jong Un ended his visit to China on Jan. 9, a trip that experts suggest was aimed at gaining leverage for a future second summit with U.S. President Donald Trump.
The U.S. and North Korean heads of state met in Singapore last June to discuss denuclearization of the Korean Peninsula.
South Korean media first reported that Kim had boarded a train to China on Jan. 7. Chinese and North Korean state-run media later confirmed the news with an official announcement from Beijing that Kim was to be in China until Jan. 10, without providing additional details. But Kim left on a train from Beijing on Jan. 9.
This is Kim's fourth visit to meet with Chinese leader Xi Jinping within the span of a few short months.
During past visits to China, North Korean state media haven't confirmed Kim's trips before he completed them.
The visit also coincides with the timing of a U.S. trade delegation visiting Beijing for negotiations in the ongoing trade war with China.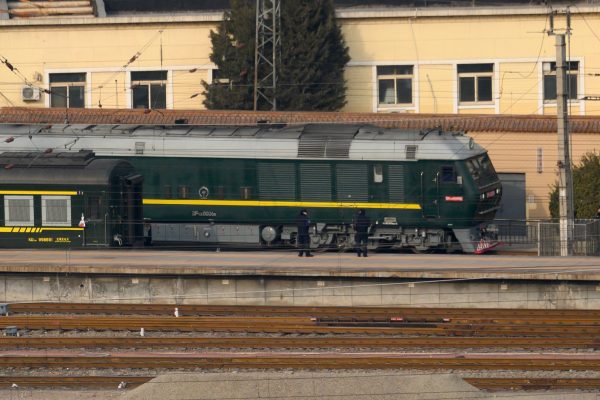 According to North Korean state media, Kim visited China with his wife and senior officials, such as Kim Yong Chol, a former intelligence chief and high-ranking Party member.
South Korea's Yonhap news agency, without identifying its sources, said Xi and Kim held talks on Jan. 8 for an hour, during which they discussed the second U.S.-North Korea summit.
Possible Second Summit
On Jan. 6, Trump told reporters outside the White House that the United States is in the midst of negotiating a location to hold a second summit with North Korea. In Kim's New Year speech, he said that he was willing to meet with Trump again, but also warned that he may take an alternative path if the United States does not ease sanctions.
On Jan. 7, South Korean newspaper Munhwa Ilbo reported that U.S. State Department officials had recently met with North Korean counterparts in Vietnam, adding to speculation that the next summit could take place in the Southeast Asian country.
Amid such a backdrop, Kim visited China—where he also spent his birthday on Jan. 8.
Hong Kong Economic Times interpreted the timing with his birthday as indicative of North Korea's closeness with the Chinese regime.
"China and North Korea are helping each other out, to find a way to respond to the Trump administration's pressures," the newspaper wrote.
Tang Hao, a political commentator with The Epoch Times, similarly expressed that China is likely seeking to use its influence over North Korea to gain leverage during the trade negotiations with U.S. delegates. Meanwhile, North Korea would use the Chinese regime's "big brother" role as protection.
Tang also noted that the alliance between North Korea and China is strong: Beijing has indicated before that it would support North Korea's incremental approach to denuclearization, which differs from the United States' stance of "complete, verifiable, irreversible denuclearization."
An article by Chinese state media Xinhua about Kim's second meeting with Xi in China, published May 8, 2018, noted that Kim "expressed the hope" that North Korea and the United States "would take phased and synchronous measures" toward denuclearization.
Last year, Trump voiced concerns that North Korea's change in its tone of negotiations occurred after Kim second visit to China.
"China probably has a great influence over North Korea," Trump told reporters on Aug. 29 last year.
China is North Korea's largest trading partner. Several times last year, China was caught engaging in economic activities with North Korea in violation of international sanctions.
Reuters contributed to this report.