Commentary
Though North Korea has held to its pledge not to test long range ballistic missiles like its estimated 13,000 kilometer (km) range liquid fueled Hwasong-15 intercontinental ballistic missile (ICBM), it has instead revealed new solid-fuel ballistic missiles that could form the basis for even greater ICBM threats.
Specifically, since May, Pyongyang has launched 18 new solid fuel short-range ballistic missiles (SRBMs). These missiles, and a new ballistic missile submarine revealed on July 23, will increase North Korea's ability to wage war against South Korea, Japan, and the United States.
Eight of a new SRBM, identified as the "KN-23" by the United States Force Korea (USFK), were launched on May 4 and 9, and on July 26 and Aug. 6. Its distinctive bi-conic nose shape has led many analysts to speculate this missile may be based on the Russian 9K720 Iskander SRBM, which has a diameter of 930 millimeters (mm) and a range of 500 km.

However, the KN-23 shows visible differences from the Iskander, such as its placement of exhaust guidance vanes. In addition, respected German analyst Norbert Brugge estimates its diameter is 1.1 meters, making it larger than Iskander, and potentially based on North Korea's 1.1 meter diameter Pukguksong-1 (KN-11) submarine-launched ballistic missile (SLBM).
Four more of an alleged second type of new SRBM were fired on Aug. 4 and Aug. 16, but actually may be a variant of the KN-23. Brugge estimates this missile also has a 1.1 meter diameter and may use the same solid rocket motor as the KN-23.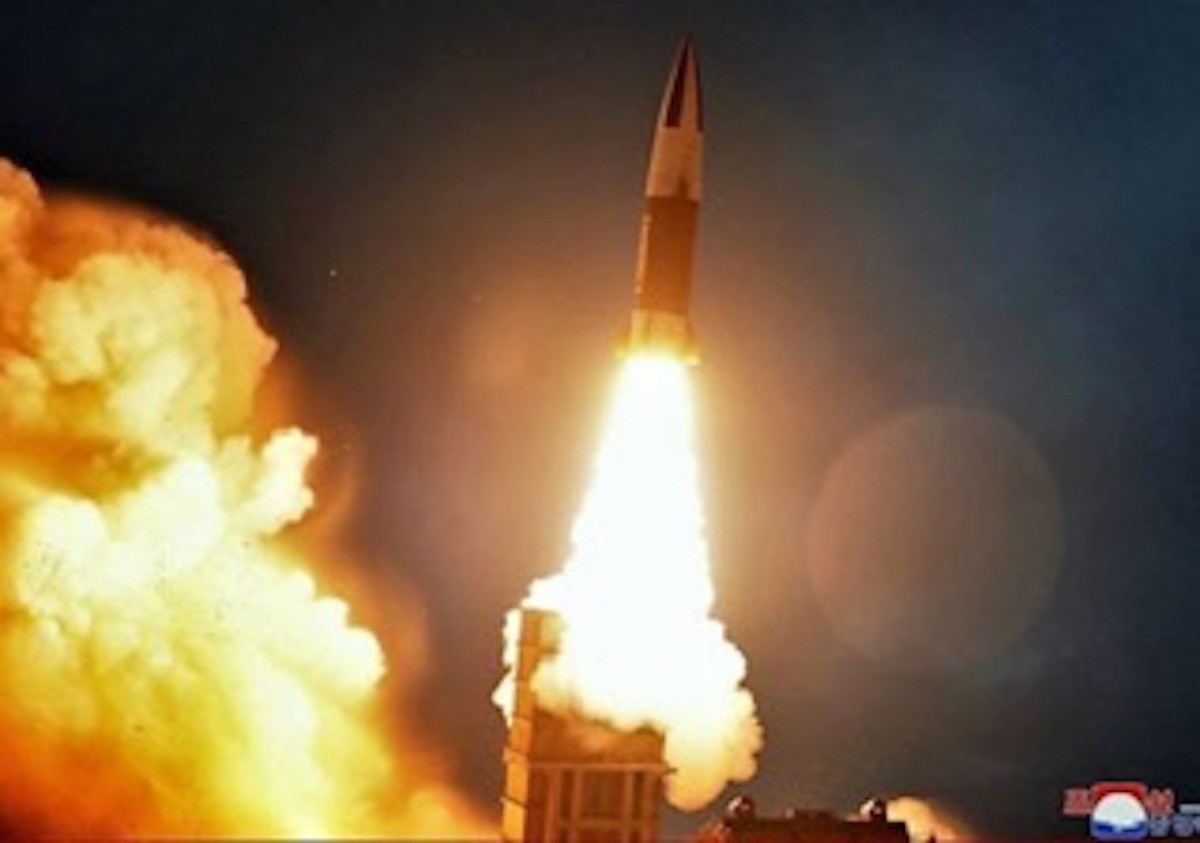 Images released by North Korea appear to indicate it has a smoother ogive-shaped missile dome and may be shorter. However, another German analysis, Markus Schiller, notes these images may be distorted to conceal the missile's length, which may be close to that of the KN-23.
Then on Aug. 24, North Korea launched two of a new SRBM based on artillery rocket technology, but assessed by Brugge and the USFK to have a large 600 mm diameter. It has been designated KN-25 by the USFK. It uses nose-mounted guidance fins for precision guidance, like North Korea's earlier 300 mm diameter KN-9 artillery rocket first seen in March 2016.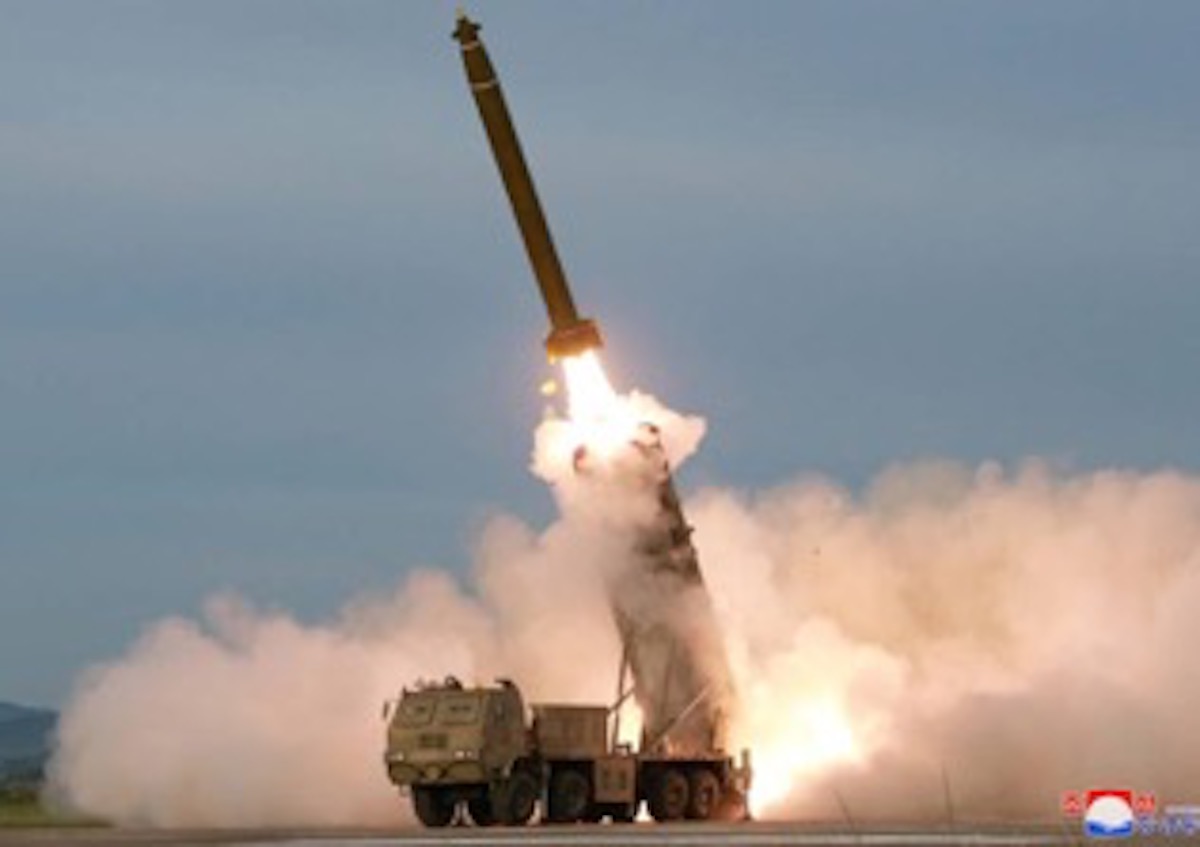 These new SRBMs are important in that they likely will supplement and then replace North Korea's arsenal of several types of older liquid-fueled SCUD SRBMs. Solid-fuel missiles are much easer to store, can be moved more easily, and can be prepared for launch far more rapidly than liquid-fueled missiles.
Also, the South Korean Ministry of Defense reports that the KN-23 appears to be capable of speeds above Mach 6, a low-altitude trajectory, and maneuvering capability. This makes the KN-23 more difficult to defeat with current U.S. and South Korean missile defense systems. It may also have a range of 600 km to 700 km, meaning it could cover targets in South Korea and reach some parts of Western Japan.
While two KN-23s are carried per 8-wheeled transporter erector launcher (TEL), a different truck-based eight-wheel TEL can carry four KN-25 SRBMs. Though South Korea Joint Chiefs of Staff reported it flew 380 km on Aug. 24, the size of this missile suggests it may be capable of a range of 500 km or more. It may also be cheaper to produce than the KN-23 as it is based on a less complex artillery rocket design.
An additional fear is that North Korea may develop small tactical nuclear warheads to fit on its new solid-fuel SRBMs. On Aug. 21, Japan's Yomiuri Shimbun reported Japan's Ministry of Defense has concluded in a new assessment that North Korea has been successful in "miniaturizing" its nuclear warheads, but did not say how small. But Pyongyang's history of nuclear and missile cooperation with Pakistan suggests it could share its designs for .5 to 5 kiloton tactical nuclear weapon that arms its Hatf-9 or NASR artillery rocket-based SRBM.
Pakistan's 400 mm diameter NASR and its TEL are products of the China Aerospace Science and Industry Corporation (CASIC), which also has a lengthy relationship with North Korea, having provided 16-wheel and 18-wheel TELs for its ICBMs like the Hwasong-15. The 300 mm KN-9 is carried by a TEL made by China's Sinotruck corporation, a strong indication that a Chinese company, likely CASIC, assisted with the KN-9 missile.
In the late 1990s, CASIC sold a 600 mm diameter solid rocket motor to Turkey, which uses it as the basis for its J-600T family of ballistic missiles. CASIC, thus, is a possible source for the motor and other technology for North Korea's KN-25. But it could also be based on the Russian 650 mm diameter 9K79 Tochka SRBM, that North Korea obtained from Syria in the mid-1990s.
North Korea's new solid-fuel SRBMs, following the 2017 tests of its 1,200 km to 2,000 km range 1.4 meter diameter solid-fueled Pukuksong-2/KN-15 medium range ballistic missile (MRBM), all point to North Korea's development of solid-fueled intermediate and intercontinental range missiles.
This goal was noted in the Aug. 27 report by a Panel of Experts given to the United Nations Security Council, with an Annex at the end of the 141 page report stating, "according to one Member State [of the United Nations], the DPRK's current goal appears to be to develop a solid-fueled first stage for its ICBM."
In its April 2017 large military parade in Pyongyang, North Korea displayed a full-scale mock-up of a medium to intermediate range solid fuel missile very similar to CASIC's DF-21 MRBM used by China's People's Liberation Army Rocket Force. Also revealed in this parade was a 16-wheel CASIC TEL carrying a full-scale mock-up of the cold-launch tube for a solid fuel ICBM.

As North Korea's future solid-fuel ICBMs and other missiles will be easier to transport and conceal, it is imperative that the United States continue with programs to develop more capable missile defenses, and new theater missiles to deter North Korea's future solid-fueled missile arsenal.
But the United States must also sanction CASIC for its transfer of missile technology to North Korea to begin the process of dividing North Korea from its sources of Chinese missile assistance.
Rick Fisher is a senior fellow with the International Assessment and Strategy Center.
Views expressed in this article are the opinions of the author and do not necessarily reflect the views of The Epoch Times.