We have "kicked the can down the road" until it has become the size of a Dempster Dumpster and, as one observer put it, we have run out of road.
Or to seize upon another observation, one remembers the TV commercial where a mechanic looked at a vehicle needing repair and said to the owner, "You can pay me now or pay me later" (with the intimation that "later" was going to be more expensive.
Having failed with "can kicking" and deferred "maintenance" to again mix metaphors, the "chickens" are circling to come home to roost.
To put it bluntly, what are we going to do about a country that now has ICBM capability, nuclear weapons, and a leader whose emotional stability (to put it politely) is questionable?  Impolitely, Kim Jong-un seems nuttier than a fruit cake and discarding his threats as ritualistic bombast is immensely dangerous.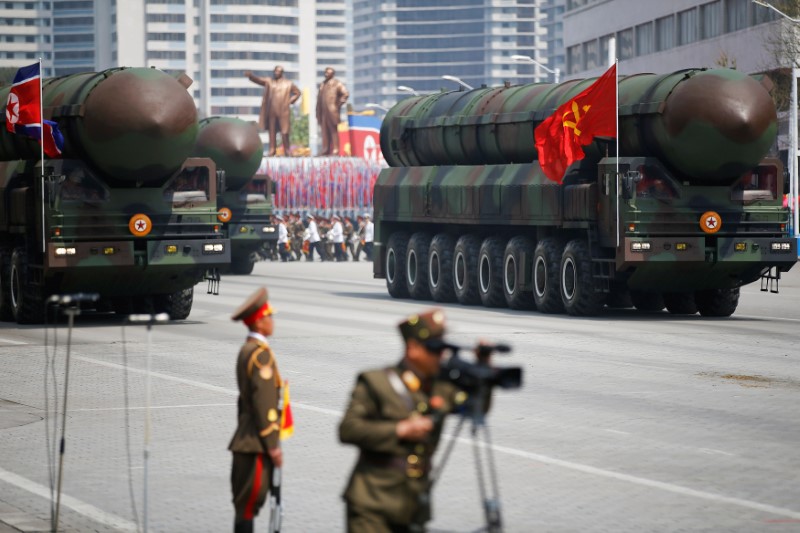 One can only project worsening circumstances:  more, proven ICBM tests; greater intelligence that Pyongyang's weapons are designed with "spoofing" devices to distract antimissile countermeasures; nuclear tests demonstrating miniaturization (which may already have been performed via computer simulation); and/or specific threats against regional allies to cease joint exercises, remove U.S. forces/bases; and cease sanctions.
This is not doomster speak.  The classic intelligence analysis insists on measuring "capabilities" not "intentions" as the latter are in the minds of the beholder and the beheld (and can change in a moment).  Capabilities exist—regardless of intentions.
And looming over the issue is President Trump's red line that he will not permit Pyongyang to get an ICBM.
So what are our options.
Do Nothing.  This is the default position.  And "nothing" doesn't mean nothing, it means "more of the same."  More remonstration of the hissy fit twitter nature; more UN condemnation in meaningless resolutions; more nickel-and-dime sanctions; more pleading with Beijing and Moscow to "help," i.e. cut off imports, end exports of missile-related technology, send home North Korean workers, and so on.  Our chestnuts are burning, help us pull them out.
We have already admitted that these efforts have failed in the past, so trying more "jaw-jaw" exercises will be as feckless as previous attempts.
Kim will have his people eating grass and Satan will be ice skating to work before he gives up his nuclear/missile program.  His logic is impeccable:  leadership in those countries that did (Libya and Iraq) was subsequently destroyed.
Arm the Allies.  We already have THAAD missile launchers in the ROK and AEGIS missile cruisers/missiles off Japan.  Give, sell, and/or lease them more.  Regardless of whether effectiveness may be marginal, they will provide a level of reassurance for Seoul and Tokyo, and Kim won't know how good (or not) they are.

Additionally, we can turn a blind eye to ROK/Japan nuclear weapons construction.  Japanese and Korean officials may increasingly doubt the credibility of Washington's nuclear umbrella as U.S. cities come under threat.  It was hard enough for Europeans to believe that the U.S. government would sacrifice NYC to save London/Paris from Soviet attack.  Would Asians really believe we would sacrifice LA/San Francisco to save Tokyo/Seoul?  But their own nuclear capability would reduce and counter the pertinence of Kim's nuclear threat, and they could probably build basic nukes in a year with covert U.S. assistance.  
Decapitation. Assassinate Kim, presumably with slews of Predator missiles and "smart bombs—or even a brace of "mother of all bombs."  This would be a parallel to our 1986 effort to assassinate Libyan leader Omar Gaddafi, but presumably with better intelligence and more accurate weapons.  If successful, we assume Kim's successors will be more amenable to reason; if unsuccessful, Kim may realize that our patience has been exceeded.  Young Kim's father and grandfather were vicious dictators, but were far more in control of their emotions and foreign policy.
Finish the Korean War.  There has never been a treaty ending the conflict—only an armistice that has been violated repeatedly over the past 60 years.  The decades have seen the emergence of a nuclear/missile program that now threatens all of his neighbors (perhaps even Beijing and Moscow have a bit of twinge contemplating Kim's program).
We would need "shock an awe" attack(s) directed solely against Pyongyang's nuclear/missile program.  Such would be accompanied by assurances such is the limit of our concern.  But simultaneously warning Pyongyang that resort to nuclear response will leave the country a desert.  Casualties could be massive, but think Aleppo, Mosul, let alone Leningrad/Stalingrad, and so on.
Our choices in North Korea are a "Chinese restaurant menu" filled with all unpalatable dishes.
David T. Jones is a retired U.S. State Department senior foreign service career officer who has published several hundred books, articles, columns, and reviews on U.S.–Canadian bilateral issues and general foreign policy. During a career that spanned over 30 years, he concentrated on politico-military issues, serving as adviser for two Army chiefs of staff. Among his books is "Alternative North Americas: What Canada and the United States Can Learn from Each Other."
Views expressed in this article are the opinions of the author and do not necessarily reflect the views of The Epoch Times.