North Korea Nuclear Test Triggers Retreat of Chinese Investment
October 19, 2006 12:00 am Last Updated: October 19, 2006 12:00 am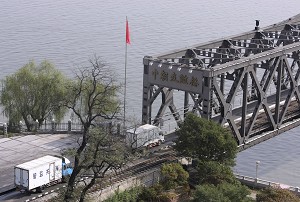 CHINA—North Korea's nuclear testing has threatened the stability of financial markets in East Asia. The Chinese investors in North Korea are the most affected. These investors, who once raised the investment wave in North Korea, now feel the volatility and the risk in North Korea. They are panicking and are preparing to pull out.
Beijing's China Business reported that according to Chinese official statistics, from 2001 to 2005, the trade volume between China and North Korea has more than doubled and has reached US$1.58 billion. As of early this year, the Chinese have made 44 different investments in North Korea which total to US$127.22 million. These investments have been made in different areas of industry such as food, electronics, chemical industry, medicine, lighting industry, clothing, building materials, minerals, and transportation.
This year, the Chinese Communist regime encouraged large scale investing in North Korean minerals. The massive inflow of Chinese business into North Korea has raised certain international concerns. Japan's The Asahi Shimbun indicated that the Chinese Communist Party is trying to take economic control of North Korea and strengthen its overall influence in North Korea.
However, North Korea's nuclear testing on October 9 has changed everything. The uncertainty in the North Korean Peninsula has made the Chinese people very apprehensive. Many businessmen have expressed that "Leaving is a must, but it's impossible to withdraw the funds invested."
Chen Xiaoyang, General Manager of a private enterprise from Zhejiang Province, participated in the mining of a two million tons coal reserve in North Korea, and exported 20,000 tones of coal monthly from North Korea to China. He said the plant used to be full of people, but due to lack of business they have all gone. There are no buyers even if he sells at a loss. Chen is ready to leave. There are many others who share the same conviction.
Wang Jianmin, who went to North Korea three years ago to invest in the mining business, has returned to mainland China. He said the ground water system will be seriously polluted by the radioactive materials and the entire water supply within the Korean Peninsula will be contaminated. He said he rather not get involved.
Staff of the Korean Peninsula Economic Advisory Service Center in Dandong, Liaoning Province, indicated that businessmen are concerned about the economical impact of the North Korean nuclear testing. They are very angry and scared; however, immediate withdrawal is impossible for the larger investments. The most vulnerable are those who have invested in China-North Korean border trade.
A Foreign Trade Corporation in Dandong, Liaoning Province, exporting agricultural and mechanical products to North Korea for many years, reportedly stopped investing in North Korea after the nuclear testing.
Dong Longsheng, a Chinese expert on North Korean issues, indicated the situation now is "in turmoil and fear; foreign investments will leave like the receding tide."