North Korea Not Exactly Friendly to Chinese Investment
February 4, 2011 1:05 am Last Updated: October 1, 2015 5:47 pm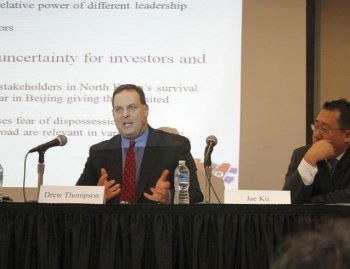 WASHINGTON—Small-scale Chinese entrepreneurs from the northeast, nimble, resilient, and all cashed up, are investing in North Korea, waiting for a promised day of 'reform and opening up' that seems to stay forever on the horizon, according to a recent report by a China analyst.
Drew Thompson, director of China Studies at the Nixon Center, a public policy think tank, presented one year's worth of research on the topic at the John Hopkins University's U.S.-Korea Institute on Feb. 3.
The gist of the argument is that investment from China into North Korea is mostly happening through joint ventures driven by entrepreneurial Korean-speaking Chinese. Many of them are connected to provincial governments, but not the Party Central.
The investment projects are not very large in scale nor all that successful. There have been only 138 of them established between 1997 and 2010, according to Mr. Thompson's research—though not counting those that collapsed or operate in the shadows.
From 2003 to 2009 there was just $98.3 million invested from China into North Korea, compared to $1.2 billion into South Korea. Discarding the outliers, the average transaction is less than $500,000.
Why are joint ventures important? The Chinese running them have made a stake in North Korea's future, going some way to creating employment and contributing to stability.
"Stability" in North Korea, however, essentially means maintaining the Kim regime, so a portion of the Chinese investment money is siphoned off to the Workers' Party of Korea, which doles out funds in exchange for loyalty among senior officials.
The Chinese involved in the joint ventures, however, face a difficult business environment and are not making much money. Their reason for sticking around is anticipation of a Deng Xiaoping-style economic reform program in North Korea, where they would be in on the ground level.
But no one knows how far off that will be, and several anecdotes relayed by Mr. Thompson don't paint a hopeful picture. "There is rent seeking behavior. That's the nicest way you can say it," Mr. Thompson said.
A South Korean scholar was traveling around the North with a group on a train. Every time they arrived in a new region the local bosses would stop their convoy and take the train motor, using it for several hours to trolley their own carriages around. They then reattached it to the train and the group was allowed to proceed. It took days to travel a small stretch of country.
One Chinese investor had an aquaculture venture growing kelp. Harvest time was rolling around. One day a Korean people's army unit turned up on the doorstep and explained that they needed the beach for "military exercises." The business was shuttered and the beach sealed off. The military later announced that they were finished with their exercises, and the owner returned. He found the kelp had all been taken.