Countries are worried North Korea will conduct another nuclear and missile test tomorrow on Saturday, Sept. 9, as the regime celebrates its 69th anniversary of the founding of the Democratic People's Republic of Korea. 
Celebrating national holidays by launching missile tests is a classic North Korean move. 
According to The Washington Post, South Korean government officials have reportedly seen signs of another long-range missile test that could possibly be launched this weekend. 
Those signs, plus the warning from South Korea's prime minister on Thursday that they expect another intercontinental ballistic missile (ICBM) launch on Sept. 9 paint a grim picture. 
Lee Nak-yon, South Korea's prime minister said the situation is "very grave" as the National Security Council met on Thursday to discuss plans in case a new missile test occurs, The Washington Post reported. 
There was no indication that North Korea's target is Guam, but the rogue state has threatened to test fire missiles at the U.S. island in the past, NBC News reported. 
North Korea's neighboring countries have already come to expect the communist regime to showcase its military might in tests, especially to celebrate the Day of the Sun in April, the birthday of its founding president. 
Last year on Sept. 9, to mark the founding of the Democratic People's Republic of North Korea it conducted an underground nuclear test, The Washington Post reported.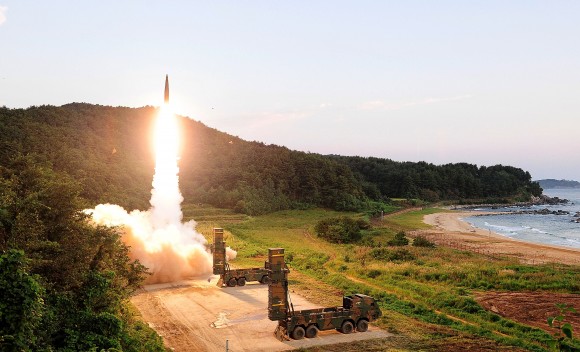 But if another ICBM is launched, the signal it sends is more political than practical, Christopher Green, senior adviser for the Korean Peninsula at the International Crisis Group, told The Washington Post. 
Green said that the shorter the time between test, the less North Korea's scientists, and technicians can learn and improve. 
"North Korea knows that the international community is going to punish it for conducting its sixth nuclear test—or try to punish it, at any rate—there is no incentive not to do something else provocative on Sept. 9. If one is going to be punished for one's actions anyway, why not go the whole hog?" Green said.
"On the other side of the coin, everyone now seems to expect North Korea to take a provocative step of some kind on Sept. 9, and it doesn't serve Pyongyang's interests to be too predictable in the short run. They may opt to wait," Green added.
In recent months North Korea has escalated its nuclear and missile program. Just a few months ago in July, the country conducted two ICBM tests that reportedly seemed to be able to reach the U.S. mainland. 
Even more recently, was the alleged successful detonation of a hydrogen bomb that could be placed on an ICBM. It was the communist state's sixth nuclear test. 
In an announcement on state TV, North Korea announced that the test was a "complete success" and involved a "two-stage thermonuclear weapon" with "unprecedented" strength, according to reports.
The U.S. Geological Survey and other seismic-monitoring agencies detected a man-made earthquake near the North's border with China on Sunday morning, Sept. 3. Japanese and South Korean officials said that it was around 10 times more powerful than the quake picked up after its last nuclear test a year ago.
From NTD.tv